Freshman forward Nigel Hayes has been one of the breakout stars for Wisconsin this year, and his talents transcend the basketball court. Wisconsin basketball released a Final Four hype video yesterday, which features the team's plane ride to North Texas, various photo shoots and other events, but it is Hayes' dancing towards the end that really brings this video together. The...
MILWAUKEE -- If you want to really understand Nigel Hayes, the first thing to know is there are two separate versions of Nigel Hayes. There is Hayes, the no-nonsense, all-business basketball player, a 6-foot-7, 250-pound chiseled and polished freshman who plowed his way to Big Ten Sixth Man of the Year honors this season. And then, there is the other, softer Nigel Hayes. Call him...
Wisconsin Basketball: Wisconsin-Indiana game previewThe only sad news for Wisconsin, is that February is coming to an end. The Badgers are blazing; since the first of the month they have tallied five consecutive Big Ten victories,  tying them with Nebraska for the conference's longest active streak. Tonight the Badgers take on Indiana inside the Kohl Center. On Jan. 14, Wisconsin's...
Don't blink, the Wisconsin Badgers are back. Soon as you think you have this Badger team figured out, they go right ahead and throw a curveball leaving you wondering what just happened. On Sunday, conference leading Michigan State came into Madison to what was set to be a classic Big Ten slugfest. To say the least, it didn't disappoint. Before tip off, the Spartans knew adversity...
MADISON, Wis. -- Wisconsin forward Nigel Hayes has been named the Big Ten's Freshman of the Week for the third time this season after averaging 14.0 points and 2.5 rebounds in victories against Illinois and No. 9 Michigan State, the conference announced Monday. Hayes, a 6-foot-7, 250-pounder from Toledo, Ohio, has emerged as one of the most polished freshman frontcourt players...
It's another Northwest Ohio sweep of the weekly Big Ten Basketball Awards as Findlay's Aaron Craft is the league's Player of the Week and Toledo's Nigel Hayes is the Freshman of the Week. Craft and Hayes also won the awards announced on Jan. 6. Both played big roles in bounceback weeks for their teams as Ohio State won at Iowa and beat Purdue, and Hayes scored 14...
Breathe easier Badger fans, the nightmare is over. 11 days of losing seemed like an eternity for the Grateful Red but a 72-58 win over the Purdue Boilermakers brought us all back to our happy place. Next up on the Badger's agenda are the Northwestern Wildcats. The same Wildcats that on January 2nd, laid an egg that could impress an ostrich. The Badgers stomped Northwestern 76-49...
MADISON, Wis. -- Nigel Hayes hopped on a short elevator ride with his head coach last Wednesday before Wisconsin's road game against Minnesota. And Hayes, a freshman, admitted he wondered what Bo Ryan might have to say. "Those are usually uncomfortable sometimes with Coach Ryan's demeanor," Hayes said. "Getting on the elevator with him alone, it's kind...
Nigel Hayes and Bronson Koenig don't want to be viewed as passive freshmen satisfied with making contributions both minimal and periodical. With almost 20 games at Wisconsin, Hayes and Koenig believe they must play more efficiently and more consistently, beginning when No. 9 UW (16-2, 3-2 Big Ten) faces host Minnesota (14-5, 3-3) at 8 p.m. Wednesday. "We know that we need...
MADISON, Wis. -- They don't make many college freshmen like Nigel Hayes on this planet. That's the first thing you notice about him as he sits behind a table during the team's media day: 6-foot-7 and a chiseled 250 pounds of muscle revealing itself from underneath his Wisconsin home white jersey. Then you hear the stories from teammates about just how difficult he'...
MORE STORIES >>
College Basketball News

Delivered to your inbox

You'll also receive Yardbarker's daily Top 10, featuring the best sports stories from around the web. Customize your newsletter to get articles on your favorite sports and teams. And the best part? It's free!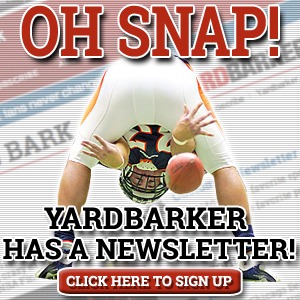 THE COLLEGE BASKETBALL HOT 10