There were concerns that Notre Dame junior wing Pat Connaughton would have to forego his senior season of basketball after being selected in the 2014 MLB Draft. But after being selected in the fourth round by the Baltimore Orioles, Connaughton will be allowed to play for Notre Dame this season and finish his season, according to a report from Tom Coyne of the Associated Press. ...
Notre Dame guard/forward Pat Connaughton has options for what he wants to do next year. He can return to Notre Dame and play basketball, where he averaged 13.8 points and 7.1 rebounds per game as a junior, or he can play professional baseball, as he was selected in the fourth round of the MLB Draft on Friday. The 6-6 Connaughton — who according to his Twitter is "the only man...
Pat Connaughton, who'll be a key player for Notre Dame's basketball team next season, was taken Friday in the fourth round of Major League's Baseball Draft by the Baltimore Orioles. Connaughton, a right-handed pitcher, will be able to hurl for the O's for nearly two months before basketball duties tug him back for his senior season in South Bend. This is no surprise...
You might not have known, but Notre Dame senior swingman Pat Connaughton is also a pretty solid pitcher. He went 3-5 and had a 3.92 ERA for the Irish's baseball team this past season. That stat line's not as good as his 13.8 points and 7.1 rebounds average last season for Mike Brey on the hoops team, but nonetheless Connaughton has emerged as a pro baseball prospect. Still...
Mike Brey came up with a catchy nickname for himself. "'Must-win Mike,'" the Notre Dame coach joked, "because I've been in a lot of these must-win (games)." After dropping three in a row, and with their next two on the road, the Irish needed to find a way to win Sunday's home contest against Virginia Tech. Pat Connaughton delivered, finishing with 21 points and...
Duke is supposed to be--and usually is--one of the best basketball teams in the nation year in and year out. Coach K tends to get a lot of top recruits--like young Jabari Parker--but all that doesn't matter a lick when you get on the court. It's all about who plays better on any given night.@SBNationGIF/TwitterSaturday night it was Notre Dame beating Duke 79-77; the play...
Rutgers didn't let its season end without a fight. The Scarlet Knights just couldn't find a way to stop Notre Dame's Pat Connaughton from 3-point range. ''Losing sight,'' Rutgers coach Mike Rice said of how Connaughton was able to be open and go 6 of 8 from 3-point range and finish with a season-high 21 points in the 24th-ranked Fighting Irish's 69...
Pat Connaughton scored a season-high 21 points and led Notre Dame's impressive show from 3-point range as the 24th-ranked Fighting Irish beat Rutgers 69-61 on Wednesday night in the second round of the Big East tournament. Tom Knight had a career-high 18 points for sixth-seeded Notre Dame (24-8), which will face third-seeded and 12th-ranked Marquette in the quarterfinals Thursday...
Pat Connaughton scored 18 points to lead No. 22 Notre Dame to a 74-62 victory over IPFW on Monday night. Connaughton more than doubled his 7.9 points-per-game average and had six rebounds and five assists. Notre Dame (10-1) led 40-28 at halftime then opened the second half with a 9-5 run over the first 4:21, capped by a two-handed stuff by Jack Cooley off a full-court fastbreak...
Freshman Pat Connaughton had 23 points and 11 rebounds as Notre Dame made 11 3-pointers and beat No. 15 Marquette 76-59 Saturday. Connaughton shot 5-for-8 on 3s to lead the Irish (15-8, 7-3 Big East) to their fourth straight win. Notre Dame has defeated five ranked opponents this season. Eric Atkins chipped in 18 points and Jerian Grant had 12 in a strong performance by the Irish...
MORE STORIES >>
College Basketball News

Delivered to your inbox

You'll also receive Yardbarker's daily Top 10, featuring the best sports stories from around the web. Customize your newsletter to get articles on your favorite sports and teams. And the best part? It's free!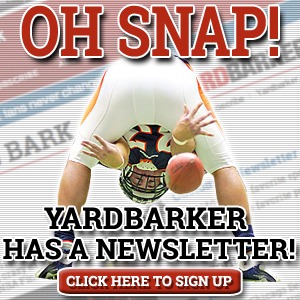 THE COLLEGE BASKETBALL HOT 10