It sort of looks like Pat Young is getting abducted by aliens here…Give us your best captions in the comment section below! h/t: Reddit user mclane_94 &nbsp No visits yet The post Caption This Photo: Florida Gators' Patric Young Can Fly appeared first on No Coast Bias |.
Florida big man Patric Young had an interesting reaction after hearing that No. 1 Syracuse had lost its first game of the season to unranked Boston College. The Gators had just survived a battle of their own against unranked Auburn when Young was given the news. Via The Alligator's Landon Watnick: Patric Young surprised to hear Syracuse lost to BC. "Boston College? They suck...
The Florida Gators, already ranked No. 3 in the AP Poll, have now won 15 games in a row. One big reason for their dominance is senior center Patric Young, whose defensive prowess has been well documented over the years. Today, against Alabama, we saw why, yet again. Check out this ridiculous block Young had on Crimson Tide guard Levi Randolph early in the second half. Florida just...
Florida Gators center Patric Young, of course, loves playing on the hardwood. But his athleticism, combined with his 6-foot-9, 250 pound body, could be well suited for other sports besides basketball. Young realized this, and decided to take his talents to the football field. Young practiced with several Gators football players, trying himself out at numerous positions: quarterback...
GAINESVILLE, Fla. -- Florida center Patric Young is staying in school for his senior season, a decision that should make the Gators one of the favorites in the Southeastern Conference. Young's choice was no big surprise since he has talked for weeks about wanting to get his degree. The 6-foot-9 junior from nearby Jacksonville averaged 10.1 points and 6.3 rebounds this season...
University of Florida center Patric Young (Jacksonville, Fla.) announced on Monday that he will return for his senior season in 2013-14.I have the chance to finish my degree and play another season for Coach Billy Donovan with great teammates and friends at a place I love, Young said. These first three years have gone by in a flash, and I cant believe it is my senior year already...
The normal workout regimen for a college basketball big man consists of working on his low post moves, putting up jumpshots, getting in some defensive shuffles and cardio, a little weight training a protein shake and calling it a day.  And then there is the workout of Florida junior forward Patric Young.  It's something you'd see some 400-some pound guy named Magnus do on some...
BUGGIN' OUT
Here's an instructional video from University of Alabama freshman Jack Blakenship teaching you how to do "The Face." Blakenship believes it's important to share his five-step process in hopes that others will practice so that they too can deliver their personalized version of "The Face." Blakenship has become a media sensation after he was photographed doing "The...
BEST. PHOTOBOMB. EVER.
Via Patric Young of the Florida Gators slam dunks the ball as a photographer for al.com catches a guy in the stands with a giant head picture of himself making the same face that he was currently making. I can't think of anything more hilarious. This is an early season favorite for basketball picture of the year.
TUSCALOOSA, Ala. No one will ever know what sortof night Florida center Patric Young would have had against a fully stockedAlabama team. But one thing UF coach Billy Donovan does know: The reason Young was sodominant in Tuesday night's 61-52 road win over the Crimson Tide was because ofthe way his 6-foot-9, 255-pound sophomore prepared after the Gators sufferedback-to-back...
MORE STORIES >>
College Basketball News

Delivered to your inbox

You'll also receive Yardbarker's daily Top 10, featuring the best sports stories from around the web. Customize your newsletter to get articles on your favorite sports and teams. And the best part? It's free!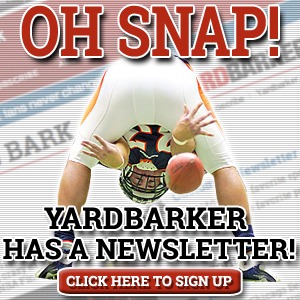 THE COLLEGE BASKETBALL HOT 10