Patric Young signed a contract with the New Orleans Pelicans, as he announced on his Twitter page. Young went undrafted in June after his collegiate career at Florida and landed with the Pelicans in Summer League. Young signed a two-year deal with the Pelicans, according to OnlyGators.com.
Former Florida center Patric Young has signed a contracted with the New Orleans Pelicans.
With the New Orleans Pelicans only having one draft selection in this year's NBA Draft, Russ Smith. The Pelicans summer league roster is filled with veterans and undrafted rookies. One of those rookies has made an impact already and that is former Florida Gator big man Patric Young. So far in the Las Vegas Summer League, Young is averaging 10.5 points and 9.5 rebounds per game...
GAINESVILLE, Fla. -- It was late Wednesday night and Patric Young was home. After six weeks of unfamiliar airports, unfamiliar cities and unfamiliar beds, Young was pleased to be back in Jacksonville on the eve of one of the biggest days of his life. The NBA draft is tonight (7:30, ESPN) and Young is projected as a late first-round, early second-round pick. He will spend draft night...
Florida big man Patric Young had an interesting reaction after hearing that No. 1 Syracuse had lost its first game of the season to unranked Boston College. The Gators had just survived a battle of their own against unranked Auburn when Young was given the news. Via The Alligator's Landon Watnick: Patric Young surprised to hear Syracuse lost to BC. "Boston College? They suck...
The Florida Gators, already ranked No. 3 in the AP Poll, have now won 15 games in a row. One big reason for their dominance is senior center Patric Young, whose defensive prowess has been well documented over the years. Today, against Alabama, we saw why, yet again. Check out this ridiculous block Young had on Crimson Tide guard Levi Randolph early in the second half. Florida just...
Florida Gators center Patric Young, of course, loves playing on the hardwood. But his athleticism, combined with his 6-foot-9, 250 pound body, could be well suited for other sports besides basketball. Young realized this, and decided to take his talents to the football field. Young practiced with several Gators football players, trying himself out at numerous positions: quarterback...
The normal workout regimen for a college basketball big man consists of working on his low post moves, putting up jumpshots, getting in some defensive shuffles and cardio, a little weight training a protein shake and calling it a day.  And then there is the workout of Florida junior forward Patric Young.  It's something you'd see some 400-some pound guy named Magnus do on some...
BUGGIN' OUT
Here's an instructional video from University of Alabama freshman Jack Blakenship teaching you how to do "The Face." Blakenship believes it's important to share his five-step process in hopes that others will practice so that they too can deliver their personalized version of "The Face." Blakenship has become a media sensation after he was photographed doing "The...
BEST. PHOTOBOMB. EVER.
Via Patric Young of the Florida Gators slam dunks the ball as a photographer for al.com catches a guy in the stands with a giant head picture of himself making the same face that he was currently making. I can't think of anything more hilarious. This is an early season favorite for basketball picture of the year.
MORE STORIES >>
College Basketball News

Delivered to your inbox

You'll also receive Yardbarker's daily Top 10, featuring the best sports stories from around the web. Customize your newsletter to get articles on your favorite sports and teams. And the best part? It's free!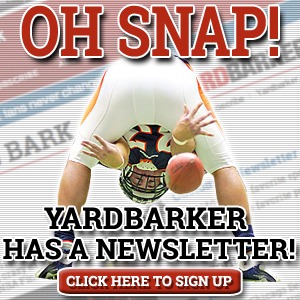 THE COLLEGE BASKETBALL HOT 10