With what we all know as the norm in Big 12 college hoops, Kansas will once again be hovering among the conference powers once the season finally kicks off. Although, unlike the usual, the Jayhawks aren't by any means a clear-cut favorite to steal their 11th straight regular season title. In fact, Kansas could very realistically […] Kansas Can Dominate Big 12 If Perry Ellis...
Sporting News' annual college basketball yearbook is out and they released their regional covers on their Twitter account. Perry Ellis is featured on one of the magazines. .@KUHoops @PElliz and @WichitaStateMBB @RDB_sh31ox reppin' the great state of Kansas on our cover and in our top10. pic.twitter.com/TfbVBHKDVu — Sporting News Yrbks (@SN_Yrbks) August 11, 2014 The cover...
It doesn't come as any surprise that the national media thinks highly of the Kansas Jayhawks.  Still, losing two first round picks and ending up with four top 10 players at their position. Wayne Selden — No. 5 Shooting Guard Perry Ellis — No. 3 Power Forward Kelly Oubre — No. 9 Small Forward Cliff Alexander — No. 3 Center The only position where Kansas didn't come...
Yesterday, we posted that Sporting News named Wayne Selden the No. 5 shooting guard in the nation. Today, Sporting News picked Perry Ellis as the No. 3 power forward in the 2014-15 season. Here's what they said about Perry: Size: 6-8, 225 pounds Class: Junior Stats: 13.5 ppg, 6.7 rpg Andrew Wiggins consumed more oxygen among the Jayhawks than a lot of us realized until the whole...
IRVING, Texas - Kansas sophomore F Perry Ellis has been named the co-Big 12 Men's Basketball Player of the Week in a vote by a media panel which covers the conference. Ellis, who is winning the honor for the second time, both this season, shared the accolade with Baylor sophomore Isaiah Austin. Ellis averaged 25.5 points and 9.5 rebounds as the Jayhawks dropped an 85-82 overtime...
Here is the truth about Perry Ellis: He may be the worst smiler in college basketball, if such a term or honor even exists. They come about once a month, it seems, about as often as 60 degree days in a subarctic Kansas winter. And when Ellis, a sophomore forward, does form his face into what may be considered a half-smile, it almost feels more like a grimace. When Ellis was growing...
LAWRENCE, Kan. -- Perry Ellis scored a career-high 32 points, Andrew Wiggins added 17 and No. 7 Kansas overcame a sluggish start and a virtuoso performance by TCU's Kyan Anderson in a 95-65 victory Saturday. Ellis also had eight rebounds and five assists, and Wayne Selden Jr. scored 15 points for the Jayhawks (19-6, 10-2 Big 12), who actually trailed by as many as six in the...
LAWRENCE, Kan. -- It's a not a concussion. Well, OK. If it is a concussion ... "It's very, very slight," Kansas coach Bill Self said Saturday afternoon when asked about the status of sophomore forward Perry Ellis, his best post player. "But what he did was, he got hit and bruised a nerve in his neck, and it caused a problem." Well, that and several viral...
The Kansas Jayhawks and the Georgetown Hoyas are currently locked in a physical battle in Lawrence between two very talented teams. On no play was the physicality more obvious than when Kansas forward Perry Ellis took a brutal elbow to the head early in the second half: After the play, Ellis stepped up to the foul line, looking terribly woozy, and missed a free throw by a mile...
KANSAS CITY, Mo. Michael O'Donnell is prescient and thrilled and, to be honest, a little bit miserable. Because the closer his Wichita State Shockers get to national respect, he fears, the farther they drift from making his dream a reality. "Yeah, this will probably divide it even further," chuckles O'Donnell, the Kansas state senator from Wichita who drew headlines...
MORE STORIES >>
College Basketball News

Delivered to your inbox

You'll also receive Yardbarker's daily Top 10, featuring the best sports stories from around the web. Customize your newsletter to get articles on your favorite sports and teams. And the best part? It's free!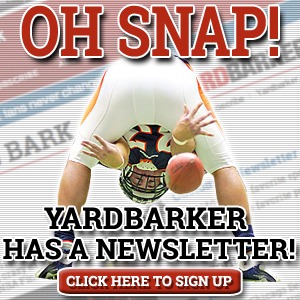 THE COLLEGE BASKETBALL HOT 10