As we come to the end of our Grading the Basketball Badgers series we take a look at the two members of the senior class, starting with Rob Wilson. Rob Wilson had a slow start to the season.  He struggled to find his place in the rotation and looked a bit uncomfortable on the floor.  As the season progressed he gained more playing time and eventually took a sixth man role and...
Wisconsin senior Rob Wilson wasn't on anybody's radar a month ago, save for the kids at the Madison Boys & Girls Club where he's serving an internship this semester. Now, Vanderbilt star Jeffery Taylor calls him the ''X-factor'' in the Commodores' third-round game Saturday against the Badgers in the NCAA tournament's East Regional. '...
MADISON, Wis. Even on days when his rear end barely left the padded chairs on the sideline, Rob Wilson never lost hope.Even as a college senior, with the basketball games quickly evaporating in front of his eyes, Wilson never wavered in the belief that he'd get his chance to shine in a Wisconsin uniform. He didn't know when or how it would happen. But after four years of...
INDIANAPOLIS - Rob Wilson admitted that the kind of game he had Friday, coming from next to nowhere to 30-point scorer and Wisconsin's hero of the day in the Big Ten Tournament quarterfinals, was the kind he'd dreamed of having. Wilson must be one heck of a wild dreamer. A senior who came in averaging 3.1 points in a little under 11 minutes per game, the Garfield Heights...
Hours after the Indiana Hoosiers learned they had lost point guard Verdell Jones for the season, they played as though they were deflated. The No. 15 Hoosiers allowed seldom-used guard Rob Wilson to score a career-high 30 points and lead 14th-ranked Wisconsin to a 79-71 win in Friday's Big Ten tournament quarterfinals. Jones is out with a torn ACL in his right knee. If healthy...
Via AP on Fox
No.14 Wisconsin got four players in double figures and got 30 points from its bench - all coming off the white hot hands of senior guard Rob Wilson. Wilson's career high 30 points was enough to get the Badgers past No.15 Indiana, 79-71, and into the Big Ten Tournament semifinals against No.8 Michigan State.
Rob Wilson's timely shooting put Wisconsin coach Bo Ryan at the head of his class. Wilson scored a career-high 30 points, leading the 14th-ranked Badgers past No. 15 Indiana 79-71 in Friday's Big Ten tournament quarterfinals. It was Ryan's 266th win since coming to Madison in 2002, breaking a tie for most career wins with Harold ''Bud'' Foster. Wisconsin...
Via AP on Fox
March is all about strange things happening in tournament action and nothing may be stranger than what happened for Wisconsin as they defeated Indiana 79-71 and will take on Michigan State tomorrow in the Semifinals of the Big Ten Tournament.  It was a strange game because Jordan Taylor was way off his game and fellow senior Rob Wilson led the team with 30 points.   Yes, you read...
MADISON, Wis. The first time Jordan Taylor and Rob Wilson crossed paths, hardly any conversation was had about their future careers as teammates in Wisconsin's basketball program.That's because when they first met as seniors in high school while campers at the LeBron James Skills Academy in Akron, Ohio, hardly any conversation was had between the two at all."He looked...
MADISON, Wis. Just because Rob Wilson has appeared in more basketball games at Wisconsin than nearly every player on the Badgers' current roster doesn't mean he's guaranteed any minutes this year. At least, that was the sentiment issued from Badgers coach Bo Ryan during his weekly press conference on Monday. This early in the season, Ryan is still shuffling his rotation...
MORE STORIES >>
College Basketball News

Delivered to your inbox

You'll also receive Yardbarker's daily Top 10, featuring the best sports stories from around the web. Customize your newsletter to get articles on your favorite sports and teams. And the best part? It's free!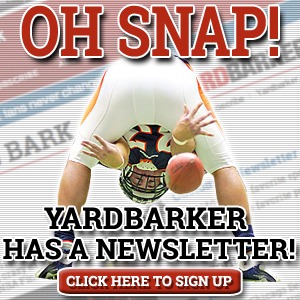 THE COLLEGE BASKETBALL HOT 10