Arizona will be sporting a new set of red,white and blue uniforms for the 2014-15 college basketball season. A preseason Top 5 team, Arizona brings back a group led by Stanley Johnson, Rondae Hollis-Jefferson, Brandon Ashley and Kaleb Tarczewski. Take a look at the uniforms they'll be wearing. The post Arizona Basketball Unveils New Jerseys appeared first on Diehardsport.
The Arizona Wildcats are ranked as the preseason No. 1 team in the country by The Sporting News college basketball yearbook. The magazine tweeted pictures of its regional covers Monday morning, including one featuring Arizona sophomore wing Rondae Hollis-Jefferson. Sporting News lists its top 10 teams on every cover, with Arizona leading the way, followed by Kentucky, Wisconsin and...
TUCSON, Ariz. -- The Summer of Rondae features 3-point shots, two elite camps and one really juicy quote. "We have the best starting five in the country," Rondae Hollis-Jefferson said earlier this month of his Arizona Wildcats, a sentence that traveled at Internet speed to Kentucky fans everywhere. "I was checking out the reaction," said Hollis-Jefferson, a 6...
TUCSON, Ariz. -- Arizona freshman Rondae Hollis-Jefferson came into the media room all smiles, seemingly a kid again. He was even singing: "Oh, happy day, oh, happy day." The voice was fine, but the meaning was unclear since it was just minutes after teammates Nick Johnson and Aaron Gordon had announced that they were leaving Arizona to enter the NBA draft. Perhaps he was...
It wasn't a scene from North Carolina State decades ago, but Arizona freshman stud Rondae Hollis-Jefferson hammered down this Nick Johnson airball to tie the West Regional final up at 54. Hollis-Jefferson, the Chester,(PA) native, is an already NBA ready as a defender, but I hope he returns to school for one more season to refine his offensive game. H/T Bleacher Report
via Zimbio Rondae Hollis-Jefferson laughs in the face of exhaustion.  He has first-hand experience of seeing it in the eys of his mother every day.  His mother worked two-full time jobs to support her family and operated on three hours of  sleep.  His mother, Rylanda Hollis, is his role model for hard work. Hollis-Jefferson grew up in Chester, Pennsylvania  which is one of the...
Arizona is one of the most fun teams in the country to watch due to their extreme athleticism and up-tempo style, and this play is just a microcosm of why the 2014 Wildcats are elite.  Up 12 against Cal, the team that knocked the once-undefeated Wildcats from the top of the polls earlier in the year, Nick Johnson blocks Cal star Justin Cobb from behind, takes a pass and pushes the...
The Wildcats ended yet another game in the form of a chess match Thursday night, holding back Oregon  67-65. In their first game back since the injury of starting forward Brandon Ashley, Arizona basketball showed some definite signs of rust, as they played catch up for a good part of the game. While the team seems to be rebuilding their overall fluidity in the absence of Ashley...
TUCSON, Ariz. -- Arizona freshman forward Rondae Hollis-Jefferson grabbed the rebound and proceeded to go coast-to-coast for what turned out to be an ill-fated, high-degree-of-difficulty layup against Colorado. All of a sudden the rangy, 6-foot-7 forward with long arms was acting like a do-everything guard, begging the question as to whether Arizona coach Sean Miller could envision...
TUCSON, Ariz. -- The one -- and only -- player who may have been hurt in Arizona's 74-48 win over New Mexico State was freshman Rondae Hollis-Jefferson. And even then it was all just in fun. Blowouts tend to bring out the verbal jabs and one-liners. As do big dunks and big shots, and the Wildcats had it all in its first game after being voted No. 1 in both polls. Arizona had...
MORE STORIES >>
College Basketball News

Delivered to your inbox

You'll also receive Yardbarker's daily Top 10, featuring the best sports stories from around the web. Customize your newsletter to get articles on your favorite sports and teams. And the best part? It's free!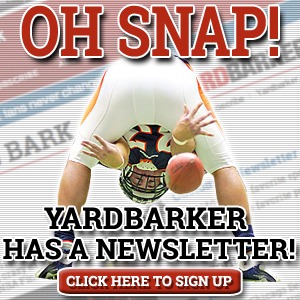 THE COLLEGE BASKETBALL HOT 10