Duke seniors Ryan Kelly and Seth Curry are not going to be high selections in this year's NBA draft, but they could be specialists in the NBA.  They are both great shooters that can knock down an open jumper.  They also both play hard night in and night out.  Neither one of them is going to lead a team to the playoffs, but they are the kind of players that can help a playoff...
Follow @HookTSB This is the first ever WAGs/MILFs Wednesday.  This week we feature one of the hottest Basketball wives/moms on the planet, Sonya Curry.  As a Duke basketball fan, I'm genuinely upset that Seth is graduating and Sonya won't be at the Blue Devil games anymore.  The camera man had a knack for finding momma Curry approximately 5-10 times per game.  Check out...
Seth Curry is projected as a late second round pick in the 2013 NBA Draft after a college career in which he attended both Liberty and Duke. Curry projects to be a player more similar to his father, Dell, rather than his brother, Stephen, who is having an outstanding playoffs. "His brother is certainly help his stock right now," wrote Chad Ford. "Curry is injured and...
The Duke coaches and training staff have been playing a delicate balancing act with Seth Curry's fragile right leg the entire season. Coach K revealed recently that he received a call from head trainer Jose Fonseca in September with the worry that Curry may not be able to play at all this year. Curry has clearly fought through pain to average 32 minutes a game, only missing one...
Seth Curry's mom, Sonya Curry, stole the show during the Duke vs North Carolina basketball game on Wednesday night.
Duke's senior guard Seth Curry had a bit rough game against instate rivals North Carolina on Wednesday night. Although the Blue Devils won, 73-68, Curry finished with 11 points on 3 of 10 shooting.  It was his mother, Sonya Curry, who got most of the attention for the Curry family after the camera panned on her dancing during the second half. Somewhere, Brent Musburger is biting...
Guard Seth Curry will miss No. 2 Duke's game against Delaware on Saturday with what the school says is an injured left ankle. It's the first game Curry has missed since he became eligible after transferring from Liberty following the 2008-09 season, and he had played 78 straight games for the Blue Devils before this. He injured his ankle while coming off a screen during...
ATLANTA Seth Curry often chews on his mouthpiece, the transparent dental safeguard protruding at all angles during stoppages in play. Some could call it a nervous habit, others a sign of unconscious relaxation. Following the fifth-year senior guards dispensing of the defending national champions in Atlanta, the nervous theory might be tossed out the window. Curry looks right at...
There has been some speculation on message boards that Seth Curry's mysterious leg injury is a stress fracture, but there has been nothing that I can find that can confirm that. However, from everything Mike Krzyzewski has said about Curry's injury it  is significant enough of a problem where the senior guard may miss parts of or at least be limited the entire season. Curry...
MORE STORIES >>
College Basketball News

Delivered to your inbox

You'll also receive Yardbarker's daily Top 10, featuring the best sports stories from around the web. Customize your newsletter to get articles on your favorite sports and teams. And the best part? It's free!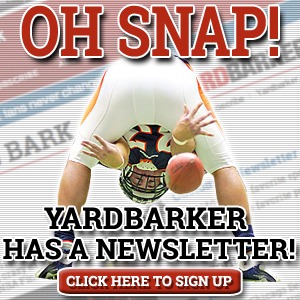 THE COLLEGE BASKETBALL HOT 10