The eve of the NBA Draft is usually something of a bittersweet time for Kansas fans. Selfishly, they want to see their heroes take the court at Allen Fieldhouse one last time - while at the same time feeling pride at seeing them make the most of a lifelong dream. Tonight, Thomas Robinson and Tyshawn Taylor prepare to take that step.
Tyshawn Taylor helped lead the Kansas Jayhawks to the NCAA National Championship Game this past season.  Though KU lost to Kentucky and fell short of cutting down the nets, a terrific senior season helped propel Taylor to possibly being a first round pick in the 2012 NBA Draft.  One of the biggest questions regarding the Jayhawk floor general is just that; can he be a true point...
INDIANAPOLIS - While checking off his list of physical attributes, Tyshawn Taylor noted with a sly smile he was "kind of fast." He is making no attempt, however, to run from his past. The meteoric Kansas guard knows questions about his on-court inconsistency and off-court disciplinary issues will follow him throughout the NBA pre-draft workout and interview process and...
There may be no more polarizing star in the history of Kansas basketball than Tyshawn Taylor. The senior guard from Hoboken, N.J., has spent four years putting fans, teammates and coaches through every high and low imaginable. There were lousy shots, clutch performances, a couple of suspensions and more than one questionable tweet. He was at his finest on Sunday night, when Kansas...
ST. LOUIS Loving her with all your heart does not necessarily mean that she'll love you back. March is funny like that. Some years, she returns Bill Self's calls. Some years, she doesn't. You dial anyway. Consider the curious case of Tyshawn Taylor. In a dozen career NCAA tournament appearances, Kansas' point guard has averaged 7.8 points, shot 40 percent from the...
The postseason chances of the fourth-ranked Kansas Jayhawks will not rest upon the broad shoulders of 6-foot-10 power forward Thomas Robinson, a national player of the year candidate as a junior. Nor will KU's shot at winning Saturday's rivalry game against third-ranked Missouri -- not to mention the Big 12 Tournament or even the Big Dance -- fall to the play of suddenly...
Today, the NBA Draft Blog Scouting Report heads to the Big 12 to look at one of the most scrutinized players over the last 4 years, Kansas point guard Tyshawn Taylor.  Taylor has had a roller coaster of a college career, but with improved scoring ability and a more mature attitude, he is playing at a peak right now.  Teams have noticed the improvement, so how high can he go this...
A flare-up on Twitter put G Tyshawn Taylor into another social media tizzy the day before Kansas won at Oklahoma. Irritated by criticism leveled by some on Twitter, Taylor responded with tweets he kept clean yet pointed. He defended himself, saying, "everybody's entitled to their own opinion, and so am I," though he did remove the tweets, which essentially scolded followers...
Kansas guard Tyshawn Taylor had surgery to repair a torn meniscus in his right knee Sunday and could be out up to three weeks. Taylor hurt the knee early last week but played through the injury in the 13th-ranked Jayhawks' 78-67 victory over No. 2 Ohio State on Saturday. After the game, coach Bill Self disclosed the torn meniscus and said Taylor also had a sprained MCL in the...
No. 13 Kansas will be without starting guard Tyshawn Taylor for about three weeks after he tore the meniscus and sprained the MCL in his right knee. Jayhawks coach Bill Self disclosed the injury after their 78-67 win over second-ranked Ohio State on Saturday. Taylor played despite the injury, which he sustained in practice early in the week, and finished with nine points and a career...
MORE STORIES >>
College Basketball News

Delivered to your inbox

You'll also receive Yardbarker's daily Top 10, featuring the best sports stories from around the web. Customize your newsletter to get articles on your favorite sports and teams. And the best part? It's free!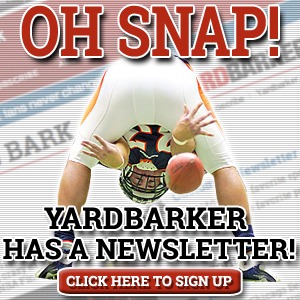 THE COLLEGE BASKETBALL HOT 10