It's hard to imagine that Ohio State has made it to the Final Four - and its most experienced player and best shooter hasn't been on top of his game. William Buford, the lone senior on the roster, has been criticized by many Buckeyes' fans for not lighting up the scoreboard in recent games. They look at the Big Ten and NCAA tournaments and see that he's shooting...
Ohio State senior guard William Buford grew up rooting for Gonzaga, citing the way the Bulldogs played and their ability to consistently deliver upsets against the big boys in March. Buford isn't as big a fan these days, in part because he doesn't think Gonzaga is an underdog anymore. The way Buford looks at it, any team that makes the NCAA tournament 14 straight years is...
If Ohio State is to go far they will need William Buford to come up big and against Michigan State he did. With the game tied at 70 Buford hit a game winning game jump shot with a second left to give the Buckeyes a 72-70 win over Michigan State. Buford did not just come up big at the end he was money all game long. For the game he had 25 points including 16 in the...
Ohio State forward William Buford. REUTERS/Matt Sullivan (UNITED STATES – Tags: SPORT BASKETBALL) With March Madness around the corner, everyone is getting pumped up for the NCAA Tournament and starting to pay attention to NCAA basketball betting lines. Ohio State has been one of the better teams all season long, but recent stumbles are making many question whether this team...
COLUMBUS, Ohio -- Based on last year's success and the spotlight that came with it, there were certain things we knew about this year's Ohio State basketball team before the season even started. We knew that Jared Sullinger was pretty darn good. We knew that William Buford was going to get his shots and make his share, and that Buford also would be streaky. We knew that...
By Ari WassermanBuckeyeSports.com If William Buford is the difference between a Final Four run and an early exit in the NCAA Tournament for the Ohio State basketball team, its quite strange that the people closest to the senior have a hard time describing his game. Even Aaron Craft, viewed as the teams intellectual, cant seem to find the perfect way to sum up what Buford is or...
William Buford is one of the most maddening players that I've ever had on the teams that I closely follow. In some of the biggest games of his career, he has failed to rise to the occasion with some hideous shooting performances. Overshadowed by other guards and forwards throughout most of his career, the lone senior on the team is often unfairly the scapegoat for some of the Buckeyes'...
The Buckeyes appear to be pretty good at self-analysis. They headed into Big Ten play ranked second in the nation and sporting a 12-1 record, but the consensus inside the locker room was that much work needed to be done. Besides his usual penchant for excessive worry, Ohio State coach Thad Matta finds legitimate fault in his team. The Buckeyes have been good, even great at times...
Northwestern coach Bill Carmody was in mid-thought when he suddenly said of Ohio State's William Buford, ''I don't know if you'd call it his team but, . . . he's a senior, right?'' Told that Buford was, indeed, the second-ranked Buckeyes' only senior, Carmody muttered, ''Thank God.'' Buford had career-highs of 28 points and five...
William Buford had career-highs of 28 points and five 3-pointers as No. 2 Ohio State showed off its perimeter shooting in an 87-54 victory over Northwestern on Wednesday night in the Big Ten opener for both teams. Jared Sullinger added 17 points and 14 rebounds for the Buckeyes (13-1, 1-0), who dominated the boards 49-30. Deshaun Thomas had 16 points for Ohio State, which broke...
MORE STORIES >>
College Basketball News

Delivered to your inbox

You'll also receive Yardbarker's daily Top 10, featuring the best sports stories from around the web. Customize your newsletter to get articles on your favorite sports and teams. And the best part? It's free!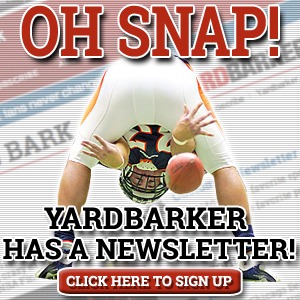 THE COLLEGE BASKETBALL HOT 10