Three-time Michigan captain Zack Novak has kept in touch throughout the season, sharing his thoughts on the Wolverines as well as providing some updates on his career in the Netherlands. We figured it would be a good chance to catch up with Novak before the NCAA tournament whirlwind starts for Michigan. Zack shared his thoughts on the NCAA tournament format, Michigan's youth and...
Three time former Michigan captain Zack Novak has linked up with us occasionally throughout the season to discuss life as a basketball player overseas as well as Michigan's season on the court thus far. In part one of this update, Novak discusses the Netherlands as well as what went wrong at Ohio State. First off, how are things going in the Netherlands? How's life overseas...
Former Michigan captain Zack Novak informed us last week that his plans to play basketball in Holland were all but official and he completed the deal this weekend, according to AnnArbor.com. The former Michigan basketball captain confirmed to AnnArbor.com on Monday that he's signed a professional contract with Landstede, a Netherlands-based club that plays in the Dutch Basketball...
Zack Novak had a propensity for hitting from behind the 3-point arc during his Michigan basketball career. But this is like swishing a shot from the other end of the court -- especially for somebody out of his element. With a friend there to record it, Novak, who just completed his senior season, booted a 56-yard field goal at Michigan Stadium. The evidence, a 44-second video...
Despite growing up in the basketball hotbed state of Indiana, neither Stu Douglass nor Zack Novak received a scholarship offer from any Big Ten school other than Michigan. Douglass was ranked merely as a two-star prospect by Scout.com. Novak wasn't even ranked that high. But here they are, about to play in their final home game for the Wolverines Saturday night against Purdue...
Zack Novak has a pretty good idea what kind of reception he'll face when he takes the court Sunday at No. 9 Michigan State. ''Awful,'' the Michigan senior said with a slight smile. ''Yeah, I'm not very liked.'' As his college career winds down, fans all over are taking note of Novak's scrappy style. From Arkansas to Ohio, he's been...
See, he ain't got no legs. Amazing that Novak can play college hoops for Michigan without his lower limbs, even more amazing that he registered 13 points and three assists in the Wolverines 68-56 win over Indiana.  He's listed at 6-foot-4 without legs, meaning Novak must have the longest torso in college basketball…nay the world. [The Detroit News via <a href="http...
Zack Novak met with the media this morning before film to discuss Michigan's upcoming Big Ten opener against Penn State. Novak discussed last year's slow start, the team's performance to date and much more. Watch the interview in the embedded media player below or find a full transcript after the jump. "I like where we're at right now. We've improved a lot over the...
The Michigan Wolverines dismantled the 10th ranked Memphis Tigers on Monday and opened a lot of eyes in the process. Some folks started to see what Joe and I have been talking about regarding this team and what makes them a special bunch. Things that jumped out about this team in the Memphis win: Tim Hardaway Jr. is really good. Trey Burke is poised beyond his freshman status. Zack...
Sitting on press row for Michigan basketball subjects one to the occasional conversation that forces you to put your money where your mouth is. After all, you're in a room full of guys who think they know what they're talking about. Not just think it, they're sure of it. Tim Hardaway, Jr. Last year, Rob and I were nearly laughed off of press row when we predicted Michigan would...
MORE STORIES >>
College Basketball News

Delivered to your inbox

You'll also receive Yardbarker's daily Top 10, featuring the best sports stories from around the web. Customize your newsletter to get articles on your favorite sports and teams. And the best part? It's free!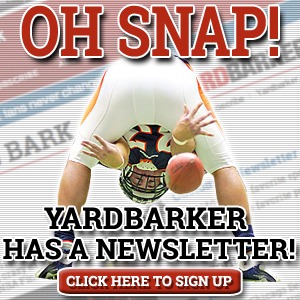 THE COLLEGE BASKETBALL HOT 10