Found November 11, 2012 on Fox Sports Southwest:
The Heisman race tends to get covered like a horse race, or the presidential election. Week by week, we make a judgment about who is "in the lead," as though that's actually how it works, as though there are actual Heisman votes being cast and added up on a weekly basis, so that one player could actually be ahead of another. But that's not it, of course. There's only one vote, and it comes at the end of the year, so rather than discuss whether or not Texas A&M quarterback Johnny "Football" Manziel is the frontrunner for the Heisman Trophy or not, it is probably time to take inventory of just exactly what Manziel has accomplished this season. Once we do this, it will be impossible to argue he is not as serious a candidate as anybody else. We will start with his statistical production, which has been enormous. Only one player in college football has been responsible for producing more yards than Manziel, and that player is Baylor's Nick Florence, who averages 394 yards per game to Manziel's 379. Manziel is less effective as a passer than the other great quarterbacks in college football. He has completed 68 percent of his passes for 2,780 yards and 18 touchdowns against six interceptions. His quarterback rating is 151.2. Those numbers make him one of the best 25 passers in college football. And that's pretty good, but that's not why people are talking about giving him the Heisman Trophy. Manziel is the No. 31 rusher in the nation, with 1,014 yards and 15 touchdowns. Offenses vary and opponents vary. Statistical comparisons are less revealing in college football than they are in some other sports, but we can say with high accuracy that Manziel's numbers are basically as good as anybody's. But, of course, Heisman Trophies are not usually won with numbers alone. The numbers have to matter. The team has to be good. And Manziel's team is. The Aggies are 8-2 and ranked ninth, and nobody who has been watching Texas A&M this season would say they would be 8-2 without Manziel at quarterback. So he has that going for him, too. And yet a lot of really productive players on really good teams are not Heisman candidates. You need something else. Some people call it a "Heisman Moment." Probably the best one was in 1991, when Michigan's Desmond Howard returned a punt for a touchdown against Ohio State, and it was a huge game, and the famous announcer Keith Jackson bellowed "Hellooo Heisman" as Howard was entering the end zone. It doesn't always have to be that demonstrative, of course, but you need something. Something bright and dramatic and captivating. Certain moments just feel bigger than others, and we like to believe the greatest players play best in those moments. Well, Saturday night on CBS Manziel and Texas A&M went into Tuscaloosa, Ala., and beat the No. 1 Crimson Tide. Manziel was spectacular all night. Alabama had not allowed a first-quarter touchdown all season, and Texas A&M scored three of them. Alabama's defense was allowing than 200 yards per game. Texas A&M got 418. Manziel threw for 253 yards. He ran for 92. Against the best defense in America, he didn't commit a turnover. At one point the Aggies led 20-0. But, of course, Alabama does not go quietly into the night. The Tide came back. When the fourth quarter began, Alabama was within six points and 100,000 Houndstooth-clad people waved their towels and roared and made it sound like a storm in there. Alabama was going to complete the comeback. They could feel it. Everybody could feel it. Some who were there said it was as loud as they've ever heard a football stadium. But the Aggies had the best player on the field. "No moment is too big for him," coach Kevin Sumlin said. With 8:37 left, Manziel threw into the storm for a 24-yard touchdown pass that put Texas A&M up by 12. A great hush washed over the crowd. The Aggies won. There are other wonderful players in college football this season. Kansas State quarterback Collin Klein's numbers are robust, and his team is No. 2, and his team relies on him completely. Notre Dame linebacker Manti Te'o could be the best player in the country, and he is the heart of the nation's No. 3 team. Kenjon Barner, the running back for No. 1 Oregon, averages almost seven yards per carry. And, look, Manziel has his limitations. The Aggies have at times this season seemed hesitant to let him throw over the middle or down the field, and that very limitation is probably why they lost to Florida and LSU. He is not a perfect candidate. Such a thing rarely exists. But he is a candidate. A serious one. Nobody has better numbers, nobody has a better moment and maybe the other candidates have better teams, but Manziel is the one whose team just beat No. 1.
Original Story:
http://www.foxsportssouthwest.com/11/...
THE BACKYARD
BEST OF MAXIM
RELATED ARTICLES
JOHNNY ON THE SPOT
There is a reason they call him Johnny Football. With his team already leading the number one team in the country, Texas A&M quarterback Johnny Manziel is somehow able to escape the Alabama defense, fumble the ball into his own hands and then throw a touchdown. How is he able to escape the defense is beyond me. What is even more amazing is that he almost fumbles the ball but...
After their upset win against (then) No. 1 Alabama Saturday afternoon, Texas A&M and their star quarterback Johnny Manziel (on the left) family are getting the papers together to trademark "Johnny Football".ESPN is reporting that two weeks ago, the school called Kenneth R. Reynolds Family Investments, which is based in College Station, Texas, filed for the "Johnny...
Texas A&M redshirt freshman quarterback Johnny Manziel is a giant killer after the Aggies defeated top-ranked Alabama. And now comes word that there's a move to trademark Manziel's nickname, "Johnny Football." "Texas A&M is working in concert with the Manziel family to trademark the nickname," said Shane Hinckley, who is assistant vice president of business development...
The young man they call 'Johnny Football' is making things happen as an upset is brewing in Tuscaloosa, Ala. Johnny Manziel did more in one play against the Alabama defense than most players can achieve in an entire game. The Texas A&M quarterback received the shotgun snap, started to scramble forward, lost the ball, recovered it in mid-air, regrouped and threw a touchdown...
Johnny "Football" Manziel (6-1 200 Fr) led the Texas A&M Aggies (8-2) to an improbable 29-24 victory over the number one ranked Alabama Crimson Tide (9-1). The performance by Manziel on Saturday and his cumulative stats for the season will vault him into the upper echelon of the Heisman Trophy discussion. The Aggies should also jump up considerably in the week 12 BCS Standings...
There are unlikely to be any changes in the BCS top five beginning week 12 unless there are some unexpected upsets this weekend. Four out of the top five BCS teams are playing on the road, but mostly against weak competition. Week 11 opponents of Georgia, Notre Dame, and Oregon have a combined record of 7-21. Kansas State is the most likely of the top five to lose this weekend due...
College Football News

Delivered to your inbox

You'll also receive Yardbarker's daily Top 10, featuring the best sports stories from around the web. Customize your newsletter to get articles on your favorite sports and teams. And the best part? It's free!
THE COLLEGE FOOTBALL HOT 10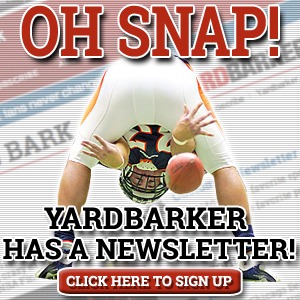 Latest Rumors
The Backyard

Today's Best Stuff

For Bloggers

Join the Yardbarker Network for more promotion, traffic, and money.

Company Info

Help

What is Yardbarker?

Yardbarker is the largest network of sports blogs and pro athlete blogs on the web. This site is the hub of the Yardbarker Network, where our editors and algorithms curate the best sports content from our network and beyond.