Found July 01, 2013 on isportsweb.com:
I was the one who worried about AJ McCarron circa 2009. He and Saban always seemed to clash. They butted heads in the way a rogue son collides with his over-bearing father. I mean, remember the spanking incident of 2010? Saban Spanks McCarron Oh but how far we've come. On Wednesday, ESPN's Brock Haurd announced his top five list of college quarterbacks… and yes, AJ McCarron was on it, as No. 3. "I can't detract from a guy that plays on a really good team," Haurd explained. In 2012, McCarron threw 30 touchdowns with only three interceptions. In his three years in the Alabama stat books, he continues to improve. A 67.2 completion percentage compared to a 66.8 from 2011. More than nine yards per attempt, up from 8.03 before that, and 30 touchdown passes compared to 16 in 2011. He has also gained confidence looking down the field. In 2011, his longest pass was 69 yards, but in 2012 it was a beautiful 85. "Many people are going to look at this list and say, 'oh come on, AJ?'," Haurd said, but quickly came to McCarron's rescue with passionate response. "Oh really? Oh, I'm sorry he plays on a really good team, and all he's done is win two national championships and oh by the way, a 10-1 interception ratio. I don't care if that's 7 on 7 in practice – 10 touchdowns to one – that's what happens you're the No. 1 rated most efficient passer in college football." Learning to trust McCarron has been a journey of interesting proportions for me. But I won't forget the moment things started to come into focus for what his legacy might mean to the University. After the LSU game in 2012, Gary Danielson said, "Verne, remember this: In all of Alabama's rich history; Namath, Stabler, Bart Starr- none of them have ever been National Champions twice." Whoa. In 2009 and 2010 we saw Greg McElroy sometimes struggle with Saban's constant stress on a balanced offense. In modern times, it is McElroy's successor who embodies the leader of that envisioned balanced offense. Of course, McCarron had a lot help. Let us not forget that out of the past five Alabama offenses- this past year had the strongest front a quarterback could ask for. But with three lineman gone to the NFL, this coming year is the year McCarron really gets to prove who he is in his position, and his position will not be mainly defined as passer, but leader. "More will be asked of him," Haurd conceited. "He loses three leaders upfront offensively so there's going to be more command. You can't detract what he's done on a good team." Yeah, yeah, we may look back and remember him for his rings, and his hot girl friend (it wouldn't be an AJ McCarron story with out me mentioning her) but really, we should remember him as paving the way for Alabama to be a true quarterback destination. Not a QB destination like USC- an SEC balanced offense, all around, gritty but talented destination. "And oh by way," Haurd said to the TV screen, "he's going for a third consecutive BCS National Championship."
Original Story:
http://feedproxy.google.com/~r/isport...
THE BACKYARD
BEST OF MAXIM
RELATED ARTICLES
Alabama quarterback AJ McCarron has won multiple national titles, but what are the chances he hoists the Heisman Trophy in 2013?
ROLL TIDE
Alabama Crimson Tide defensive coordinator Kirby Smart killed a rather large snake and then posed for picture with it.  I'm sure plenty of crazy football fans will now debate whether this is a good or a bad omen for the Crimson Tide's football season next year. [@marccourville]
"There's a lot of similarities between what you do, and what we've done," Alabama head coach Nick Saban said on Thursday. He was speaking to an auditorium full of Mercedes-Benz International workers in Vance, Alabama- but his speech wasn't about making cars. It was Mercedes' annual meeting, where Markus Schafer passed the 'steering wheel' over to Jason Hoff as the...
The Alabama Crimson Tide football team is renovating their locker room and it looks like it is going to be pretty sweet.  The locker room renovations are a part of the $9 Million renovations that were approved and helped to build the brand new amazing weight room. No word on where the waterfall will end up in this locker room, and I'm sure Crimson Tide fans are on pins and needles...
These freshly-released photos of the new Alabama Crimson Tide locker room renovations are insanely impressive.
No. 120 South Alabama Jaguars (2-11) Coach Joey Jones (fifth season, 28-22 at South Alabama and overall) Returning starters: 18, 9 offense, 8 defense, 1 special teams Recruiting rank: 96 Strength of schedule: 109 Entering their fifth season of football, the South Alabama Jaguars are now a full-fledged FBS member, eligible for postseason play. But don't expect a bowl game for...
East Ridge (Minn.) rising senior offensive lineman J.C. Hassenauer recently committed to Alabama. He discussed his Crimson Tide choice with Fox Sports NEXT at The Opening.
Crimson Tide News

Delivered to your inbox

You'll also receive Yardbarker's daily Top 10, featuring the best sports stories from around the web. Customize your newsletter to get articles on your favorite sports and teams. And the best part? It's free!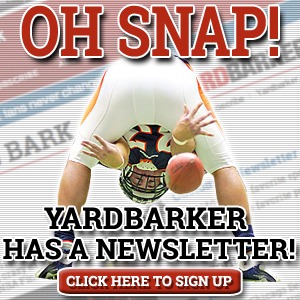 Latest Rumors
Best of Yardbarker

Today's Best Stuff

For Bloggers

Join the Yardbarker Network for more promotion, traffic, and money.

Company Info

Help

What is Yardbarker?

Yardbarker is the largest network of sports blogs and pro athlete blogs on the web. This site is the hub of the Yardbarker Network, where our editors and algorithms curate the best sports content from our network and beyond.