Found September 13, 2013 on isportsweb.com:
This week has been odd, and I am putting that lightly. Here on the University of Alabama campus the atmosphere is a mix of emotions. Anxiety, animosity and excitement all fills the air in a quiet sort of way. This week has been game week. THE game week if you catch my drift. You can't go anywhere, turn anything on TV, type anything in a computer without being reminded of what's coming in now less than 24 hours. ESPN writer SEC Alex Scarbinsky is calling it "A tale of two quarterbacks", college football fans call it the game of the century- but Crimson Tide Nation knows this is the game of redemption. Last year, November 10 served Alabama with something they don't get often- beat.  They know the blame, at least in part, rests on them. Three Alabama turnovers mixed with this phenom- maybe you've heard- called Johnny Football. The then freshman had 345 total yards that game back in 2012. That is the most by a quarterback against Alabama since 2010. Yeah, we're talking about the same game where he scrambled in the fourth to magically find a receiver in the end zone to seal the Tide's fate. It was a play even Bama fans shook their heads at. How did he do that? http://www.youtube.com/watch?v=DtxaHwgr6ZQ The game this Saturday would be a big game simply because of it's story lines on the field, but the story lines off the field have made it even more exceptional. (You're welcome college football TV ratings) First off, it highlights the train wreck that is Johnny Manziel in prime time television. Well, let me rephrase- he's a train wreck OFF the field. Tweets, money, partying, meeting celebs, rockin Tebow jersey's and the general "I'm just living life" attitude defined Manziel this offseason and it continues to haunt him in the third week of the season. But on the field, despite an interception (AJ has one of those too remember), and unsportsmanlike conduct penalties- Johnny is back. Nick Saban knows it too, and he knows they're not playing the Heisman trophy celebrity persona on Saturday- they're playing the quarterback who is unpredictable and lavishly lethal. "I think the guy's a great competitor and regardless of any other circumstance that goes on around him, when he's playing on the field, he's doing everything he can to help his team win and trying to make every choice and decision to do it," Saban said. But how do you beat Johnny Football? According to Saban, you sure don't count on him being a pocket passer- in fact- you don't count on anything he does. "I told our players, I said there's a lot of NFL games on Sunday, you want to watch the quarterback go watch the games, alright? But if you start watching this guy in our game- you're gonna get busted and it happened in our game last year," Saban said staring straight at the media. "You're not going to make him be a pocket passer because if someone's not open he doesn't throw him the ball. He's going to extend the play to run, or to make a play throwing the ball and I think throwing the ball first for him is what he does, he will run and he can run and he's an effective runner and he's really fast." More than 600 miles away, sitting in a College Station press room, Johnny Manziel says Alabama is just another game. A Texas A&M beat reporter started it off, "Johnny, it's been a wild eight months and the build up to the Alabama game. And it's now Bama week, what does that feel like?" With hat low, shoulders hunched tight and arms crossed together Manziel replied, "feels like another game. Feels like week three of the season." Oh Johnny. The most recent college football guy to have that Laissez Faire attitude toward an upcoming game was Brian Kelly with Notre Dame's rivalry game (oh I mean just another game) against Michigan. And we all know how that turned out for him. But alas, maybe Manziel is purely pulling a page from the Nick Saban handbook of "how to be a champion". You know, the section that talks about staying focused no matter the opponent? Either way, I like the way Saban says it better. "You don't win 11 games and do the things you've done if you're not good in every facet of the game. And when you play against really good players and players who are capable of making explosive plays on any down in a game. Any lack of that ability to focus and discipline is going to help them be able to make those plays," Saban said. "They have to play a lot of players in the game so that more guys have to be ready to play disciplined football, make good decisions, based on what they're supposed to do. And last year we didn't do that, we really paid for it and hopefully we can do it a little better this year." Are you taking notes Johnny? The people who definitely are, are Saban's players who faced a slight distraction on Wednesday with the news that former tide players DJ Fluker and Mark Barron were being investigated for taking money while they were at the University. I'm telling you- the proverbial butt cheeks were clenched so tight at this university when that news came out. It was like no one dared to breath here. We didn't know if this was the tip of the iceberg, or just what it seemed- an unfortunate mistake that thankfully was not directly connected to the university. The timing on Yahoo Sports' part was impeccable, knowing Alabama already was making headlines left and right for the game of the century that was getting closer and closer. Will this affect Alabama come Saturday? I doubt negatively. This Alabama team is pissed they lost last year. That is a wound that even a National Championship didn't fully heal, and the only thing that can cure the pain is disgracing a football phenom at his own game- in front of his own fans. Redemption is a hard thing to regain, but I'm pretty sure it starts this weekend with a kick off and loud "roll tide roll" in a sweltering College Station stadium. Also, what better luck could happen than your quarterback having a birthday on Friday the 13th? (Happy Birthday AJ McCarron)      
Original Story:
http://feedproxy.google.com/~r/isport...
THE BACKYARD
BEST OF MAXIM
RELATED ARTICLES
  AJ McCarron, the quarterback for the Alabama Crimson Tide, tweeted that he will be wearing this bow tie for childhood cancer awareness once. I've made jokes about McCarron's chest tattoo but it's things like this that make me like him. Cancer sucks. I'll support anything that helps fight Cancer. Glad to see a student athlete try and help people out, especially children...
AJ McCarron and Katherine Webb make up Alabama's first couple, if such a thing exists. McCarron is a senior and in his third season as the starting quarterback of the Crimson Tide. He led the Tide to back-to-back titles in his two years as a starter and has gone 26-2 in 28 starts over three […]
Seventeen has released it's list of the twenty-five "Hottest College Football Players" online. Topping the list: Alabama starting quarterback A.J. McCarron. Whether or not Seventeen knows about McCarron's notorious chest tattoo is unknown, nor whether hotness points would be taken away if they did. The list also includes McCarron's Alabama teammate, linebacker...
The signature AJ McCarron play Saturday said a great deal of the dynamic playing out between the Alabama quarterback and his counterpart at Texas A...
For the male readers of this piece, ages 21-49 ... if you ever shared a household bathroom with a sister (or sisters), this article may drudge back some painful memories of childhood. Remember magazines like Tiger Beat, Teen Beat or Sassy, where pre-teen, "tween" or teen-aged girls were flogged with endless photographs and fold-out posters of Michael Jackson, Kirk Cameron...
We're just over a quarter into the much-anticipated Texas A&M-Alabama showdown, and so far it has completely lived up to the hype. Johnny Football is winging it all over the field, but it's not easy to knock of the defending champs. Trailing 14-7 at the start of the second quarter, Doug Nussmeier picked the perfect trick play call — McCarron threw a flea flicker 44 yards...
Somehow, through some strange confluence of events, Katherine Webb was seated next to Uncle Si Robertson, he of the reality show "Duck Dynasty" at a fashion show. That's something. Webb used to be known as Alabama Crimson Tide quarterback A.J. McCarron's girlfriend, but has since surpassed the football slinger in fame and notoriety, in no […]The post Katherine Webb seated...
Johnny Manziel Johnny Manziel might not have led Texas A&M to an upset victory over Alabama, but he did just about everything he could to make it so, passing for five touchdowns, 464 yards and rushing for 98 more. And all that against the Crimson Tide defense. Say what you will about not getting the victory here, but Manziel had two strong "Heisman moment" type plays here...
AJ McCarron and Alabama was not about to let Johnny Manziel and Texas A&M get another signature win. McCarron nearly matched the Heisman Trophy winner with four touchdown passes, and Vinnie Sunseri returned an interception 73 yards for a score -- sidestepping Johnny Football on the way to the end zone, too -- as No. 1 Alabama paid back No. 6 Texas A&M with a 49-42 victory...
This was order restored. It was one generation telling the next one that it will have to wait its turn, and to show a little respect, stand up straight and tuck in its shirt. It was order beating chaos, Nick Saban beating Johnny Manziel. Alabama 49, Texas A&M 42. "I know you're trying to make it out as a 61-year-old going against their quarterback,'' Saban...
COLLEGE STATION, Texas -- If there was ever the Texas A&M defense to make a stand, it came midway through the fourth quarter Saturday against top-ranked Alabama. But just as they had done most of the day, a defense nicknamed the Wrecking Crew wasn't up to the task in a 49-42 loss. Alabama shredded the sixth-ranked Texas A&M defense for 568 yards and put the game away...
COLLEGE STATION, Texas (AP) -- AJ McCarron nearly matched Johnny Manziel with four touchdown passes and Vinnie Sunseri returned an interception 73 yards for a score, sidestepping Johnny Football on the way to the end zone, as No. 1 Alabama paid back No. 6 Texas A&M with a 49-42 victory Saturday. Alabama (2-0, 1-0 Southeastern Conference) spotted the Aggies (2-1, 0-1) a 14-0...
Crimson Tide News

Delivered to your inbox

You'll also receive Yardbarker's daily Top 10, featuring the best sports stories from around the web. Customize your newsletter to get articles on your favorite sports and teams. And the best part? It's free!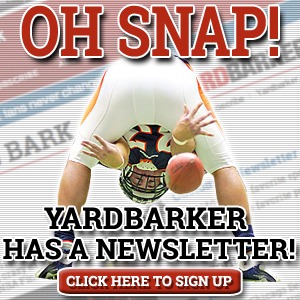 Latest Rumors
Best of Yardbarker

Today's Best Stuff

For Bloggers

Join the Yardbarker Network for more promotion, traffic, and money.

Company Info

Help

What is Yardbarker?

Yardbarker is the largest network of sports blogs and pro athlete blogs on the web. This site is the hub of the Yardbarker Network, where our editors and algorithms curate the best sports content from our network and beyond.