Found September 17, 2012 on StraitPinkie.com:
Preseason expections were high for this Arkansas team despite the loss of Bobby Petrino, whose departure from Fayetteville was highly publicized, especially on this site. Still, with John L. Smith at the helm many thought the Razorbacks would compete for an SEC crown. Many thought they had the title to potentially compete for a national title.
Well, three games into the season following an overtime loss to Louisiana-Monroe and an embarrassing loss to Alabama and the Hogs are 0-3. Talks of titles are out the window and now Smith must keep his team together and start winning games if they even want to make it to a bowl game.
That job got even tougher with quarterback Tyler Wilson called out his teammates in the postgame presser following the loss to the Tide. This after Wilson was sidelined from the game.
"Obviously that wasn't pretty to watch. Sucks I couldn't be out there to do something about it. Do I feel that we, at times, gave up out there? Yeah, absolutely. As a leader, it sucks to see people not do their jobs and to see things go wrong."
His team just lost 52-0 in a game many thought they might be able to win when the season first started. Last year his team moved the ball up and down the field. They scored zero points on Saturday. So, you can see his frustration. Still, calling out your teammates for quitting is a big time claim. No one wants to be called a quitter. Especially, when the player calling them a quitter didn't finish the game.
It's going to be really tough for John L. Smith to get his team to regroup and make a run at a bowl. It may be even tougher for him to maintain his job next season.
Original Story:
http://www.straitpinkie.com/featured/...
THE BACKYARD
BEST OF MAXIM
RELATED ARTICLES
FAYETTEVILE, Ark. -- Tyler Wilson had a moment before the Alabama game when he wanted to do anything but heed his doctors' orders. Concussion or not, the Arkansas quarterback wanted to play against the No. 1 Crimson Tide. "Give me my helmet," Wilson thought. "I don't care what anybody else says, I'm playing." Of course, Wilson didn't play in...
After Alabama crushed Arkansas 52-0 Saturday, Razorbacks' quarterback Tyler Wilson, who didn't play due to a head injury, called his teammates out: "As a leader it sucks to see people not do their jobs and to see things go wrong."
Tyler Wilson had seen all he could handle with a minute left in Arkansas' 52-0 loss to No. 1 Alabama when he asked to speak to the media afterward. Injured players don't normally talk after games for the Razorbacks, but Wilson's case was different. The senior quarterback, who missed the game with a head injury, felt the season slipping away Saturday. Last week's...
Arkansas has gone from national championship hopeful to a team trying to stay together after three games this season. The latest crushing blow for the Razorbacks (1-2, 0-1 Southeastern Conference) came in the form of a 52-0 drubbing at the hands of No. 1 Alabama (3-0, 1-0) on Saturday. It was the Crimson Tide's second straight shutout, the first time Arkansas had been shut out...
FAYETTEVILLE, Ark. (AP) -- Eddie Lacy helped Alabama open Southeastern Conference play in style. Lacy ran for three touchdowns and the No. 1 Crimson Tide forced five turnovers in a 52-0 win over Arkansas. The win is Alabama's 21st straight to open conference play. Vinnie Sunseri and Haha Clinton-Dix had interceptions against the Razorbacks, who played without quarterback Tyler...
Fayetteville, Ark. -- Every team gets a few lucky breaks along the way. Great teams always capitalize on them. It's too early to know just how great Alabama is, but so far they've looked dominant in every facet of the game. And they've taken advantage of every break that's come their way. The Tide's 52-0 drubbing of Arkansas in Razorback Stadium was a perfect...
Annus Hawgriblis As Arkansas auuns hawgribilis continued with  a devastating 52-0 ground-and-pounding from Alabama, it was already clear that things were (and are) not going to get better any time soon for the Razorback football program. With a loss on one side of the embarrassment spectrum form lowly Louisiana-Monroe, and another loss to the Crimson Tide. There was bound to...
Some of the big stories that we'll be monitoring this week at the virtual CBR headquarters... John L., we hardly knew ye (at Arkansas)? In the hours after Alabama finished cracking some Razorbacks' skulls in Fayetteville, word started circulating that mercurial Arkansas coach John L. Smith could be on his way out after a mere three games in Bobby Petrino's...
SEC coaches on the hot seat, AKA the Jimmy Sexton is about to get paid Part 1 will look at two coaches who have a great deal of work to do to make it to media day 2013. Part 2 will look at two other coaches who are in dicey situations. 1. John L. Smith—Arkansas. Some in the blogosphere tried to spin this as a very smart hire (guilty) in the wake of the Bobby Petrino/girl in the...
Alabama and Florida State continue to roll over their foesIt's hard to believe we are into week 3 of the college football season. If we take a quick look at the top teams in the country, two have been by far the most dominant and that's Alabama and Florida State. Let's begin with the Noles, they have opened the season scoring 176 points while only allowing 3. That's not a...
After two of the more disconcerting weekend in Arkansas football history, it's reasonable to expect that Hog fan is just a little on edge.  But, one would hope that a couple of days of separation from the latest national embarrassment might yield a little introspection and even some submission to the cooler heads around the situation.  I'm sure the more fair and accurate...
Razorbacks News

Delivered to your inbox

You'll also receive Yardbarker's daily Top 10, featuring the best sports stories from around the web. Customize your newsletter to get articles on your favorite sports and teams. And the best part? It's free!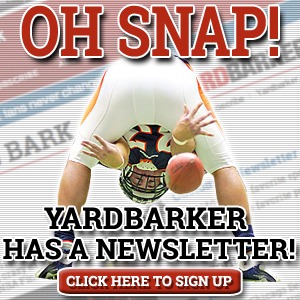 Latest Rumors
The Backyard

Today's Best Stuff

For Bloggers

Join the Yardbarker Network for more promotion, traffic, and money.

Company Info

Help

What is Yardbarker?

Yardbarker is the largest network of sports blogs and pro athlete blogs on the web. This site is the hub of the Yardbarker Network, where our editors and algorithms curate the best sports content from our network and beyond.