Found November 27, 2012 on isportsweb.com:
Big Ten Football Week 13 Review Week 13 Record:   4-2……Record so far…….67-29    69.7% Nebraska-13  Iowa-7…..CORRECT…..The weather almost gave the Hawkeyes a much needed W….almost….if it weren't for that confounded Rex Burkhead…his first game back since late October and he scores the game winning TD near the end of the 3rd quarter…congratulations to Nebraska for winning the Legends Division and getting a shot at winning the Big Ten title.  I recently saw Kirk Ferentz's name on a list of potential coaching candidates for NFL gigs next year…that marks the 9th consecutive year that Kirk has had his name thrown into the hat for NFL gigs….I wonder how long he ponders that this year…. Northwestern-50  Illinois-14…..CORRECT…..Ugh….I can't remember a team that had as much talent as Illinois does that flopped as hard as the Illini did…Nathan Scheelhaase is a good QB but battled injury issues all season…Michael Buchanan is an NFL DE who finished on the 2nd team All Big Ten team….but no matter how bad a team you may be, you never…NEVER want to lose to your rival this badly…Tim Beckman will remember this loss….and knowing his OSU roots…he will run it up on the Cats if he ever gets a chance. Ohio State-26  Michigan-21…..CORRECT…..so many questions for Michigan fans…and I guess for Ohio State fans too…well maybe just one….for UM supporters…what happened to Denard Robinson in the 2nd half?…why wasn't he AND Devin Gardner on the field at the same time more often…where were all the new wrinkles that you saw the previous week vs Iowa?…why…with a lead on the road..go for it on 4th and 2 from around midfield very early in the 2nd half  AFTER calling a timeout?…puzzling…and for OSU fans….why on earth would the loudest cheer of the day be for Jim Tressel?…why would you honor the man that is the reason you won't be playing for a BCS title this year?…Tressel may be a great coach and may have won a national title and beat UM on numerous occasions, but he did it the wrong way….at least the college football world now knows what's more important to you (as if it were a surprise). Purdue-56  Indiana-35…..MISS…..How about Akeem Shavers?…between he and 6th year senior QB Robert Marve…you see what this Purdue team could've been this year…and perhaps Danny Hope wouldn't have been fired either…so the Boilermakers keep the Old Oaken Bucket in West Lafayette…as far as who fills the void for Hope? (a grand question in and of itself)…but a name that was thrown out that is very unlikely, but a chance…is Texas A&M coach Kevin Sumlin…he is a Boilermaker Grad in 1988…but leaving Johnny Football (trademark pending) in College Station would be a huge risk….not many people would leave A&M for Purdue…would anyone? Michigan State-26  Minnesota-10…..CORRECT…..Just when you think that Mark Dantonio has gotten everything he can out of his stud HB Le'Veon Bell…Bell shows up with 35 carries and a career-high 266 yards…especially when Andrew Maxwell was less than good…he finished 13-29 for 143 and a TD and 2 INT's…Dantonio leaned on Bell and he responded…now looking at MSU's schedule in 2013…they have a run built into it as they miss Ohio State, Wisconsin and Penn State..but for them to have a shot, Maxwell has to be better than he has been the past month of the season…he is regressing at this point…he needs to play well in the bowl game to give the Spartans a shot next year….we'll see what happens. Penn State-24  Wisconsin-21…..MISS…..The Nittany Lions place kicker…who has become one of my favorites simply due to his name won the game in OT with a 37 yard FG…Sophomore Sam Ficken hit three FG's on the day…none bigger than the one that gave the Lions their 5th W of the season at home…a very different year in State College ended on a good note…we will see if Bill O'Brien can keep his "NASCAR" offense intact and in good running condition for next season…but the Badgers and NCAA career TD record holder Montee' Ball have bigger Corn to pop next week as they play for their second straight Big Ten title….at 7-5….can't wait for Maryland and Rutgers to join this mess…actually, I can….I could wait a long time.
Original Story:
http://feedproxy.google.com/~r/isport...
THE BACKYARD
BEST OF MAXIM
RELATED ARTICLES
The bad news is our offense stalled in the 2nd half in Columbus and we lost a 26-21 contest with Ohio State that we could have won, should have won.  Could have and should have are phrases more suited to humans than to Wolverines.  What did happen happened.  What "could have happened" and "should have happened" did not happen and it never will happen because the game is...
COLUMBUS, Ohio - The Big Ten Conference announced its 2012 award winners and all-conference teams this evening and Ohio State Buckeyes, off a 12-0 regular season, are well represented among the honorees. Senior defensive end John Simon was named the Smith-Brown Defensive Lineman of the Year and sophomore quarterback Braxton Miller was named the Griese-Brees Quarterback of the Year...
Ohio State's season is prematurely over, thanks to NCAA sanctions. But the lack of a bowl game could serve coach Urban Meyer's purposes next year. Meyer says he will do anything to fight complacency after the Buckeyes went 12-0 this season. To do that, he may just summon up the issue of the bowl ban the school accepted for violations that occurred under deposed coach Jim...
COLUMBUS, Ohio (AP) -- The Ohio Supreme Court has suspended for a year the law license of an attorney whose emails to Jim Tressel triggered an ongoing scandal and NCAA investigation that cost the coach his job at Ohio State. At issue was whether Columbus attorney Christopher Cicero violated professional rules of conduct that prohibit revealing information from meetings with a client...
The Ohio Supreme Court on Wednesday suspended for one year the law license of an attorney whose emails to Jim Tressel triggered an ongoing scandal and NCAA investigation that cost the football coach his job at Ohio State University. At issue was whether Columbus attorney Christopher Cicero violated professional rules of conduct that prohibit revealing information from meetings with...
The All-Big Ten teams came out Monday evening and are sure to stir up discussion. Ohio State's Braxton Miller and John Simon were named league players of the year at their positions, but when it came to consensus first-team All-Big Ten choices, the undefeated Buckeyes were curiously lacking.
Ohio State got to 12-0 this season thanks to the standout performances of numerous players, but two have made it to the top of the Big Ten. Quarterback Braxton Miller and defensive lineman John Simon were named the league's Offensive and Defensive players of the year this evening.
Waiting…   It was an eventfully uneventful game. The hysteria was piled upon "The Game" from the moment the Buckeyes were victorious in Madison, Wisconsin. The week leading up to the game was a "different" one, with Thanksgiving taking a large chunk of the attention, as well it should, but the sentiments were still the same. Urban Meyer put his legendary mark on the Rivalry...
  Here we are, the first Monday of the offseason with an undefeated Buckeyes team and no bowl game in sight.  There were no roses being passed out, no trip to the B1G Title game planned, no thoughts of a BCS Title, there just simply was.  Left with one of the oddest feelings I can remember after any season, undefeated or losing, the celebration was almost numbing in a way.  We...
Buckeyes News

Delivered to your inbox

You'll also receive Yardbarker's daily Top 10, featuring the best sports stories from around the web. Customize your newsletter to get articles on your favorite sports and teams. And the best part? It's free!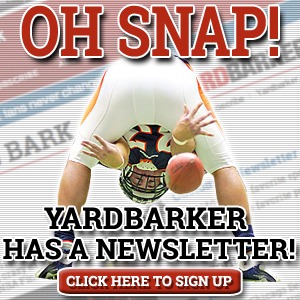 Latest Rumors
Best of Yardbarker

Today's Best Stuff

For Bloggers

Join the Yardbarker Network for more promotion, traffic, and money.

Company Info

Help

What is Yardbarker?

Yardbarker is the largest network of sports blogs and pro athlete blogs on the web. This site is the hub of the Yardbarker Network, where our editors and algorithms curate the best sports content from our network and beyond.