Found September 19, 2013 on isportsweb.com:
Can you believe what has happened to our little conference since I last contributed to all of you wasting your valuable work time?..Bo Pelini jumped into the deep end of the pool by essentially telling Husker great Tommie Frazier that he didn't need his support?…oh..what started that was a recording of Pelini allegedly from a couple of years ago bashing Nebraska fans after a loss to OSU….let's see what else has happened..the fallout in Ann Arbor after almost playing out "Shock the World, Volume 3"..but the coaches and players take blame for bad performances vs Akron (who else should take the blame?).   Finally, Ohio State has won their 15th straight game and Northwestern hasn't lost in 10 months…and I just happen to have been correct thirty three times in thirty six attempts so far this season….On to the action.. Saturday, September 21st San Jose State (1-1)  @ Minnesota (3-0)    Noon    ESPN2:  The all-time series is tied at 1-1.  Both games have been in Minneapolis.  Jerry Kill opened his conference call this past week by stating he was feeling fine and didn't want to discuss his health.  Sooner or later don't you think the Minnesota athletic department may have to address this somehow?   SJSU has beaten Sacramento State and lost to #5 Stanford…this game may be the one that the loss of CB Briean Boddy-Calhoun may come back and haunt Minnesota.  The Spartans historically love to throw the ball around (75 pass attempts in two games thus far) and it will pose problems for coach Kill.  DT Ra'Shede Hageman will be the difference….him and a healthy Philip Nelson, although a healthy Nelson doesn't sound like it may happen at this point…I like the Gophers to come from behind and beat San Jose State 27-23. Florida A&M (1-2)  @ #4 Ohio State (3-0)    Noon    Big Ten Network:  This will be the first meeting between the two schools.   I am hearing small rumblings about a QB controversy within the streets of Urbanville.  Seriously?…I am pretty sure that if Urban Meyer could convince former Buckeye great Orland Pace to come back and take some snaps at QB, he could win that game easily for the Ohio State Meyer's.  If the Rattlers from Florida A&M score twice Meyer should consider this a loss….even if Pace plays QB….Buckeyes roll it up and beat Florida A&M 59-7.  I am told the Rattler band is worth the price of admission….well it better be because the game won't be. Read the full game preview here: Ohio State vs Florida A&M Western Michigan (0-3)  @ Iowa (2-1)    12:01pm    Big Ten Network:  The Broncos lead the all-time series 2-0…both wins came in Kinnick Stadium.  After a much closer game vs rival Iowa State last week, it will be nice to get back to the friendly confines of Kinnick….oh..that's right Iowa has never beaten Western Michigan and both losses have been in the old Stadium in Iowa City.  Can Ferentz get the Hawkeye program a win vs this MAC school?  Once again, Captian Kirk is giving his feature HB a ton of carries as Mark Weisman leads the country with 85.  85 carries already…at this point in the season he is Iowa's offense so I am not quite sure I would be giving him so much action.  WMU will hang for far too long and scare the black and gold striped overalls off of the fans on Saturday…but I think Iowa wins their third straight 24-20. Maine (3-0)  @ #18 Northwestern (3-0)    3:30pm    Big Ten Network:  This will be the first meeting between the two schools.   The Black Bears are not only 3-0, but they have won two of those games on the road.  Quite simply..these are games that Northwestern cannot lose at this point or all of the work (14 straight non-conference home wins and they haven't lost a game in Evanston in nearly a year) will be for nothing.  If they can get by the Black Bears in a healthy state, then they get a bye and then the Big Ten globe shutters and shakes as the Buckeyes will come rolling into Ryan Field for a night game on October 5th.  But all that is only if Northwestern beats Maine this week…..and they will….Wildcats win 42-20. Michigan State (3-0)  @ #22 Notre Dame (2-1)    3:30pm    NBC:  Notre Dame leads the all-time series 34-27-1.  The Fighting Irish have won three of the last four meetings including the last two in South Bend.  The Irish like to pass the ball…they are 16th in the country at doing so…MSU does not score very often…at least they didn't until Youngstown State came to East Lansing..If the Irish score three times or more, they win.  I can see Mark Dantonio dropping the road grader and not giving up on the running game this Saturday…he may have to because trying set up new starting QB Connor Cook against that ND defensive line will not go well…I like Tommy Rees to drive the Irish the length of the field in the last 2:00 minutes and that Brindza kid will kick a 40-something yard FG to win it for Notre Dame…Irish in a classic 24-22. Read the full game preview here: Michigan State at Notre Dame South Dakota State (3-0)  @ Nebraska (2-1)    3:30pm    Big Ten Network:  Nebraska leads the all-time series 2-0.  The Jackrabbit's are not only 3-0, but they are averaging just over 41 points a game…uhboy..(was that you Jackson?)..after the UCLA game, I don't know if the Nebraska faithful could deal with an FCS school coming into Memorial Stadium and beating their Corn without Pelini losing his job.  But there is one thing I will tell you…we will find out how much this team supports their coach this week…if they come out and hammer the Jackrabbits, then this team is behind their coach more than ever.  However, if the Corn eek out a W or Tom Osborne forbid,  the Corn loses?…..buhbye Bo…I think the result will be somewhere in between…but Nebraska will win…45-28. Kent State (1-2)  @ Penn State (2-1)    3:30pm    Big Ten Network:  Penn State leads the all-time series 3-0…all meetings have been in Beaver Stadium.  Penn State needs this win and based on all the talk from Coach Bill O'Brien this week his team has put the UCF game in the rear view mirror…Look for O'Brien to force-feed QB Christian Hackenberg the passing game.  I think he wants throw this kid into the fire this week and see how he responds…he knows he always has Zack Zwinak to fall back on…Zwinak has 232 yards so far and is averaging four and a half yards per carry…and don't forget about WR Allen Robinson who just leads the Big Ten in receptions per game (7.7) and yards per game (135)…Penn State gets their most comfortable win of the season…Nittany Lions win 52-6. Purdue (1-2)  @ Wisconsin (2-1)    3:30pm    ABC:  Wisconsin leads the all-time series 43-29-8 and the Badgers have won the last seven meetings…Purdue hasn't won in Madison since 2003 (0-3).  Things just aren't looking good for Purdue this week…like these numbers for example..Wisconsin is 3rd in the Big Ten in pass defense, Purdue is the 9th best passing team in the conference…couple that with this;  The Badgers have the 2nd best run defense and the Boilermakers dead last at rushing the ball….and finally Purdue is last in the Big Ten in total offense so far…yet, I think they hang for a bit…it will take Bucky a couple quarters to shake off the effects of the Disaster in the Desert…Badgers recover and beat Purdue 30-21. #15 Michigan (3-0)  @ Connecticut (0-2)    8:00pm    ABC:  Michigan won the only previous meeting 30-10 back in 2010.  I heard earlier this week that the game was a sellout for Connecticut…wow,  what a setting that will be….40,000 fans screaming like crazy…it will be just a like a game in Evanston.  I bet UM AD Dave Brandon can't wait to get this game over with….I bet the Michigan football team can't wait to get on the field and put last week behind them….Michigan will be very crisp, very smooth and extremely efficient in their demolishing of the Huskies…they will score TD's on their first four drives.  UM wins in Storrs 49-9. Read the full game preview here: Michigan at UConn Missouri (2-0)  @ Indiana (2-1)    8:00pm    Big Ten Network:  Indiana leads the all-time series 6-2-2…The Tigers won the first two meetings vs IU, but have gone winless in the last eight contests.  The winner of this game depends only on this fact; If  IU can limit the Tiger rushing game, then they can win….But the more likely scenario is if the Tigers can keep the Hoosier offense off the field, they have a shot.  My guess is this will be a shootout until late in the third quarter when Mizzou head coach Gary Pinkel will begin to run the ball and IU won't have a chance to stop them.  The Tigers average over 260 yards on the ground and I bet they get every bit of that on Saturday night in Bloomtown.  IU will make it close late, but they won't get Missouri off the field when it counts…Tigers win 34-30. Related articles Cupcake time is over for Spartans Assessing Michigan in the aftermath of Akron A silver lining in Penn State's loss to UCF To receive an email each time I post a Big Ten Football article, fill out the  Email Notification Form You can also follow me on Twitter @isportsChad
Original Story:
http://feedproxy.google.com/~r/isport...
THE BACKYARD
BEST OF MAXIM
RELATED ARTICLES
Definition of a tune-up game: Florida A&M at Ohio State Football. The undefeated Buckeyes (begrudgingly) play host to the 1-2 Rattlers on Saturday at noon in Ohio Stadium. On one hand, this game will be a good dress rehearsal before kicking off B1G Ten play next week. On the other hand, playing a FCS team and being favored by a hefty 57 points isn't good for team morale. Braxton...
Urban Meyer's oldest daughter, Nicki, has been dating a Georgia Tech football player for at least the past year, but somehow that escaped me until now. Nicki Meyer turns 23 on Friday (happy early birthday, Nicki!), and she tweeted about receiving a surprise birthday present from her boyfriend, Corey Dennis: Best birthday surprise EVER. Thank […]
There is almost no one - except for maybe a deluded fan somewhere - who believes Florida A&M has a remote chance against fourth-ranked Ohio State on Saturday. With a Big Ten opener a week later against rival Wisconsin, the Buckeyes will use the Rattlers as a full-dress scrimmage to iron out the final wrinkles before embarking on the games that really count. ''We don...
Three weeks into the 2013 season and teams from the Big Ten saw a big shocker, and almost HUGE shocker and a few dominate performances this past Saturday. But, before Purdue takes the conference's first foray into league action when they travel to Madison to take on the Badgers, let's take a quick look back on how the B1G did last week. Nebraska vs. No. 13 UCLA This was a tough...
For the first time in Buckeye Empire's Helmet Sticker series, there was some serious parity on both the offensive and defensive ends of the spectrum. In the two previous weeks, offensive candidates have been strictly one-sided. In each case, Jordan Hall and Kenny Guiton won the vote unanimously and each have an offensive helmet sticker to their name. The brilliant offensive performance...
College Football Universe Top 126 Week Four 1. Alabama (1) 2. Ohio State (2) 3. Louisville (3) 4. Stanford (4) 5. Oregon (7) 6. Clemson (6) 7. LSU (8) 8. Ole Miss (9) 9. Georgia (13) 10. Texas A&M (5) 11. Michigan (10) 12. Miami FL (12) 13. South Carolina (13) 14. Oklahoma (14) 15. Northern Illinois (15) 16. Florida State (20) 17. Northwestern (17) 18. Notre Dame (18) 19. Florida...
Carlos Hyde's three game suspension is over. How will his return affect Ohio State's offense? Buckeye Sports Bulletin's Ben Axelrod and Simone Scott discuss that and more as they preview the Buckeyes' game against Florida A&M.
Buckeyes News

Delivered to your inbox

You'll also receive Yardbarker's daily Top 10, featuring the best sports stories from around the web. Customize your newsletter to get articles on your favorite sports and teams. And the best part? It's free!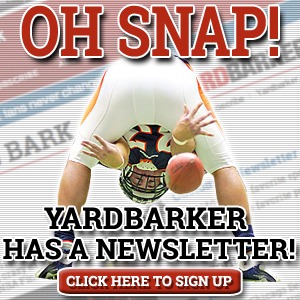 Latest Rumors
Best of Yardbarker

Today's Best Stuff

For Bloggers

Join the Yardbarker Network for more promotion, traffic, and money.

Company Info

Help

What is Yardbarker?

Yardbarker is the largest network of sports blogs and pro athlete blogs on the web. This site is the hub of the Yardbarker Network, where our editors and algorithms curate the best sports content from our network and beyond.