Reviewing week 4 in the Big Ten. Mrecord:  10-0 and 43-3 for the season.  This week's best pick was Northwestern beating Maine 42-20 and they actually did win 35-21.  Let's see what is my worst pick on an undefeated week…I guess picking Iowa to beat WMU 24-20 when they hammered them 59-3.   On to the breakdown.. Minnesota-43  San Jose State-24….CORRECT….Folks…this is what Jerry Kill does…he runs the football…the Gophers totaled 424 yards and 353 of that was on the ground.  Back up QB Mitch Leidner only threw twelve passes but he gained 151 on the ground.  This is what a running game does for you…the Pher's had the ball for over 40 minutes on Saturday…and when you are facing a QB like SJSU's David Fales (22-35 for 439 and 3 TD's, but 2 INT's) you need to keep the ball out of his hands if you want to get the W. Kenny Guiton (AP Photo) Ohio State-76  Florida A&M-0….CORRECT….Back up QB Kenny Guiton established a new OSU record by throwing six TD passes in a game…and he did that halfway through the second quarter.  These are the days we live in when FBS juggernauts like OSU have to play teams like the Rattlers…On Saturday, Florida A&M had:  2 first downs, a 1 for 11 3rd down conversion percentage, totaled 80 yards of offense and had the ball for only 22 minutes..Some of the Buckeye Brass was saying that these kinds of games shouldn't be on the schedule BEFORE the kickoff this week…a bit brash, but accurate none the less. Iowa-59  Western Michigan-3….CORRECT….Iowa could've won this game without their offense (similar to the gameplan that Michigan State or Michigan used this week) vs Western this weekend….and they would've won comfortably.  They had two punts returned for TD's and they had two interceptions returned for TD's…It was a great week off for the Hawkeye offense really…Mark Weisman had to carry the ball only ten times vs WMU…so he will be well rested for this weeks matchup.  Iowa has won three straight games for the first time since 2010…that seems strange considering the Hawks have won 19 games in those three plus seasons…you would think they could've strung together a streak…but I guess not. Northwestern-35  Maine-21….CORRECT….Are we seeing the Wildcats getting a bit overconfident these days?….did they seem a little sluggish to anyone else out there?…I mean Maine is a better-than-average FCS team..and they did come into Evanston and outgain the Wildcats.  My guess is they were taking the Black Bears lightly and somewhat looking ahead to playing the Buckeyes in a couple of weeks.  Either way they got the W and finished their second straight nonconference schedule unbeaten….and most importantly, they are getting healthy and one of the factors that most people may not see is that the Wildcat defense is making big plays when they need to…that is a trend….and with the Bucks looming, they will need the help. Notre Dame-17  Michigan State-13….CORRECT….Couple things I would like to bring up…first of all, the pass interference calls on the Spartans…four of them…and call it what you would like, but I will too….and they cost MSU the game.  You give a team like ND at home 60 yards (plus another 55) and you are going to have a tough time winning…when they kept throwing deep on you, I can understand one or maybe two 'PI' calls…the MSU defense has been called (by its coaches) "60 minutes of unnecessary roughness".  Second, why bring in Maxwell if Cook isn't hurt?  I swear I saw Cook get up and begin rubbing his arm after getting drilled late in the fourth…then Maxwell comes out and finishes the game which is fine…IF Cook is hurt….but then Dantonio came out and said that Cook wasn't hurt and he felt that Maxwell gave them a better chance to win?…really?…give a 5th year senior, who lost his starting role two weeks ago, come in…on the road against your biggest rival down four and try to muster up a game-winning TD?…I like those odds..nice move. Read the full game recap here: Michigan State falls at Notre Dame Nebraska-59  South Dakota State-20….CORRECT….Well…I received word yesterday that the Cornhuskers will be addressing the defense this week….well, THAT's a relief…then all this madness will come to an end…I mean the Jackrabbits put up 465 yards on the Corn and led 17-14 at one point early….I know they have a 'new' defensive coordinator but John Papuchis has been on Bo Pelini's staff for six years….I think he probably had an idea of the struggles last season…it seems like coordinators who try to 'address' items in a mass amount (like repairing/improving an entire defense) rarely accomplish it…I will be surprised if the Corn defense gets much better…which means two things;  no chance to win the Legends…and Papuchis will be job hunting in December. Penn State-34  Kent State-0….CORRECT….Before you start coming down on freshman phenom QB Christian Hackenberg, realize a few things….First, it was raining..it always effects a QB..they say it doesn't…but it does.  Second, he is a freshman.  Finally, he wasn't needed.  HB Zach Zwinack scored three TD's and HB Bill Benton had 90 yards helping the Nittany Lions gain 287 on the soaking wet turf at Beaver Stadium.  Allen Robinson, the Big Ten's leading receiver had only 3 grabs for 43 yards….I'm gonna guess that will be his lowest output for the season….So Penn State heads into their bye week in good shape for the Big Ten season to begin. Read the full game recap here: Penn State throttles Kent State Wisconsin-41  Purdue-10….CORRECT….Are you aware that the Badgers have two HB's averaging over 110 yards a game?…and a third back averaging over 83 yards per game?…Wisconsin is averaging 349.8 yards rushing per game…Purdue hasn't even gained 300 yards in four games this SEASON!!…What do you think Gary Andersen did upon completing his first practice or two in Madison this spring?…he had to be sitting there saying to himself "WOW can these guys run block…we have some pretty good backs too….I like what Bielema did here, but I think we should run it more…yep…I will try that….run it more with more people"…nice game plan.  Purdue coach Darrell Hazell said his team needs to do a lot of soul-searching…I can't believe I have already heard a coach say his team needs to do some soul-searching four weeks in… Michigan-24 UConn-21….CORRECT….Michigan is -5 in turnover ratio this season which is ranked 112th…oh boy….the interior of their offensive line was beaten routinely by the Huskies D-line and UM QB Devin Gardner again was responsible for multiple turnovers and almost the loss.  I would argue that the O-line is not improving (yes, I realize that UM had a non-QB 100 yard rusher in Fitz Toussaint) as they were mostly outplayed by Notre Dame, certainly outmanned vs Akron and again on Saturday…looking at the schedule…and if things do not improve much (Michigan fans should've seen more improvement vs Connecticut) at this point in the season a three or four loss season will be successful…I am expecting four or five losses. Read the full game recap here: Michigan survives UConn Missouri-45-  Indiana-28….CORRECT….We knew heading into this game that the offenses were fun to watch and prolific (Mizzou-623 yards, IU-475), the defenses were awful (see last stat) and that turnovers would be a key in the outcome.  A 24-0 run by the Tigers that really was started by a great INT return for a TD was the straw that broke Bloomtown Saturday night.  The Hoosiers just need to improve a little tiny teeny bit to be a threat.  I think they already have a lot of Big Ten teams keeping an eye on them….but as long as the defense is as bad they are right now (10th in total D, 12 vs the run and 6th vs the pass in the Big Ten) they will not garner teams using both eyes to watch them. To receive an email each time I post a Big Ten Football article, fill out the  Email Notification Form You can also follow me on Twitter @isportsChad
Original Story:
http://feedproxy.google.com/~r/isport...
MORE FROM YARDBARKER
Buckeyes News

Delivered to your inbox

You'll also receive Yardbarker's daily Top 10, featuring the best sports stories from around the web. Customize your newsletter to get articles on your favorite sports and teams. And the best part? It's free!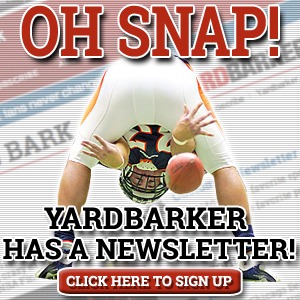 Latest Rumors
Best of Yardbarker

Today's Best Stuff

For Bloggers

Join the Yardbarker Network for more promotion, traffic, and money.

Company Info

Help

What is Yardbarker?

Yardbarker is the largest network of sports blogs and pro athlete blogs on the web. This site is the hub of the Yardbarker Network, where our editors and algorithms curate the best sports content from our network and beyond.