Week One of the 2014 Big Ten football season is here. I've already given you my picks for the three early games this upcoming week, but what about the games that are being played when they're supposed to be, on Saturday? Click on, pilgrim; I've got some picks for you. The post Pickin' On the Big Ten, Week 1: Appalachian State and Other Disasters appeared first on Midwest Sports Fans.
There used to be a time when a smash-mouth style of football was the only way to play the game. The outcome of a game was usually determined by what happened at the line of scrimmage, "the battle in the trenches" it used to be called. Good college football teams could run the ball down the defense's throat. Elite programs could run it down the throat of any opponent. Speed...
The 2014 Big Ten football season is finally here, and like everyone else, I too am ready to pretend I actually know a thing or two about Rutgers and Maryland football now. There is room in my brain since I have already forgotten which teams were in the Leaders division and which were in the Legends. I may never forget that's what the two divisions were called. This will be the...
Ohio State head coach Urban Meyer remains confident despite the fact that he's lost his starting quarterback Braxton Miller for the upcoming season. The post Meyer confident despite losing Braxton Miller for the year appeared first on NCAA Football Zone.
Ohio State coach Urban Meyer was challenged to take the ALS Ice Bucket Challenge by his daughter Gigi Meyer. The Buckeyes coach not only took the challenge to help raise awareness and support but he displayed some creativity with it. Looks like he also pulled in several of his players to participate oh and did I mention that Ohio natives LeBron James and Chris Spielman were in turn...
The Ohio State Buckeye football team spent the day at the Water Park and then had a BBQ at Head Coach Urban Meyer's pad. Another great example of being able to let loose while preparing for the upcoming 2014 season. And what college student would pass on BBQ? Have some fun young fellas as it will be all business in a couple of weeks. July 16, 2014 in Columbus, Ohio: a beautiful...
LeBron James has long had a connection to the Ohio State football program. Now that the NBA's best player is back in his home state, playing for the Cleveland Cavaliers, that connection is magnified.  Urban Meyer often speaks highly of Ohio's favorite athlete. The Buckeye coach has already texted James, who has a sideline pass to each Ohio State game, telling the superstar to...
Back in May, we told you about the renovations that Ohio State planned on making to its football facility. Included in these renovations to the Woody Hayes Athletic Center — which cost about $2.5 million — are a renovated 10,000 sq. ft. locker room, new practice fields, and a water wall. Today, Buckeye head coach Urban Meyer checked out the new and improved facility, and decided...
The schadenfreude was strong following Ohio State's upset loss to Michigan State in the Big Ten Championship Game on Saturday. After a week of debate about who should play in the national championship game, the Buckeyes went out and lost 34-24 to the Spartans, rendering a discussion moot about whether a one-loss SEC team deserved […]
CLEAR THE AIR
Former Florida Gators coach Urban Meyer finally addressed the Aaron Hernandez situation as it pertains to his former program.
MORE STORIES >>
College Football News

Delivered to your inbox

You'll also receive Yardbarker's daily Top 10, featuring the best sports stories from around the web. Customize your newsletter to get articles on your favorite sports and teams. And the best part? It's free!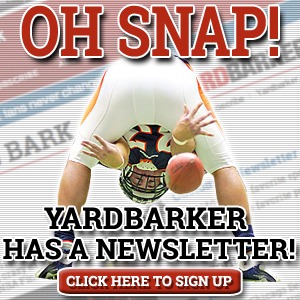 THE COLLEGE FOOTBALL HOT 10