The 2013-14 Michigan State Spartans went 13-1, won the Rose Bowl against Stanford, and finished the season ranked third in both the AP and Coaches Polls. Suffice it to say, last year's Spartans were a very good team. While it could very well be coach speak, Ohio State's Urban Meyer believes that this year's Spartans are even better. Urban Meyer on this year's Michigan...
Saturday's contest between Ohio State and Michigan State is easily the most important game, at least in terms of College Football Playoff implications, that either team will play in 2014. The winner will almost certainly wind up representing the Big Ten East in the league's title game and have the inside track on a potential playoff berth. Buckeyes fans would also love to get...
Ohio State has never worn a black uniform.  Do the Buckeyes have plans to wear one, though?  It appears that Urban Meyer might have leaked a photo of an awesome black-and-gray Ohio State uniform via a tour of his office given to ESPN's Austin Ward.  Check out this apparent mock-up resting on Meyer's table:  ESPN.com The uniform seems to include a black helmet, black jersey...
Ohio State head football coach Urban Meyer won two national championships coaching the Florida Gators in 2006 and 2008, but he told HBO's "Real Sports with Bryant Gumbel" that he was depressed while coaching the Gators in 2009.
The Ohio State and Michigan rivalry is arguably the best in all of college sports. The disdain that Buckeyes and Wolverines have towards each other is so intense, that even if you are not a fan of either team, you can sometimes be caught in the middle of this historic rivalry. An example of that came today, when two ESPN broadcasters — Brad Nessler and Todd Blackledge — attended...
The schadenfreude was strong following Ohio State's upset loss to Michigan State in the Big Ten Championship Game on Saturday. After a week of debate about who should play in the national championship game, the Buckeyes went out and lost 34-24 to the Spartans, rendering a discussion moot about whether a one-loss SEC team deserved […]
CLEAR THE AIR
Former Florida Gators coach Urban Meyer finally addressed the Aaron Hernandez situation as it pertains to his former program.
WHERE THE MAGIC HAPPENS
For those who might have missed it earlier this week, Urban Meyer invited the Big Ten Network into his new office to check out the new digs. Some fans may cringe at the sight of the Bengals helmet, or even the Percy Harvin jersey he has in there, but all in all, it's nice to see a glimpse behind the curtain. He talks about his family and having his son help him coach at OSU, as...
MORE STORIES >>
College Football News

Delivered to your inbox

You'll also receive Yardbarker's daily Top 10, featuring the best sports stories from around the web. Customize your newsletter to get articles on your favorite sports and teams. And the best part? It's free!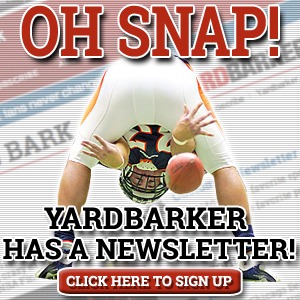 THE COLLEGE FOOTBALL HOT 10