Found September 03, 2012 on The Rhino and Compass:
Most everyone I know delighted in the fact that Penn State lost to Ohio from the MAC on Saturday. Serves them right, was the chorus from people rightfully outraged by Penn State's scandal. Most right minded people recognize that Jerry Sandusky was the original doer of evil, while Joe Paterno, the Penn State faculty and the pervasive religion of Penn State football made the scandal worse, and ruinous for the program. Of course, the devotees to Penn State feel differently. They blame the victims for willfully complying with Sandusky's twisted desires, and they blame the victims for inevitably undermining the Penn State program because they couldn't keep their mouth shut. Don't believe me? Here's a sample of that approach to the situation from when the sanctions were handed down. I don't want the victims to suffer any more than they already have, and if those people still live in State College, they probably hear the disparaging things said about them. One solution to their personal strife that I could envision is that Penn State doesn't miss a beat. The Nittany Lions win without Joe Paterno, proving that his deification was unjustified, and his sins are appropriately recognized by the fans of Penn State. Of course, the idea behind the punishment that they so heartily received was to break the back of the program, to show to Penn State that the protection of innocent children is more important than a storied football program. While many people recognize failure in terms of wins and losses, acknowledging their performance on the field still gives the program relevance. In my opinion, the most appropriate thing to do is completely ignore them. Penn State football doesn't matter. Win or lose, they just don't matter. There are more important things to worry about in State College.
Original Story:
http://ryanhenning.com/?p=4395
THE BACKYARD
BEST OF MAXIM
RELATED ARTICLES
Penn State alumnus (and NFL Hall of Famer) Franco Harris brought a cardboard cutout of Joe Paterno to his luxury box at Beaver Stadium for Saturday's PSU football game against Ohio. The Paterno cutout held a sign reading "Due Process for PSU JVP". We understand Harris' loyalty to his college coach, and he's entitled to express his opinion, but the...
Former Penn State and NFL fullback Franco Harris was in attendance this past Saturday to watch the Bill O'Brien era debut to a thud when the Nittany Lions lost to Ohio 24-14 from Beaver Stadium. Harris was in attendance with Sue Harris, Joe Paterno's widow, conservative talk show host John Ziegler and a cardboard cutout of the late Penn State head coach which read "due process...
CONTINUED SUPPORT
The guy on the left is a conservative talk show host named John Ziegler. The guy on the right looking like a slob is Steelers legend Franco Harris. Both men think Joe Paterno was unjustly treated by the NCAA. Ziegler, once fired from a sportscasting job for on O.J. Simpson joke, is from Pennsylvania and ended up in the Harris box at today's Ohio U. game. For some reason both men...
A lot of eyes were focused State College, Pennsylvania and Penn State on Saturday, as the Nittany Lions opened the team's first season in nearly 50 years without Joe Paterno as head coach. Even more though than the absence of Paterno, most want to know how the school would fare under the weight of some of the most serious sanctions ever levied against a major college football program...
Sprawled out in the Ohio end zone, grasping for something well beyond his reach, safety Jacob Fagnano's posture as the game-clinching Ohio Bobcat TD was scored felt like a fitting end to the first game of the post-Paterno era at Penn State. Fitting because Fagnano hailed from the defensive side of the ball. Everyone expected a steep learning curve on offense—especially due to...
Penn State's costs for legal fees, consultants and public relations firms hired to help deal with the Jerry Sandusky child sex abuse scandal have reached nearly $17 million. The university said it has spent almost $16.8 million through June 30. Nearly $10 million of that went to seven firms for what Penn State calls internal investigation and crisis communications. Nearly ...
  Penn State's 24-14 loss to Ohio Saturday has spawned lots of comments and opinions on how this team is "fragile" and that it "ran out of gas" in the fourth quarter. I don't buy it. That may be the case later in the season, but I don't believe that was the case against the Bobcats. Look, all we heard about all spring and summer was how much better this new strength...
Penn State landed a commitment on Tuesday, going to California to pick up a pledge from 2013 forward Payton Banks.
Randolph (N.J.) High offensive tackle and Penn State commit Brendan Mahon returned to Happy Valley for the season opener against Ohio. And although the Nittany Lions lost, he was thrilled to be back to watch football.
Starting quarterback was one of many Penn State players who struggled in the second half vs. Ohio at Beaver Stadium.
A roundup of some of the recruits of note who were on hand when Penn State opened the 2012 season against the Bobcats at Beaver Stadium.
Nittany Lions News

Delivered to your inbox

You'll also receive Yardbarker's daily Top 10, featuring the best sports stories from around the web. Customize your newsletter to get articles on your favorite sports and teams. And the best part? It's free!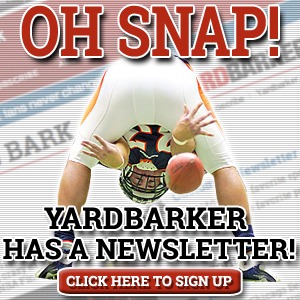 Latest Rumors
Best of Yardbarker

Today's Best Stuff

For Bloggers

Join the Yardbarker Network for more promotion, traffic, and money.

Company Info

Help

What is Yardbarker?

Yardbarker is the largest network of sports blogs and pro athlete blogs on the web. This site is the hub of the Yardbarker Network, where our editors and algorithms curate the best sports content from our network and beyond.