Found September 20, 2013 on HawkeyeNation.com:
At his Tuesday news conference, Kirk Ferentz talked about one of the next steps for progress for this year's Iowa team. "I think we're practicing hard.  I think we're doing that.  Last week, the effort was there and the guys were trying.  It's not that they weren't trying.  We just have to practice a little bit cleaner and then hopefully our execution will show up a little better on Saturdays." While Iowa has a two game winning streak after losing seven in a row, the Hawkeyes have hardly put Missouri State or Iowa State away on the scoreboard.  They were statistically dominant through three quarters in both games but came away with meager point totals and margins of victory for how they were playing. A coach might tell you style points don't matter.  A coach of a 4-8 football team from last year would certainly feel that way but Iowa is going to struggle again this year if they don't 'clean things up' as Kirk Ferentz put it.  Are they close to doing that? Iowa's receivers have dropped 10 passes through three games including four against Iowa State.  The first drop came on third and long on Iowa's first position after the defense shut down the Cyclones on their first possession.  It was a perfect pass from Jake Rudock to Jacob Hillyer and would have gone for a 12 yard game.  The line of scrimmage was the Iowa State 47, so we're talking 1st and 10 at the Iowa State 35 yard line.  Had Iowa not advanced the ball any further from there, they would have had a 52-yard field goal attempt.  Then again, there is always the chance Kirk Ferentz could have called for a punt from that position, but work with me.  That's a blown opportunity, plain and simple. On Iowa's next series, they had moved the ball from their own 40 down to the ISU 26 where they had 1st and 10.  On that play, Rudock was pressured but stepped up and threw a perfect pass to Tevaun Smith inside the Iowa State 10 yard line.  Smith dropped the ball and two plays later, Rudock was sacked, fumbled the ball and Iowa State recovered.  Chances are pretty good Iowa gets points on the board if Smith hangs on to that ball. On Iowa's last possession of the first half, following James Morris' interception, CJ Fiedorowicz, he of the being upset because Rudock chose to run it in for a score against Missouri State and not throwing the ball to him, dropped a pass on 3rd and 5 standing on the ISU 14 yard line.  Iowa settled for a field goal with :10 seconds left in the half as opposed to taking a shot or two at the endzone with what would have been 1st and 10 from around the 14.  There were no guarantees that Iowa gets more yards here, but these are the types of things that must be cleaned up for Iowa. On Iowa's first possession of the second half and facing a 3rd and three from their own 28, Rudock found CJ once again and the senior tight end dropped the ball, forcing Iowa to punt. Iowa has a quarterback with just three starts to his credit, which is also the number of games he's played in his career. Rudock has handled himself well and looks more like an experienced underclassman than what he is, but Rudock can clean it up.  Given the type of book he is, you expect it.  But the offense is not good enough to deal with these drops. Still, the Hawkeyes were able to overcome those mistakes last week and after 53 minutes or 87% of the game, Iowa was dominating the stat sheet and scoreboard.  It was 27-7 Iowa after their 15-play, 73-yard drive that chewed up 7:44 of the clock.  Iowa State's drive began with 6:59 left in the game.  Here were some stats at that point of the game aside from the 27-7 score that could have been 37-7 without much stretch of the imagination: FIRST DOWNS: 21 to 7 TIME OF POSSESSION: 35:46 to 16:56 TOTAL YARDS: 359 to 179 (67 of ISU's yards came from BJ Lowery missed tackle) TOTAL PLAYS: 75 to 43 RUSHING YARDS: 200 to 32 I think Marc Morehouse of The Gazette used the line 'this is a TKO' in the second half of the game, and he was right. If it were a boxing match, it would have been on the verge of being called off. It was a dominant performance but that didn't show up on the scoreboard. After this point, Iowa State made some plays and Iowa made a few more mistakes. This is the type of game that coaches can get a lot of mileage out of; the film review will still show a lot to work on yet you got the win and the team is feeling better about itself. This week's opponent is a Western Michigan team who is 0-3 and lost to Nichols State two weeks ago. Yes, they looked salty against Northwestern last week but Iowa has no business losing to them. Iowa really needs to execute crisply in this game heading into the start of the Big Ten season next week at Minnesota. It's the perfect tune up opportunity as WMU is a challenged team. They are 98th in total offense and 113rd in rushing defense. They are 17th in passing yards allowed but that has more to do with playing against Michigan State in week one, who was clueless at quarterback, and Northwestern last week who was able to run the ball at will and didn't need to throw it. Iowa won't likely 'need' to throw it in this game, but they will want to in oder to iron out a few of the passing game wrinkles which are still plaguing them . I think they'll do it and head into the Big Ten season 3-1, riding a three game winning streak with two winnable games ahead of them to start Big Ten play. IOWA: 38 WMU: 10 The post Clean It Up against W. Michigan appeared first on Hawkeye Nation.
Original Story:
http://www.hawkeyenation.com/football...
THE BACKYARD
BEST OF MAXIM
RELATED ARTICLES
The Iowa Hawkeyes obliterated Western Michigan on Saturday in Kinnick Stadium, a rout that was sparked by back to back punt returns for touchdowns by Kevonte Martin-Manley. He's the first player in the Big Ten to do that since Garcia Lane of Ohio State in 1983 and just the third in league history. It was that kind of day for Iowa when most things went right during the final three...
Iowa has improved its scoring from last season by eight-points — averaging 27 points through three games. The improvement should have Iowans pleased with the direction the offense and the coaching staff is heading in. The issue however, is that the defense hasn't seen improvements and is still a question mark. In 2012, Iowa gave up 23 points per game to opposing offenses. This...
Iowa football rarely has been easy on the nerves during Kirk Ferentz's 15-year run. This season is shaping up to be much of the same. The key to survival is exhibiting patience and enjoying the ride.
The Iowa Hawkeyes take on Western Michigan today and (according to Twitter) this is apparently what the student section looked like about 20 minutes before the game. That is one Iowa Hawkeye fan in the picture. Noon kick offs are notorious for having low attendance at schools. People show up late. If this picture is accurate, this is pretty bad. #B1G RT @Hlas: There's still a...
Western Michigan Coach P.J. Fleck knew his team ran into a Iowa squad clicking on all cylinders Saturday. He talked about Iowa's dominance and his respect for its head coach, Kirk Ferentz.
With the start of college basketball season on the horizon, we'll be taking a long look at the conference at large as well as Indiana's roster over the next month. Today, we continue our look at the Big Ten with the Iowa Hawkeyes. For the first time in the Fran McCaffery era in Iowa City, there are expectations for the Iowa Hawkeyes. After landing on the wrong side of the NCAA...
The Iowa Barnstormers AAU program has been good to Iowa in recent years with Josh Oglesby and Jarrod Uthoff both hailing from there. Another product of that organization is gaining attention on the recruiting circuit. Class of 2015 Point Guard Spencer Haldeman talks about his recent visit to Iowa City in this story.
Hawkeyes News

Delivered to your inbox

You'll also receive Yardbarker's daily Top 10, featuring the best sports stories from around the web. Customize your newsletter to get articles on your favorite sports and teams. And the best part? It's free!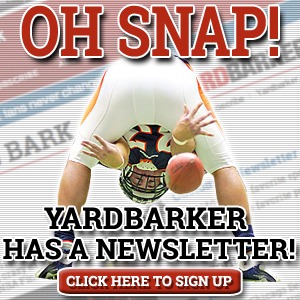 Latest Rumors
The Backyard

Today's Best Stuff

For Bloggers

Join the Yardbarker Network for more promotion, traffic, and money.

Company Info

Help

What is Yardbarker?

Yardbarker is the largest network of sports blogs and pro athlete blogs on the web. This site is the hub of the Yardbarker Network, where our editors and algorithms curate the best sports content from our network and beyond.