IOWA CITY, Iowa (AP) It's hard not to wonder whether Iowa's season is about to fall apart. The next month will show exactly where the program stands during coach Kirk Ferentz's 16th season. Iowa's rush defense, once a driving force behind the team's success, was broken down repeatedly in the last two games. The Hawkeyes (5-2, 2-1 Big Ten) also are thinner at...
Jake Rudock will look to improve upon his impressive performance last game. The Iowa Hawkeyes (5-1) travel to Maryland to take on the Terrapins (4-2) at 11 a.m. The Iowa Hawkeyes are coming off their best offensive performance of the season beating Indiana 45-29. Maryland is still recovering from the 52-24 pounding that the Ohio State Buckeyes gave them two weeks ago. The game will...
Disgruntled Iowa fans aren't thrilled with Hawkeyes' head coach Kirk Ferentz. The longtime coach has won just under seven games a year since the Hawkeyes' 11-2 2009 season, but a huge contract makes it difficult for Iowa to think about going in a different direction. One Iowa fan has made a similar long-term decision about Ferentz: he had the coach's likeness tattooed on...
Kirk Ferentz out-thought himself in his Hawkeyes' 20-17 loss to Iowa State on Saturday. Iowa State had a 4th-and-1 at Iowa's 24 with two seconds left in a 17-17 game. Ferentz decided to try icing Iowa State kicker Cole Netten on a last-second field goal attempt. Netten's kick barely hooked wide left, which would have […]
  My dad was such a Hawkeye fan that he had Herky on the back of his gravestone. My dad was probably the biggest sports fan that I have ever known. He loved playing it, talking about it, watching it, and coaching it. He passed on that same love of sports to my brothers and me. He would come home from work and we would go right outside and play soccer, football, baseball, basketball...
Big Ten football doesn't move to a nine game conference schedule until 2016, but Iowa head coach is already openly talking about an eventual 10-game schedule for the conference. Towards the end of his weekly radio show "Hawk Talk with Kirk Ferentz," he brought up the possibility of a further expansion of Big Ten play in response to a question about scheduling tougher non-conference...
Oh, Kirk Ferentz, where do I even begin? After three years of steady regression the Hawkeyes bounced back to an 8-5 record in 2013 (and Hawkeye fans celebrated like they won the dang national title; apparently expectations are low in Iowa City), bouncing back from a 4-8 mark the year before. More importantly, Iowa survived [&hellip (Visited 100 times, 100 visits today) The post...
Now that the recruiting attrition has ended, Kirk Ferentz looks to begin his four year cycle once again. In this multi-part series of articles, I will discuss the effects of Kirk Ferentz to Iowa football. I will talk about the good and the bad of  Ferentz. I also will talk about the future of Iowa with Ferentz at the helm and if Iowa is better or worse with him as the coach in...
Big Tentacles - The Big Ten and its influence over college football.You've Got a Ferentz in Me. Mike Jones looks at Iowa head coach Kirk Ferentz and his coaching staff as part of Off Tackle Empire's Iowa Week.Party on the Patio.Purdue announces plans to install a "temporary patio area" near the southern end zone of Ross-Ade Stadium. It will replace recently torn...
Iowa running back recruit Markel Smith failed to qualify academically to Iowa so he will attend Milford Academy in Connecticut in the fall. Incoming Iowa football freshman running back Markel Smith will not be attending Iowa this fall as planned due to failing to qualify academically. Smith was one of Iowa's highest rated prospects in the class of 2014 with some high three star...
MORE STORIES >>
College Football News

Delivered to your inbox

You'll also receive Yardbarker's daily Top 10, featuring the best sports stories from around the web. Customize your newsletter to get articles on your favorite sports and teams. And the best part? It's free!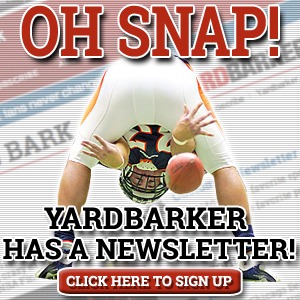 THE COLLEGE FOOTBALL HOT 10