Found November 15, 2012 on isportsweb.com:
The past few weeks have witnessed the rise of Johnny Manziel and the Texas A&M Aggies, whose latest win against Alabama created some BCS havoc (top- Getty/ Revere, bottom- AP/ Martin) The last couple of weeks have kept be busy and on the road.  One of my stops, San Francisco, coincided with the Giants' World Series triumph and celebratory parade.  It was quite a sight to behold, seeing tens of thousands of people streaming into downtown San Fran decked out in orange and black.  That it happened to coincide with Halloween was merely good timing as far as the colors go.  That it coincided with me trying to make my way back to the airport to fly home…that timing wasn't so good.  I escaped, but the throngs of fans made it a challenge. The parade, in addition to being a happy spectacle of epic proportions, served as a reminder of how important sports are.  We build identities around our teams.  We dress for them; believe me, it was difficult to find a single San Franciscan not wearing a jersey, jacket, or Giants t-shirt.  Our social lives revolve around them from parties to nights at the bar to water cooler conversations to online commentary.  We live and die with their wins and losses and something as simple as a 60-minute or 9-inning game can make or break our week.  Our month.  Our year. The parade reminded me that, for many of us sports are a central part of existence.  If you're lucky enough to root for successful franchises or schools, don't take that luck for granted.  And if you're a long-suffering supporter of teams near the bottom, continue to hope that things improve. If, however, you're a Marlins fan, just give up now.  The last straw has come and gone, friends.  But that's another column. My time away delayed the Tailgater best/worst posts, so forgive my abbreviated rundown of the past few weeks.  I'll start with week 9. Best Win of The Week, Week 9: Notre Dame 30, Oklahoma 13 in Norman It was an amazing win at the time and is even more so in retrospect.  How did the Irish manage to go in and dominate the Sooners given how horrible they looked before and since?  Leading up to this game, Notre Dame had a controversial win over Stanford in overtime, and barely beat BYU at home.  BYU!  Then they roll OU…a momentary blip of inarguable success, before flopping against Pitt.  I'll get to that Pitt game later.  The point is that Notre Dame is unpredictable, maddening, and living on the dangerous edge. Honorable Mention: Georgia 17, Florida 9 in Jacksonville ***** Worst Win of the Week: Texas 21, Kansas 17 in Lawrence The Longhorns have new life late in the season, but before they were potential spoilers for Kansas State, they were barely victorious over the other Big 12 team from the Sunflower State.  Any game in which you can only beat your league's doormat by four points is a bad game.  End of story.  (Dis)Honorable Mention: Stanford 24, Washington State 17 in Palo Alto ***** Upset of the Week: Arizona 39, USC 36 in Tucson USC was supposed to be the challenger to Oregon's dominance.  USC was supposed to emerge from the shadows cast by its recent NCAA punishments.  USC was not supposed to lose to Arizona in a shootout.  The Wildcats have looked like world-beaters and bottom-feeders all in the same season, and unfortunately for the Trojans, week 9 was simply a good week in the desert. Honorable Mention: Washington 20, Oregon State 17 in Seattle ***** Blowout of the Week: Kansas State 55, Texas Tech 24 in Manahattan KSU likes 55-point days against highly-ranked opponents. ***** AND THE GAME BALLS GO TO… Strobl: Luke Batton, LB- Kent State It wasn't particularly surprising that Rutgers suffered a loss.  It was surprising that Kent State was the team doing the upsetting.  The Golden Flashes are hardly known for football, but on this particular day, they looked like gridiron gods.  Defensively, Kent was on fire, forcing seven turnovers and befuddling the Scarlet Knights' offense.  Leading the way was Batton, who was all over the field from his inside linebacker position.  Batton accrued 13 total tackles (seven solo), a sack, and an interception as KSU dropped Rutgers from the ranks of the unbeaten. John Mitchell: Jarvis Jones, LB- Georgia The media has been building up Notre Dame's Manti Te'o, but the best defensive player in college football may reside in Athens. Georgia earned a massive victory over Florida thanks to the performance of Jarvis Jones, who was completely dominant. Jones finished with 13 tackles, 5 tackles for loss, 3 sacks, and 2 forced fumbles as the Bulldogs got the 17-9 win over Florida, and now control their own destiny in the Eastern division race. Jones made the play of the game after Jeff Driskel fired a pass to Jordan Reed and Reed was racing inside the five-yard line. Reed went airborne and Jones knocked the ball loose into the endzone and it was covered by Georgia to seal the deal on this edition of the World's Largest Outdoor Cocktail Party. Zach Bigalke: Giovanni Bernard, RB- North Carolina Bernard had an otherworldly do-it-all day for the Tar Heels as they survived a test from rival NC State. The tailback carried 23 times for 135 yards and 2 touchdowns, and added 8 catches for 95 receiving yards. But his biggest impact came in the final minute. NC State, forced to punt and expecting overtime, was burned when Bernard returned it 74 yards for the deciding score with just 13 seconds left. All told he accounted for more than half of UNC's 570 yards of offense in the 43-35 victory. ***** Best Win of The Week, Week 10: Kansas State 44, Oklahoma State 30 in Manahattan In a week that saw Alabama and Oregon struggle (at LSU, at USC), Kansas State looked as good as ever.  Oklahoma State came into this paying better defense and re-establishing itself as a threat in the Big 12.  But once the opening whistle blew, the matchup belonged to the Wildcats.  A Collin Klein injury marred things a bit, but in the end it was no problem. Honorable Mention: Texas A&M 38, Mississippi State 13 in Starkville ***** Worst Win of the Week: Notre Dame 29, Pittsburgh 26 in South Bend This game was putrid.  It was the worst win of the year, easily.  Pitt should have won in regulation, should have won in the first overtime, and outplayed the Irish for most of the day.  By the craziest luck imaginable, the Irish escaped with their perfect record intact.  But they did nothing whatsoever to claim this victory.  It was more like the Panthers bumbling their way into a loss.    (Dis)Honorable Mention: Florida 14, Missouri 7 in Gainesville ***** Upset of the Week: Texas 31, Texas Tech 22 in Lubbock It figures that a mere week after barely being able to beat Kansas, the Longhorns would turn in their best performance of the season.  Texas Tech had an outside shot at winning the conference before this unexpected loss. Honorable Mention: San Diego State 21, Boise State 19 in Boise ***** Blowout of the Week: UCLA 66, Arizona 10 in Pasadena Remember, Arizona had just beaten USC.  Then this happened. ***** AND THE GAME BALLS GO TO… Strobl: Ray Graham, RB- Pitt We been hearing all year how great the Notre Dame defense is.  How it didn't give up rushing touchdowns.  How it was keeping the Irish on track for a BCS appearance.  Then, somehow, Ray Graham and the lowly Pittsburgh Panthers took that mighty D to task.  Graham compiled 172 rushing yards on 24 carries, finding the endzone once and generally mauling Notre Dame's stop unit.  He added six catches for 25 yards.  Even if one assumes that Notre Dame was a bit overconfident following the Oklahoma win, this performance was eye-opening.  It was workmanlike and explosive at the same time as Graham helped keep Pitt in the thick of things throughout the four quarters plus. John Mitchell: Johnny Manziel, QB- Texas A&M If Johnny Manziel stays healthy, he is going to rewrite the record books at Texas A&M and be a major problem for SEC defenses for years to come. He looks like he's playing backyard football out there, and he eviscerated one of the best pass defense in the country on Saturday afternoon in Starkville. He was an efficient 30-of-36 passing for 311 yards and added 129 yards and two touchdowns on the ground to lead the Aggies to a 38-13 stomping of Mississippi State. One of the matchups I'm most looking forward to next week is seeing Johnny Football go up against Alabama's defense in Tuscaloosa. Zach Bigalke: Kenjon Barner, RB- Oregon For years he has had to spell others in the high-octane Oregon backfield. Now Kenjon has the record for the best single-game performance EVER by a Duck tailback… and he did it on the biggest stage possible. In the Coliseum to face USC, Barner continually gashed the Trojan defense for huge chain-moving gains. Carrying 38 times in a feature role, the Heisman candidate racked up 321 yards and five touchdowns against Monte Kiffin's D, adding two receptions for another 26 yards. Playing huge when the Oregon offense needed it most, Barner got the job done today and earned MY game ball… even if Oregon gave theirs to Uncle Phil. ***** Best Win of The Week, Week 11: Texas A&M 29, Alabama 24 in Tuscaloosa Yes, this was the biggest upset of the season and could fall into that category in this post.  But it was also a dominating win, regardless of the surrounding circumstances.  Alabama was the best team in the nation and the Aggies flat out beat them in all phases of the game.  The Tide did fight back and even had a very real shot to win, but bad play-calling and Johnny Manziel proved to be their collective undoing. Honorable Mention: LSU 37, Mississippi State 17 in Baton Rouge ***** Worst Win of the Week: Florida 27, Louisiana Lafayette 20 in Gainesville Well.  That was embarrassing.  What the heck happened to the Gators?  They beat A&M on the road.  They beat LSU at home.  But after that loss to Georgia things have gone downhill fast.  A near-loss to Mizzou followed by this close shave against the Sun Belt's ULL?  Only a last-minute blocked punt and return for TD prevented this from going to overtime.    (Dis)Honorable Mention: Florida State 28, Virginia Tech 22 in Blacksburg ***** Upset of the Week: Syracuse 45, Louisville 26 in Syracuse It was only a matter of time before the undefeated Cardinals lost, but it was hard to imagine the Orange being the ones to deliver the blow. Honorable Mention: Massachusetts 22, Akron 14 in Akron Is Akron losing (to anyone) really an upset?  Perhaps not.  But this isthe first FBS win for UMass!  Yay! ***** Blowout of the Week: Georgia 38, Auburn in Auburn Congratulations, Gene Chizik, on one of the worst seasons ever witnessed.  Auburn is about to go winless in conference play. ***** AND THE GAME BALLS GO TO… Strobl: Clint Chelf, QB- Oklahoma State In the first start of his college career, Clint Chelf tossed four touchdowns and guided the Cowboys to a big win.  Now I know what you're thinking- besting the WVU defense isn't exactly impressive.  But consider the Chelf was a third-string QB at the start of the season.  A Wes Lunt concussion and a previous season-ending knee injury suffered by former back-up J.W. Walsh pressed Chelf into duty.  It wasn't an easy situation, and let's not forget that the Mountaineers' offense typically requires opposing teams to score early and often.  There was pressure here, and Chelf handled it effectively.  John Mitchell: Johnny Manziel, QB- Texas A&M Going on the road and knocking off the #1 team in the country, a team that boasts one of the best defenses in all of college football, isn't easy for a fifth year senior, more less a redshirt freshman. But that's exactly what the aptly nicknamed Johnny Football did on Saturday afternoon in Tuscaloosa against #1 ranked Alabama. Manziel picked apart the Crimson Tide secondary by completing 24-of-31 passes for 253 yards and 2 touchdowns to go along with 92 rushing yards to help his Aggies to a 29-24 upset victory. Most impressively, Manziel avoided the big mistake. He didn't turn the ball over a single time, while his counterpart AJ McCarron tossed two costly interceptions. This performance by Manziel jumped him to the very top of my Heisman ballot. Zach Bigalke: Marcus Mariota, QB- Oregon The Ducks were stuck in the middle of a trap game in Berkeley when the freshman QB came up from a scramble with an injured non-throwing shoulder. The team was already banged up on defense, and stud RB Kenjon Barner was hurting as he struggled to find gaps in the Bears defense. Re-enter Mariota, who tied an Oregon record with 6 TD passes, completing 27 of 34 passes for 377 yards. He added 42 rushing yards, accounting for two-thirds of Oregon's offensive production. When the season could have taken a tailspin, Marcus stepped up big time.
Original Story:
http://feedproxy.google.com/~r/isport...
THE BACKYARD
BEST OF MAXIM
RELATED ARTICLES
PRAYING FOR BEST
Texas A&M wide receiver Thomas Johnson has been missing since Monday night, and the school has sent a release about the matter.
With just a few weeks left, Collin Klein has a strong lead in the Heisman race and will have to seriously underachieve over his last two games to lose it. The Wildcats' quarterback is being recognized for his leadership skills as well as his impressive output. Kansas State coach Bill Snyder said, "They respond to him, not only by what he does, but also what he addresses...
With two weeks left in the 2012 college football regular season, the battle for the Heisman Trophy is looking more and more like a two-man race between quarterbacks Collin Klein of Kansas State, and Johnny Manziel of Texas A&M. You can thank Manziel's performance in the Aggies' defeat of Alabama for that. It's the game within the games. Klein is ahead of...
COLLEGE STATION, Texas -- Texas A&M police say freshman wide receiver Thomas Johnson is missing. The department says that the 18-year-old was last seen leaving his residence in College Station on Monday at 5 p.m. Johnson went to high school in Dallas and police believe he might have traveled to that area. Lt. Allan Baron says there are no other details available. Aggies...
The terrific performance by Texas A&M freshman quarterback Johnny Manziel — now known around the country as "Johnny Football" — in Saturday's stunning upset of defending national champion Alabama has thrust Manziel squarely into the Heisman Trophy race. But Manziel has work to do to catch favorite Collin Klein, the quarterback of unbeaten Kansas State. Against the Tide's...
Texas A&M police say freshman wide receiver Thomas Johnson is missing. The department says that the 18-year-old was last seen leaving his residence in College Station on Monday at 5 p.m. Johnson went to high school in Dallas and police believe he might have traveled to that area. Lt. Allan Baron says there are no other details available. Aggies coach Kevin Sumlin released...
The official twitter account of Texas A&M Aggies football (@AggiesFootball) has been touting Johnny Manziel (#JohnnyFootball) all day for the Heisman. However, I'm sure they are going to hear about it for the following retweet: Doesn't matter to me what a school tweets out, but not everyone is as free thinking as me. I'll be interested to see if this tweet eventually gets deleted.
In an apparent effort to go from nationally loved (not counting you, Alabama) to nationally hated in a shorter timespan than Steve McNair and Tiger Woods combined, Johnny Manziel, his family, and Texas A&M have begun working with the Aggies licensing program to trademark the nickname "Johnny Football." Since Manziel can't profit in any way from the trademark and...
By now, even the most staunch supporter has to admit that the contest just didn't go their way.Despite a dominance in the south, in the end, it just wasn't enough. All the excuses and finger pointing means little as the results were strongly in the outsider's favor.Despite the final tally, those of us who witnessed the battle know the final margin felt like a lot more...
Covering Dixie Like Mildew. This just in... Tennessee head football coach Derek Dooley still hasn't been fired yet. (The Knoxville News Sentinel)  Baseball metaphor for college football of the day.  Derek Dooley's replacement at Tennessee has to be a  home run. Because Joel Hollingsworth said so. (Rocky Top Talk) Johnny Manziel is quiet. Too quiet. Pat Dooley...
Now it's out of Alabama's hands. The fourth-ranked Crimson Tide have not only lost that aura of invincibility that seemed to surround Nick Saban's team through eight games and the final two minutes against LSU, but surrendered control of their fate in the national title derby. No. 9 Texas A&M made sure of that with Johnny Manziel's dazzling performance and a...
Aggies News

Delivered to your inbox

You'll also receive Yardbarker's daily Top 10, featuring the best sports stories from around the web. Customize your newsletter to get articles on your favorite sports and teams. And the best part? It's free!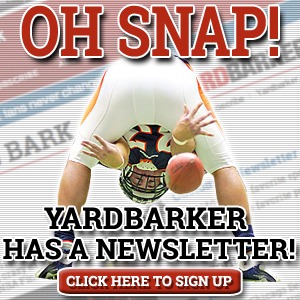 Latest Rumors
Best of Yardbarker

Today's Best Stuff

For Bloggers

Join the Yardbarker Network for more promotion, traffic, and money.

Company Info

Help

What is Yardbarker?

Yardbarker is the largest network of sports blogs and pro athlete blogs on the web. This site is the hub of the Yardbarker Network, where our editors and algorithms curate the best sports content from our network and beyond.