College football players, teams we can't wait to see again in 2017
By Daniel Tran | Last updated 1/11/17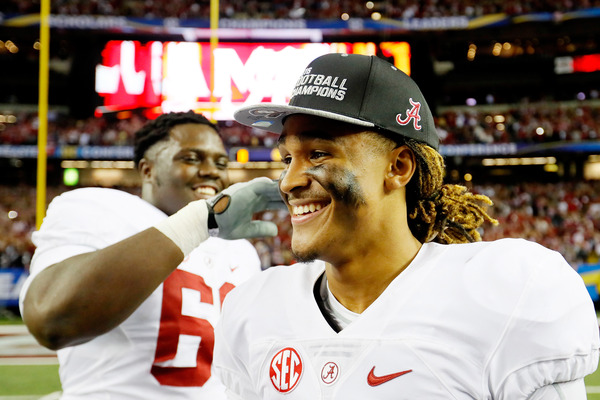 After dazzling college football as a true freshman at Alabama, Jalen Hurts will be a must-watch in 2017.
Kevin C. Cox/Getty Images
With the field empty and the confetti being swept off Raymond James Field in Tampa, college football fans were hit with that annual depression: the season is over. They will have to wait about eight more months before any meaningful game is played.
However, even with the season over, it is never too early to look ahead. We had some pretty exciting games this Bowl season, and a lot of players who made a name for themselves in those games. Young players blossomed during the season and look like they can improve as well.
Some teams also emerged to put the rest of college football on notice, and players and fans alike can't wait until they hit the field again with bright futures ahead of them. Who can blame them? The country is just a better place when the grills are hot, the corn hole boards are out and college football is rocking stadiums across the nation.
Here are some players that made an impression in 2016 and we can't wait to see in 2017.
Sam Darnold, USC
Let's start with the obvious: Sam Darnold is pretty good quarterback. The true freshman took over at starting quarterback for flailing Southern California after three games, and never looked back. He ended the season with 3,086 yards and 31 touchdowns, and was instrumental in the Trojans' nine-game win streak to end the season.
He also carried USC to victory in the Rose Bowl in one of the best games of the year. Darnold threw for five touchdowns against Penn State and helped the Trojans rally from a 14-point deficit in the fourth quarter. His poise and athletic ability will make USC a playoff threat next year.
Southern California
Things looked bleak at USC when they were blown out against Alabama to start the regular season and fell to Stanford and Utah early in the year. However, head coach Clay Helton made a quarterback change and a few adjustments on defense to end the year with a Rose Bowl Championship – the Trojans' first since 2008.
USC may be losing wide receiver Juju Smith-Schuster and the always exciting Adoree' Jackson, but the team will be still be stacked with Darnold, running back Ronald Jones II, emerging wide receiver Deontay Burnett and another strong recruiting class. Opposing teams need to be prepared to hear "Conquest" constantly next year.
Jalen Hurts, Alabama
A lot of people will laugh at the demise of Alabama and criticize the one-dimensional play of Jalen Hurts, but they won't be laughing so much next year. Hurts nearly won the Crimson Tide a national championship on an amazing run in the last minutes of the game, and he will be back for more next season with one year under his belt.
As a true freshman, Hurts still threw an efficient 2,751 yards, completing 62.7 percent of his passes and 22 passing touchdowns. Even if he improves marginally in any of those categories in addition to his explosive running ability, we could be looking at a Heisman candidate in no time.
Bo Scarborough, Alabama
Clemson won the national championship in a rematch that was destined to happen. There is no denying that, but one big what-if that will always be asked is would it have been the case if Alabama running back Bo Scarborough had played the whole game?
Scarborough was running around and through Clemson defenders with relative ease before he left the game with a leg injury (later diagnosed as a broken fibula) in the third quarter. Before leaving, he battered the Tigers to the tune of 93 yards on 16 carries and two touchdowns. After showing fans what he can do late in the season, Crimson Tide fans can't wait until next year when he can blow up linebackers, cornerbacks and safeties in the open field again.
Oklahoma State
The Cowboys are always teasing their fans with their potential and talent, and this offseason won't be any different. Coming off of an impressive Alamo Bowl win against Colorado, Oklahoma State made a statement to Big 12 teams for next year.
Mike Gundy's team dominated the Pac-12 South champion Buffaloes 38-8 behind Mason Rudolph's 314 yards and three touchdowns, putting him over 4,000 yards for season. With Rudolph, 1,000-yard rusher Justice Hill and big play wide receiver James Washington all returning next year, Oklahoma State is looking good to fill one of the four playoff spots next year.
Dexter Lawrence, Clemson
Alabama had some trouble moving the ball in the national championship game, and a lot of it had to do with Clemson's defensive line. With Carlos Watkins probably leaving for the NFL, true freshman tackle Dexter Lawrence will be the man anchoring the middle for this terrifying line next year.
Lawrence had an instant impact in his first year at Clemson, notching 8.5 tackles for loss and 6.5 sacks. Some are projecting him to be a future No.1 draft pick, and he will be even more disruptive next season.
Saquon Barkley, Penn State
What a cruel world it is. Had it not been for Sam Darnold's brilliant play, well-timed defensive stops for USC and a couple of boneheaded throws from Penn State quarterback Trace McSorley, we might be talking about Saquon Barkley's performance as one of the best Rose Bowl performances of all time.
USC was helpless against Barkley for most of the game, allowing the sophomore running back to gain 194 yards on the ground, 55 yards through the air and three total touchdowns. Barkley was a big reason the Nittany Lions were able to secure a Big Ten title this year, and he could be a big factor for them to repeat next year.
Derrius Guice, LSU
When Leonard Fournette decided to say "peace out" to the season early and not playing the Citrus Bowl, some were wondering if LSU would be okay. Derrius Guice answered that question pretty quickly.
The sophomore running back answered the call for the Tigers, gaining 138 yards on the ground and adding a touchdown to help defeat Louisville. Funny thing is, Guice was doing fine before the Citrus Bowl, averaging nearly eight yards a carry and gaining over 1,200 yards. With Fournette planning to leave for the NFL, the LSU running game is in good hands with Guice.
Shane Buechele, Texas
Texas football has been in dire straits recently, and a lot of it had to do with its quarterback situation. But it looks like the Longhorns got their answer in Shane Buechele.
The true freshman threw for nearly 3,000 yards in his first season and added 21 touchdowns, showing a quick release and an ability to throw the ball down the field. With rising coach Tom Herman joining Texas, Buechele should continue to develop and give Texas the wins they desperately crave.
MORE FROM YARDBARKER:
Way-too-early look at Heisman favorites in 2017
QUIZ: Name every Alabama draftee to make an NFL Pro Bowl
31 players drafted from the Alabama Crimson Tide have made the NFL Pro Bowl at least once. This list includes an impressive 7 Hall of Fame inductees. How many of these members from Alabama that found success in the NFL can you name?
Clue: Number of Pro Bowls-Position- Draft Team/Years Active in NFL
MORE FROM YARDBARKER
College Football News

Delivered to your inbox

You'll also receive Yardbarker's daily Top 10, featuring the best sports stories from around the web. Customize your newsletter to get articles on your favorite sports and teams. And the best part? It's free!