Found February 02, 2012 on Fox Sports:
When Alabama captured the 2011 BCS Championship in New Orleans, there was a hint at what greatness lay ahead in Tuscaloosa before the season even started. The BCS champion's team consisted of upperclassmen from their 2008 recruiting class, that same class that was ranked No. 1 by Scout.com. So does a No. 1 recruiting class translate to a BCS Championship three or four years later? The answer is a surprising "No." Only one other team has had a No. 1 recruiting class that won a BCS Championship with that class four years later; Texas ('02) in the 2005 BCS Championship. A No. 1 recruiting class in its third year has fared worse -- as in zero BCS Championships -- although Alabama came close, winning the 2011 BCS Championship with its class of 2009 (ranked No. 2). Competition within a team is an integral part of a team's success. It also can lead to transfers when a highly touted player isn't getting the reps he thinks he deserves. Attrition, coaching changes and early departure to the NFL can also shrink a recruiting class' full potential. Scott Kennedy, Director of Scouting for Scout.com, asked Washington commit Brandon Beaver if any of the coaches who had originally offered him were still around. Beaver replied, "None." But it's not just coaches who are going through that revolving door. Consider Florida's 2010 class. With 28 commits, it was ranked the top class in the country by Scout. Today, more than a third of that original class is gone due to transfers and dismissals. Ten out of 28 players gone after two years, some ostensibly due to Urban Meyer's departure from Florida. With the national coaching carousel at full tilt every year, more recruiting classes will suffer. From 2002 -- the first year Scout started publicizing its football class rankings -- to 2011, the Fighting Irish have appeared three times in Scout's top five team rankings; 2003, 2006, and 2008. In those 10 years, Notre Dame went through three head coaching changes and never finished in the top five of the final BCS poll. Florida State, Miami and Tennessee have had a combined nine top-five Scout class rankings since 2002, yet nary a BCS Championship title to their names in that span. They too have had recent significant coaching changes. Florida State's class of 2012 was top-notch as well, but many sports media twitter accounts pointed out the lack of success the Seminoles have had in the past with highly touted recruits. The only teams that have seen a top-five recruiting class pay off three to four years later -- in terms of a BCS Championship title -- are Alabama, Florida, LSU and Texas. Of those four teams, Florida is the only team among them that has had a head coaching change in the last five years. Having a stable coaching staff certainly keeps recruits happy, but unless the coaching staff understands the tricky science of evaluating talent, a failure to launch can happen. "Your evaluations are purely based off of a potential workout that may or may not have occurred with an assistant coach watching it," explains Yogi Roth, a former assistant coach at USC and currently a college football analyst/broadcaster. "The only way you can get a pure evaluation is if the kid comes to your summer camp. If he comes to your camp as a sophomore, you have to project where he's going to be at 20 years old when he's 16 years old -- that's hard to do. "The biggest growth for a teenager is between 17 and 18 years -- their junior and senior year. But because [the recruiting process] has moved up so much now, if I'm going to offer you, I've got to probably offer you at the end of your junior year." So which matters most when trying to win a BCS Championship? Coaches or players? "Above all else, it comes down to players," Roth says, although he thinks coaching is a close second. "To become a championship-level program like Alabama is rolling out right now, is when these kids get to police themselves. (It's) based on these guys all having the principles that the head coach ultimately sets." Alabama's 2011 BCS Championship team was comprised of third- and fourth-year players from its 2008, 2009 and 2010 classes, ranked Nos. 1, 2 and 4 respectively by Scout. Between 2002 and 2008, Alabama never saw a top-five recruiting class, but since 2008, Alabama has won two BCS Championships under head coach Nick Saban. "You've got to give credit to Alabama," Roth concedes. "They can pick any anybody they want in the country and they're obviously picking the right kids to fit that system." Evaluation and development. It's the heart of recruiting. "It's really hard to evaluate a high school student-athlete as a prospect for a major Division 1 program and be right," Roth admits. But the key is the quarterback. "The power of the quarterback," Roth says emphatically. "If you don't have one, you're in trouble." With Signing Day in the books, fans will congratulate themselves with a top-ranked class, but the odds of their team winning a BCS Championship in the next four years are against them. When Nick Saban was asked about this year's class -- ranked No. 2 by Scout but in all honesty, they look tied with Texas at No. 1 -- by ESPN reporter Wendy Nix, Saban gave us the usual rhetoric that all coaches give us -- he's happy. But he also acknowledged the true indicator of a successful recruiting class. "This," he said, looking at the 2011 BCS Coaches Trophy, "is the ultimate symbol of success." * BCS Final Poll is the poll released after all conference championships and prior to actual bowl play. NOTE- all recruiting statistics are from Scout.com's database.
Original Story:
http://msn.foxsports.com/cfb/story/co...
THE BACKYARD
BEST OF MAXIM
RELATED ARTICLES
Last year, the University of Alabama caused a minor sh*t storm when the football team set up a live cam to announce and introduce the program's latest recruiting class on National Signing Day. It wasn't that people had a problem with the fact that Nick Saban and Co. were bragging about their new studs. No, it was because they had the very not unattractive Briana Baisden assisting...
We begin with a requisite nod to Nick Saban. Fresh off his second BCS championship in three years, Saban claimed the nation's No. 1 recruiting class for the fourth time in six years at Alabama. The beast is self-sustaining now.
Nick Saban Signing Day Press Conference Transcript that includes selected player quotes from signees that are already enrolled at Alabama.
TUSCALOOSA, Ala. (AP) -- National champion Alabama restocked the nation's top defense, scooped up a few highly recruited offensive playmakers and generally had what's becoming a typical signing day for Nick Saban & Co. In other words, replacing departed stars with blue-chippers across the board on a program that has won two of the last three national championships. ...
Grizzlies coach Lionel Hollins took an unusual tact in the offseason to improve his craft. He chose to visit Alabama's Nick Saban, the only coach in major college football history to win national championships at two schools (LSU and Alabama). He phoned the Crimson Tide's fifth-year coach and asked if he could visit him to observe. Saban was more than happy to invite Hollins...
[Written by @gbdawkins - ParadigmShift35]On National Signing Day, we learned that some universities would be offering four-year scholarships to their football players, while others will not. Others, still, refused to answer the question. On the surface, it seems like a good idea-guaranteeing a kid his education. On twitter, myself and a couple of other people (lawyers, mostly) expressed...
Via CFB SectionVia Friends of the ProgramVia Friends of the ProgramAhhhh, National Signing Day. One of the best days of the year. You get to watch grown men obsess over kids that were born in 1994. Did you hear that 1994? Does that make you feel old? It should.Alabama has had a fax cam girl that has looked well in a dress and this year was no different. That's why they have the...
University of Alabama head football coach Nick Saban announced that 18 student-athletes have signed national letters of intent to play football with the Crimson Tide, joining eight players who enrolled at the Capstone in January and will compete in spring practice later this semester.
Alright. Signing day is coming up tomorrow and we'll see the fans go crazy over their school's big signings and even crazier over the guys they don't get. All this freaking begs the question: How much credence should be placed on these "star" rankings that we see from the big three services, Scout, Rivals and ESPN? Do fans place too much emphasis on the...
That is one fine, quality, sweet list of recruits. The Elephants will be rolling with excitement over that. National Championship + Houndstooth outfits + Mahogany Desks = sign Bama bangs wearing kids up. More Information
Crimson Tide News

Delivered to your inbox

You'll also receive Yardbarker's daily Top 10, featuring the best sports stories from around the web. Customize your newsletter to get articles on your favorite sports and teams. And the best part? It's free!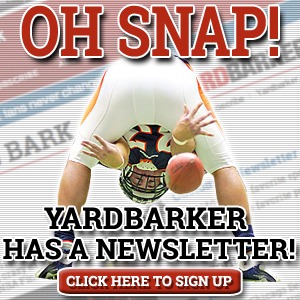 Latest Rumors
The Backyard

Today's Best Stuff

For Bloggers

Join the Yardbarker Network for more promotion, traffic, and money.

Company Info

Help

What is Yardbarker?

Yardbarker is the largest network of sports blogs and pro athlete blogs on the web. This site is the hub of the Yardbarker Network, where our editors and algorithms curate the best sports content from our network and beyond.