Found July 18, 2013 on HawkeyeNation.com:
Right off the top, we admit this is a classic July item. There are no real games to discuss, we've spent a great deal of the last few months talking about the upcoming football season to the point where we've nearly run out of fresh angles. That said, I was reading some message board posts yesterday morning, some containing hope for the coming year with some being critical of Kirk Ferentz and the year that was. It made me think back on some of the things we've seen since Ferentz arrived at Iowa 14 years ago…some of the things I have seen that I hold near and dear to my heart. While we can all name the great wins and walk off moments, there are other great memories that stand out more to me than just knocking off a highly rated team in dramatic fashion. Two moments stand out to me more than any others: Alamo Bowl Celebration: It was December of 2001 and Iowa had just defeated Texas Tech in the Alamo Bowl on a late Nate Kaeding field goal and Bob Sanders interception in the end zone on a hail mary attempt by the Red Raiders. Iowa players were celebrating on the field and bowl officials were erecting a makeshift podium at the 50 yard line. Kaeding was down in one end pretending to be a maestro, leading the band. Confetti was literally falling from the roof and Kirk Ferentz was handed the bowl trophy and said into the microphone to the crowd, 'The Hawks are back! Here we go!' Ferentz repeated the 'We're back' mantra in the post game interview room, too. That has always stood out to me because of how reserved Ferentz is and just how little I have seen him act that way in the moment. No, he wasn't crazy or outlandish and he was certainly correct; the program had climbed back out of the hole it was in and was on solid footing. Little did we know how solid; Iowa would finish #8 in the nation the next three years in a row, including two Big Ten championships and two bowl wins. 6-4 Win in Happy Valley: This is one of my favorite Iowa games of all time that I really never want to watch again. The reason it's one of my favorites is because of the end of game reactions of Kirk Ferentz, with his sons on the sidelines and then the post game interview where Kirk choked up. He had just buried his father a few days earlier. John Ferentz had passed away at 84 and the entire Ferentz clan flew out to Pittsburgh the Wednesday of that week. You can read a great account here from Mike Hlas. The team grieved with Kirk and celebrated with Kirk. It was just one of those indelible moments you never forget, that makes an impact on you in some way. When people want to rip Kirk for this or that, it's moments like this that I recall. There are dozens more, such as actually standing on the sidelines, with my brother, at the goal line that Warren Holloway would cross to win the Capital One Bowl later in that 2004 season and Bob Bowlsby bear hugging me. This followed either my brother or I saying after the late LSU score 'Let's walk down to the other endzone in case there is a miracle.' The years have clouded my memory there; I thought I said it and my brother thinks he said it. He may be right. I tossed this question out on twitter and received a lot of replies. Many of them involved memories with family, which always makes things stand out. Here are some of the tweets. You can add your favorite memories to the comments section below…things that are unique to you. See if you can spot the tweet from a former Iowa player who was involved in one of these magic moments. this might be the most 'replied to' tweet I have ever sent out. @HawkeyeNation Goal posts being carried out of the Dome. Culmination of a dominant year + fun to laugh at Gophers expense. — EC Hawk (@ECHawk1) July 17, 2013 @HawkeyeNation Rose in KF's mouth at Minnesota – KF holding up the Big Ten Championship Trophy in '04 – '09 Penn State Blocked Punt — Derek Ambrose (@DAmbrose12) July 17, 2013 @HawkeyeNation Watching Tate-Holloway in Grandpa's living room. 70yo Navy man who never got excited about anything jumped out of his chair. — Erik (@eriklikesvodka) July 17, 2013 @HawkeyeNation 2004 Wisconsin rushing field. I was 14, my Dad went up to Roth and told him "Thanks for coming to Iowa." — Kirby Murra (@kirbymurra) July 17, 2013 @HawkeyeNation Watching Tate throw the bomb against LSU in the armory at FE Warren Afb. Excited around a lot of guns! — Fostnasty (@Hockeyrobert) July 17, 2013 @HawkeyeNation when 7 got 6. A large gathering of friends all around one TV, and the hysteria that broke out when he caught that ball. — Drew (@PeppersZoso) July 17, 2013 @HawkeyeNation – Stanzi to McNutt. @ Barleycorn in Wrigley where we jumped & hugged w/ fellow Hawks we didnt kno. Beer sprayed everywhere. — Scott Stence (@martinscooter) July 17, 2013 @HawkeyeNation 2004 beat down of Ohio State in Kinnick. 1st game and to witness that domination was awesome! — craig kenkel (@ctthawk) July 17, 2013 @HawkeyeNation Cap One,with fam half watching in garage over air TV rest of us thru satellite so had delay. Heard cheers as Tate took snap. — Adam Halter (@iapunk) July 17, 2013 @HawkeyeNation 2004 after drubbing the Badgers @ IC, watching the post game festivities on the field knowing the Hawks were B1G co-champs. — Elliot (@OnASpot) July 17, 2013 @HawkeyeNation watching Daniel Murray knock off PSU from the stands during a cold, snowy night in nothing but a green tshirt for Shonne. — Danny O'Donnell (@Dpodonnell12) July 17, 2013 @HawkeyeNation 08 Penn State. I had to brace myself on a table I was shaking so bad before the kick went up. After it went up, chaos in LA. — Jeremy Roberts (@HerkyNation) July 17, 2013 @HawkeyeNation In the stands for the opening kick off return for TD in 03 Orange Bowl. It got rough after that, but the moment was awesome. — Steve Book (@sjbook4) July 17, 2013 @HawkeyeNation Watching Stanzi to Mcnutt in the laundry room of the Dakota County Jail in Nebraska. (Correctional officer not inmate) — Fostnasty (@Hockeyrobert) July 17, 2013 @HawkeyeNation MSU '09. Was photographing a wedding, all were watching the game in a side room. Loud eruption, then everyone partied. — Steve Nuzum (@stevenuzum) July 17, 2013 @HawkeyeNation Stanzi-McNutt vs MSU. My wife telling me they would win after MSU scored. I didn't believe her. Learned she was always right — Michael DeSloover (@mikejd38) July 17, 2013 @HawkeyeNation Iowa and Lsu Cap One Bowl. My husbands head down, not wanting to watch the last play. Well he did watch #HawkeyeHjstory — Jackie Rhodes (@jsrhawks1) July 17, 2013 @HawkeyeNation 09 MSU, the day my HS football career ended. One last HS loss, was hugging my dad and screaming as the night ended — JohnPatrick Brown (@jp__brown) July 17, 2013 @HawkeyeNation '08 PSU. Wearing Hawkeye gear at FSU's Doak Campbell stadium, refreshing my phone for updates. Crowd cheered 4 Paterno loss. — Tommy Schorer (@TommyBoyUI) July 17, 2013 @HawkeyeNation 08 PSU I was in the student section. After the FG I rushed the field & got to the 10yd line then realized there was :01 left — Collin Post (@postcollin90) July 17, 2013 @HawkeyeNation being a 10 year old in tears as LSU stole the cap 1 bowl and running around the living room with dad as Tate sealed the deal — Andrew Stowe (@andystowe56) July 17, 2013 @HawkeyeNation 08 Brodell punt return vs ISU. Jumped on/hugged/tackled my roommates so hard we went to the ground and kept cheering like mad — Daniel Oliver (@DVdubya) July 17, 2013 @HawkeyeNation Basking in the rain at Happy Valley in 2009 while the victorious Hawks serenaded us with the Iowa Fight song. Priceless. — Joel Hanson (@JoelKHanson) July 17, 2013 @HawkeyeNation Hugging my 72-year old Dad in East Lansing in the rain as Castillo seals the win in 2012. Game over! Hawks win! Hawks win! — Joel Hanson (@JoelKHanson) July 17, 2013 @HawkeyeNation I was driving out West listening to the radio when Adrian blocked the punt against PSU. Almost knocked myself out in my trk — David Bush (@truckerdave7) July 17, 2013 @HawkeyeNation Never seen a bigger beer shower than when C.J Jones returned the opening kickoff of the Orange bowl in 2002. — Bobby Beier (@BobIsWideAwake) July 17, 2013 @ABlessing89 @DVdubya @HawkeyeNation I got head butted by a fan. I had my helmet on. Murray and I nearly missed the post game prayer — Eric Guthrie (@EricGuthrie07) July 17, 2013 @HawkeyeNation Tate/Holloway. 1yr old goddaughter asleep on my shoulder. fist in the air. silent on the outside. screaming on the inside. — Brian Duffey (@duffeyboy) July 17, 2013 The post Favorite Ferentz Era Memories appeared first on Hawkeye Nation.
Original Story:
http://www.hawkeyenation.com/football...
THE BACKYARD
BEST OF MAXIM
RELATED ARTICLES
The Rimington Trophy committee released its 2013 Fall Watch List on July 9, 2013. The fall and spring lists are identical. The John Mackey Award also released its Preseason Watch List last week. The Rimington Trophy is awarded to the "most outstanding center" in NCAA Division I-A college football (current FBS/FCS) and the John Mackey Award is given to the "most...
An interesting discussion has begin to emerge in college football and it has to do with the pace of the game and safety. Last October, Nick Saban of Alabama began talking about hurry up and no-huddle offenses from the standpoint of is this what we want football to become. Was the sport meant to be played continuously and without the breaks between each play, as it has been played...
Hawkeyes News

Delivered to your inbox

You'll also receive Yardbarker's daily Top 10, featuring the best sports stories from around the web. Customize your newsletter to get articles on your favorite sports and teams. And the best part? It's free!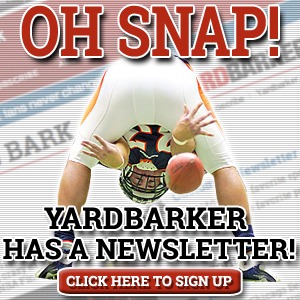 Latest Rumors
The Backyard

Today's Best Stuff

For Bloggers

Join the Yardbarker Network for more promotion, traffic, and money.

Company Info

Help

What is Yardbarker?

Yardbarker is the largest network of sports blogs and pro athlete blogs on the web. This site is the hub of the Yardbarker Network, where our editors and algorithms curate the best sports content from our network and beyond.