Found September 08, 2012 on College Football Zealots:
There had been a lot of hype building up to this game as it was Missouri's first ever SEC game and one of the premier college football match-ups of the week. Early on there were a lot of miscues on both sides. Missouri botched a snap on their first drive for a loss of 24 and Georgia fumbled on their first play of the game (but recovered). There were six punts in the first quarter as the teams battled to an even 0-0 tie. On Missouri's first possession of the second quarter, they fumbled and Georgia recovered. On Georgia's first play of the second quarter, Aaron Murray threw an interception. With a lot on the line for both teams, early miscues kept the game close with both teams playing very tight. 
The offenses started to open up a bit in the second quarter and Missouri took a 10-9 lead into the locker room. On their first drive of the second half, after forcing Georgia to punt, Missouri hit a 69 yard TD pass to go up 17-9. Georgia answered that with their longest drive of the game as they marched 75 yards on 12 plays for a TD. On the next drive, Missouri gained 63 yards but got held to a FG and that's where the game turned. On the next possession Georgia went 72 yards on five plays and took the lead 24-20. Missouri would not score again.
The final score of 41-20 really wasn't indicative of how close this football game was for the first three quarters. This was a game that was highly in doubt but Jarvis Jones took over the game in the fourth quarter. With Georgia up 27-20, Jones intercepted a James Franklin pass and brought it back to the one yard line which set up a Todd Gurley TD run. Three plays later, Jarvis Jones sacked James Franklin and caused a fumble which set up a six yard Boo Malcome TD run. Just like that it was 41-20 and the game was over. While it's very unlikely that Jarvis Jones will win a Heisman Trophy during his playing career, the impact that Jones had on the game in what equated to just under a minute of playing time was truly Heisman worthy.
Aaron Murray has had his critics for never having a "signature win" but maybe this will become that win. It will be interesting to see if this catapults him and Georgia to better things in the future. Murray started out 5 for 11 with an INT but finished hitting 17 of his last 24 with 3 TDs and really settled into the game in the second half. Marlon Brown, who sat out the first game with an injury, had a big game with 9 receptions for 124 yards and 2 TD. The offense played well once, like Murray, they settled down but it was the defense that won this game for Georgia. In the fourth quarter, Jarvis Jones and the D clamped down. Mizzou had four drives (not including the one that ended that game that ran out the clock) and they ended with a punt, an interception, a fumble and a turnover on downs. Georgia is going to be very dangerous when they get Sanders Commings, Bacarri Rambo and Alec Ogletree back and this defense gets to full strength.
Another key moment in the game was a special teams play by Richard Samuel. On the first drive of the fourth quarter, Missouri tried a fake punt and Samuel snuffed it out and tackled the punter after a three yard gain. That stopped the Mizzou drive and gave Georgia great field position that they turned into a 41 yard FG. If you remember last year, South Carolina burned Georgia with a fake punt and Melvin Ingram rumbled for a long TD run. This year Georgia was ready and the veteran Samuel stepped up, knew his assignment and made the play.
Overall, this game closed out how you expect a top ten team to close out a game on the road. Georgia came up with the big plays from their big players when they needed them. Missouri played Georgia very tough for three quarters and gave them all they wanted but when it came down to it they didn't make the plays in the end. That comes down to depth and it's something that Missouri is going to have to build up quickly if they want to rise up the ladder in the SEC. In the end, Georgia and it's style of "old man football" was better on this night. Georgia will now turns it's sites towards accomplishing something bigger while Missouri looks towards Arizona State and then heads to South Carolina.
[follow]
Original Story:
http://www.collegefootballzealots.com...
THE BACKYARD
BEST OF MAXIM
RELATED ARTICLES
Last night I watched Georgia do something I haven't seen it do very much over the last couple seasons—win a big football game when they look defeated. The first half of last night's game against Mizzou—at least from an offensive standpoint—was crappy. Michael Bennett was dropping passes (Michael freaking Bennett was dropping passes), Aaron Murray looked jumpy and out of...
With the political conventions over, it's time for everyone's favorite party to take center stage: Football America! Today, the best of both worlds…NCAA and NFL football both continue to draw great numbers of fans to television screens and stadiums (except last week at Maryland, where only 31,000 – they say – fans cheered the mighty Terps onto a 7-6 win over Bill and Mary...
Georgia will be without starters Alec Ogletree and Bacarri Rambo when the Bulldogs play Missouri on Saturday at Faurot Field, the Atlanta Journal-Constitution reported. Ogletree and Rambo did not travel with the team to Columbia., Mo., on Friday night. Neither Ogletree, a linebacker, nor Rambo, an All-American free safety, played in last week's opening victory against Buffalo...
The entire country, at least those above the Mason-Dixon line and west of St. Louis, are pretty much exhausted by the effort of certain SEC fans. The group of fans who cause more eye rolls than anyone else are those of the Georgia Bulldogs. They have a solid football program, but not on the same [...]
No one was more relieved than Sanders Commings when Georgia got through its first two games unscathed. Now, he's ready to start doing his part. Commings, a versatile player who can start at either cornerback or safety, has completed a two-game suspension after being charged during the offseason with domestic violence. He is eager to get back on the field for the seventh-ranked...
  Marlon Brown finished last night's contest with eight receptions, 106 yards, and two touchdowns. It was a performance worthy of more than a little conversation as Brown's career at Georgia has been, for lack of a better word, inauspicious, at best. The senior receiver signed with Georgia, in 2009. He was a a highly-touted  prospect out of Tennessee (Harding Academy) with...
Georgia brought home a huge victory from Columbia, Mo. Jarvis Jones turned in a Heisman-like performance. How did the rest of the Bulldogs do?
Heading into Saturday's matchup against Georgia as a new member of the SEC, the Missouri Tigers and their fans were pretty geeked up.  Missouri defensive tackle Sheldon Richardson trashed talked Georgia by calling their style of play "old man football".  I'm still not quite sure what that means, but the old man strength prevailed Saturday night as Georgia delivered a heavy...
COLUMBIA, MO. - Jarvis Jones after the Bulldogs' 41-20 win over Missouri.
Aaron Murray hit Marlon Brown for two of his three touchdown passes, the second for the go-ahead score as No. 7 Georgia recover from a shaky start with 32 second-half points that spoiled Missouri's SEC debut in a 41-20 victory on Saturday night. The Bulldogs (2-0, 1-0) trailed 17-9 early in the third quarter before turning Missouri's SEC debut into an unsatisfying initiation...
COLUMBIA, Mo. (AP) -- Aaron Murray hit Marlon Brown for two of his three touchdown passes, the second for the go-ahead score as No. 7 Georgia recover from a shaky start with 32 second-half points that spoiled Missouri's SEC debut in a 41-20 victory on Saturday night. The Bulldogs (2-0, 1-0) trailed 17-9 early in the third quarter before turning Missouri's SEC debut into...
On Saturday night, the #7 Georgia Bulldogs (2-0, 1-0) defeated the Missouri Tigers (1-1, 0-1) by the final score of 41-20 as the first SEC by the Tigers gets away from them in the 4th quarter.
Bulldogs News

Delivered to your inbox

You'll also receive Yardbarker's daily Top 10, featuring the best sports stories from around the web. Customize your newsletter to get articles on your favorite sports and teams. And the best part? It's free!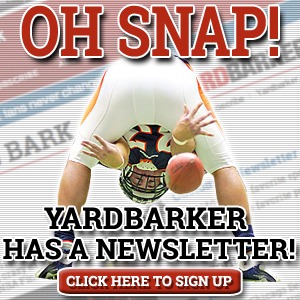 Latest Rumors
The Backyard

Today's Best Stuff

For Bloggers

Join the Yardbarker Network for more promotion, traffic, and money.

Company Info

Help

What is Yardbarker?

Yardbarker is the largest network of sports blogs and pro athlete blogs on the web. This site is the hub of the Yardbarker Network, where our editors and algorithms curate the best sports content from our network and beyond.