Found May 31, 2012 on CollegeFootballSaturday.com:
South Carolina head coach Steve Spurrier believes college football players should be paid between $3,500 and $4,000 each year to compensate for the money they are making the university.
Steve Spurrier says college athletes should get paid.
I agree with almost everything Spurrier has to say. All of his jokes make me laugh and I frankly do not care who they are pointed at, but Spurrier is dead wrong on this. College athletes are already paid money–tuition money. They are already getting compensated by the university, by getting a free education and their fees paid for.
If you disagree with me, take a peek in a college classroom. There's probably an 18 or 19 year old that scored a 25 on his ACT loaded up with student loans or desperately trying to work while attending classes to pay his own way through school. Meanwhile, in the same classroom, an athlete with a 19 ACT and a 3.0 GPA probably sits in the same room, and his biggest worry outside of class is whether or not the head coach is going to make him run extra sprints at practice.
Don't get me wrong. Being a college athlete is not an easy ordeal. Athletes have to travel (the amount of travel obviously depends on the sport) and keeping up with school on the road could be a tough challenge for even the brightest of students. At the same time, a student working 40 hours a week (most students not on scholarship do work at least part time), has as much on his plate as any college athlete. A college athlete that practices/lifts weights/runs for around six hours a day on average has the same amount of his schedule dedicated to an activity outside of school as a non-athlete.
But wait Daniel, you don't get it! It's not that these athletes are spending all their time doing sports. No, it's that the university is making millions of dollars off of these athletes and they should be compensated. Come on, you'd agree if you were in their shoes.
No, no I wouldn't.
Say for instance an art student at the University of It Doesn't Matter paints the best picture since Leonardo da Vinci's Mona Lisa. More than likely, the painting would be done for a class or in a class at the university. The student could sell that picture all around the world as much as he/she wanted. An athlete does the exact same thing. If a running back shines in college, he "shows off" his skills to the NFL and rakes in millions in the same way the art student could. Here's guessing the university would find the money to make a new art department pamphlet with modern day Picaso right on the front cover, advertising what the school's incredible art department could do for a future student's career.
An university is a business. If it can make money off of sports, it will. If it can make money off of art, it will.
Maybe that example doesn't clear up the picture for you. Here's a more simple one: If someone at the University of Toledo cures cancer, you better believe that student will become the face of the non-athletic side of Toledo.
I'm honestly sick of hearing about college athletes being paid. If you're a college athlete, be thankful for your free dorm room, your free tuition, and your free books. Stop asking for more. Depending on the college, that's at least $30,000 alone over a four year period. Free. Other students that may have talent somewhere else, like in singing or dancing, are sitting in the same room as you, living at home, and schooling their way right into financial debt.
Besides, can you imagine how corrupt the already corrupt NCAA would be if college athletes did get paid? How would they manage to control the money going around? How long would it be before a player with the stature of a Tim Tebow received ten times more than a third string offensive tackle?
This is a non-issue. College athletes do get paid. Ask the kids actually paying their way through school and I bet they'd take a free bed, free classes, and no job while playing a sport they love.
Original Story:
http://feedproxy.google.com/~r/Colleg...
THE BACKYARD
BEST OF MAXIM
RELATED ARTICLES
Steve Spurrier is sticking with his plan to pay players. South Carolina's outspoken coach first floated the idea at the Southeastern Conference's spring meetings last year. Fellow coaches and league administrators listened, but it made little, if any, progress. He trotted out his stipend plan again this week and said Wednesday that football coaches voted 14-0 to present...
Leave it to Steve Spurrier to up the ante. At this weeks's SEC meetings, the South Carolina head coach came out with a proposal to pay college football players between 3,500 and 4,000 a year above and beyond their scholarships. Ostensibly, this money would be used to defray living and travel expenses that scholarships don't cover, especially since football players are forbidden...
  Breaking news: Steve Spurrier isn't happy. In case you missed, Steve Spurrier has been quite vocal about what he feels is an unfair system in the SEC. A system that allows teams that didn't go undefeated in divisional play to overtake those who did based solely on their overall record. "Your division champ should be decided on division games. Last year, it wasn't fair...
DESTIN, Fla. -- Steve Spurrier is sticking with his plan to pay players. South Carolina's outspoken coach first floated the idea at the Southeastern Conference's spring meetings last year. Fellow coaches and league administrators listened, but it made little, if any, progress. He trotted out his stipend plan again this week and said Wednesday that football coaches voted 14...
Spurrier on Paying Players Part 2The Ol' Ball Coach took some of his podium time at the SEC Meetings in Destin Florida to speak about a subject matter that clearly is important to him. Steve Spurrier last year made headlines at this very same event when he said that he thinks players in revenue generating sports should be compensated beyond just a scholarship, room, board and books...
Let's go! Or if you are Craig James, back to the drawing board... SEC meetings are underway this week and plenty of good stuff is coming out of the meetings, from playoff and expansion talk to the typical Steve Spurrier one-liners. Spurrier, asked about Florida State being picked number one by Phil Steele, reacted in typical Spurrier fashion. "They were last year too....
Future Big 12 Commissioner Bowlsby Against Pay for Play Steve Spurrier's position on paying college football players is well established. The comments the South Carolina coach made this week once again sparked the debate about fairness at the major college sports level. One man with a significant amount of influence sits on the other side of the fence. Newly minted Big 12 Commissioner...
Today there are 91 days until kickoff. 91 is the most plays run by South Carolina in a game last year.  The Gamecocks ran 91 plays and churned out 639 yards against Kentucky.  The overmatched Wildcats were run over, around and through en route to a 54-3 beating.  The game was pay back for the fluke in Lexington the year before, and it served as a coming out party for Connor Shaw...
South Carolina beat Manhattan 7-0 last night to move into the winners' bracket.  Earlier in the day Clemson beat Coastal Carolina 11-3 to do the same.  The Gamecocks and Tigers play today at 4 pm. Haven't we already played them?  Yes we have.  USC won in Charleston and Columbia but lost in Clemson. Isn't the NCAA supposed to avoid rematches?  Yes, that was their...
Today there are 89 days until kickoff. 89 represents the most points scored by a South Carolina team in a single game.  The Gamecocks defeated Welsh Neck Academy on October 6, 1903.  Welsh Neck Academy later became Coker College for Women in 1908.  They haven't fielded a football team since.  I wonder why.
South Carolina hosts the Manhattan Jaspers today at 4 at Carolina Stadium.  The game will be broadcast on ESPNU.  This is the first game of the NCAA regionals.  Each regional consists of 4 teams playing a double elimination tournament.  South Carolina is the 1-seed; Clemson is the 2-seed; Coastal Carolina is the 3-seed, and Manhattan is the 4-seed.  1 plays 4, and 2 plays 3...
Gamecocks News

Delivered to your inbox

You'll also receive Yardbarker's daily Top 10, featuring the best sports stories from around the web. Customize your newsletter to get articles on your favorite sports and teams. And the best part? It's free!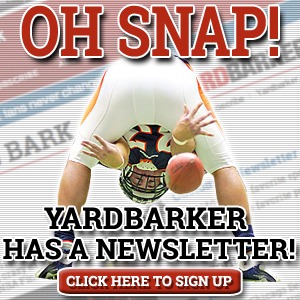 Latest Rumors
Best of Yardbarker

Today's Best Stuff

For Bloggers

Join the Yardbarker Network for more promotion, traffic, and money.

Company Info

Help

What is Yardbarker?

Yardbarker is the largest network of sports blogs and pro athlete blogs on the web. This site is the hub of the Yardbarker Network, where our editors and algorithms curate the best sports content from our network and beyond.