The Oregon Ducks and UCLA Bruins play a Top Ten Matchup at Matthew Knight Arena on Monday Night. Oregon faces UCLA in a Play For Kay game which is also Senior Night for the Ducks. Oregon will honor Eugene Local Lexi Bando and Justine Hall. With The Bruins losing at Oregon State over the weekend […] Oregon Ducks Will Be High On Emotion For Senior Night vs UCLA Bruins - Autzen Zoo...
The Oregon Ducks Softball team lost their first game of the season vs Ole Miss on Saturday. Oregon Pitcher Megan Kleist picked up her first loss but threw the best game of the season in a 1-0 loss to Ole Miss. Kleist threw 8 1/3 innings giving up just 3 hits and a run. She […] Oregon Softball: Kleist Picks Up First Loss vs Ole Miss - Autzen Zoo - Autzen Zoo - An Oregon Ducks Fan...
The Oregon Ducks played as a team for the better part of sixty minutes but fell flat in an Overtime loss at UCLA, 86-78. Just like Thursday night against the USC Trojans, the game against the Bruins was a back and forth battle. Oregon managed to stay out of foul trouble for most of the […] Oregon Ducks Find Inconsistency Late, Lose To UCLA Bruins - Autzen Zoo - Autzen Zoo - An Oregon...
The Oregon Ducks Softball team has been on fire since the start of the season and are now 9-0 following two run-ruled games on Friday. Oregon took no mercy in either game taking care of business with speed on the bases and hits at the plate against Rutgers and Texas. Starting Pitcher Maggie Balint went […] Oregon Ducks Softball Remains Dominant, Run Rules Rutgers and Texas - Autzen...
The Oregon Ducks Baseball team picked up their first win of the season on Friday thanks in part to Jakob Goldfarb at the plate. Oregon Baseball ended last season with a thud missing the NCAA Tournament with questions about George Horton returning in 2018. In the offseason, Horton signed a new contract with the Oregon […] Oregon Baseball: Ducks Open Season With Win Over Loyola Marymount...
Oregon baseball will be heading to Las Vegas on Friday for the season opener, looking to prove that they will be a better team this year. Not only have they been unranked this season but they are known for losing a lot of money in PK Park. Then-athletic director Pat Kilkenny cut the wrestling program in 2009 so they can work on improving the baseball team facilities and recruiting...
University of Oregon softball has been one of the most successful programs for years now. They were the PAC-12 champions from 2013-2016. They have also competed in the Women's College World Series the past few seasons, and last year, they made it to semifinals. Unfortunately, they've yet to make it to the 'ship. But is this the season? On Tuesday, NFCA (National Fastpitch Coaches...
It's been a while since the Oregon Ducks had an inside linebacker that one could mention in the same breath with the likes of Wesley Mallard, Tom Graham, or Ernest Jones. Well, that's about to change with incoming freshman Andrew Johnson from Tift County High School, in Tifton, Georgia. Jones […]
Throughout my lifetime, the Oregon football teams have boasted the most decorative and unique uniforms in all of college football. Since the founder of Nike, Phil Knight, is a former student and track athlete of the University of Oregon, he has used his company to have all of Oregon athletics outfitted in the most colorful, diverse and cutting-edge gear in the entire country. I've...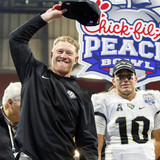 With the exception of the National Championship Game, college bowl season is over. We learned a lot about teams and conferences as a whole, and it's safe to say there were some surprises involved during the bowls as well.Here's a look at 10 things we have learned from 2017-18's college bowl season.1. The Big Ten really was that loaded…It's really quite amazing that, despite apparently...
MORE STORIES >>
Oregon News

Delivered to your inbox

You'll also receive Yardbarker's daily Top 10, featuring the best sports stories from around the web. Customize your newsletter to get articles on your favorite sports and teams. And the best part? It's free!
THE HOT 10: Who's Trending