The Ducks' wealth of success this season is matched perhaps only by their bountiful plenty of luxurious accommodations.  It is a well known fact that Phil Knight, creator of Nike company, attended the University of Oregon, and has become a prominent fan and financial contributor to recent improvements made in the school's athletic facilities.  Have you ever wondered how a team that plays so well is rewarded for their fine work?  You're about to find out. Because academics are number one for every student athlete, we'll start with the Jaqua academic center, which was completed in 2010.  With 40,000 square feet, housing an atrium, bookshelves filled with reading material, a plaque commemorating 4,000 athletes who graduated, and a large-scale pixelated portrait of Albert Einstein, the Jaqua center is a mind-numbing piece of modern art located in Eugene, Oregon.  Outside, there is a still, shallow pool.  While driving, walking, or cycling past it, I have been forced to stop and stare on numerous occasions. The building has glass walls, and sits three stories tall.  I'm glad that "regular" students are not allowed to study in the Jaqua center, because I think I would become lost in the futuristic aspects of its design, and lose concentration on my work, while sitting on one of the cube chairs inside. After their studies, players are expected to get down to training.  Inside of the newly built Casanova center, Oregon has a 25,000 square foot weight room (which shows priority on academics), a locker room where each compartment has a ventilation unit to eliminate harmful odor, a lounge area with a foosball and a pool table, a barbershop, a two-story theater room, lounges with 55-inch TV screens, and gaming consoles, a kitchen area that's larger than many restaurants, and specialized position meeting rooms with their own monitors.  In coach Mark Helfrich's office, there are monitors that drop down from the ceiling.  New Duck recruits will be taken to a special lounge area, with nice seats, and a large TV.  There is even a CIA-style "war room" which only 40 of the Ducks' highest ranking team personnel are allowed into.  In the coaches' locker room, there are TV screens embedded in the mirrors.  There is a hydrotherapy pool in the coaches' locker room, as well.  In the old days, players could excuse poor performance on lackluster team facilities, or lack of rest.  But with the $68 million Casanova center at their disposal, it is clear that the football team has no excuse not to be 100%. Last but not least, the Oregon Ducks' wardrobe.  Each Saturday, the team has to choose between about 10,000 uniform combinations, according to calculations done by a physics professor.  That's a number that would make any wardrobe fanatic blush. Lately, the Ducks' players have become superstars.  The fact that they are treated like superstars with their academic, athletic, and recreational facilities, is only logical.  I think that Oregon's football players are a talented team, and they should be rewarded for their play.  For the teams that lose to the Ducks, there is always a bright side: they can blame the loss on the Ducks' lavish lifestyle.     Jaqua: http://www.archdaily.com/137141/university-of-oregon-john-e-jaqua-academic-center-for-student-athletes-zgf-architects/ Casanova: http://www.huffingtonpost.com/2013/08/10/oregon-ducks-facility-tour_n_3734962.html http://dailyemerald.com/2013/07/31/photos-inside-the-new-oregon-ducks-football-performance-center/ Uniforms: http://gamedayr.com/gamedayr/2013-fiesta-bowl-so-just-how-many-oregon-uniforms-are-there-exactly/
Original Story:
http://www.cascadiasports.com/2013/09...
TEAMS:

MORE FROM YARDBARKER
Ducks News

Delivered to your inbox

You'll also receive Yardbarker's daily Top 10, featuring the best sports stories from around the web. Customize your newsletter to get articles on your favorite sports and teams. And the best part? It's free!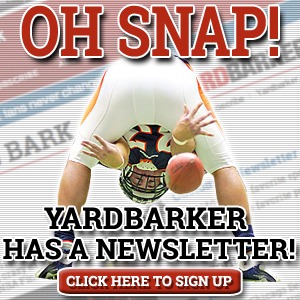 Latest Rumors
Best of Yardbarker

Today's Best Stuff

For Bloggers

Join the Yardbarker Network for more promotion, traffic, and money.

Company Info

Help

What is Yardbarker?

Yardbarker is the largest network of sports blogs and pro athlete blogs on the web. This site is the hub of the Yardbarker Network, where our editors and algorithms curate the best sports content from our network and beyond.