Found December 09, 2012 on Fox Sports:
PLAYERS:
Johnny Manziel
,
Reggie Bush
,
Michael Vick
,
Herschel Walker
,
Kevin Sumlin
,
Ryan Swope
,
Kliff Kingsbury
,
Tim Tebow
,
Marcus Mariota
,
Todd Gurley
,
Devonte Fields
,
T.J. Yeldon
TEAMS:
Miami Dolphins
,
Philadelphia Eagles
,
Notre Dame Fighting Irish
,
Kansas State Wildcats
,
Texas A&M Aggies
,
Louisiana Tech Bulldogs
,
Florida Gators
,
Oregon Ducks
,
Georgia Bulldogs
,
TCU Horned Frogs
,
Alabama Crimson Tide
Johnny Manziel was understandably wide-eyed, but he certainly didn't look, or sound, like a freshman as he hugged his parents, said a few calming words to his tearful dad, John Paul, and coolly strolled to the stage to accept the Heisman Trophy on Saturday. He also didn't appear flustered or sound like he was new to addressing a crowd when he offered a polished and selfless acceptance speech, then thoughtfully fielded questions from the media -- something he wasn't allowed to do until the previous weekend. But inside, the 20-year-old Manziel (who just Tuesday celebrated the birthday he and his father share) was freaking out -- much like you'd expect the first freshman to win college football's most prestigious individual prize would do, after beating out two seniors for the right to hoist history. "I felt my heart like beating out to right here," Manziel said, holding his hand in front of his chest about 45 minutes after learning he'd finished well ahead of Notre Dame linebacker Manti Te'o and Kansas State quarterback Collin Klein in the voting. "I was wondering on TV if you could see my shirt moving. I was really, really nervous -- more nervous than anything I've ever experienced in my life." One could hardly blame Manziel for feeling a little out of his element on Saturday, as he became the 76th member of the 78-year-old Heisman fraternity -- one that includes two-time winner Archie Griffin and booted-out 2005 winner Reggie Bush. It's been a long journey for the redshirt freshman to get to this point. Not only did Manziel, in winning the Heisman, accomplish what no other first-year player in the history of the game -- not Adrian Peterson, not Michael Vick, not Herschel Walker -- was able to do. He also did it by setting an SEC record with 4,600 yards from scrimmage, accounting for 43 touchdowns for a team that was supposed to be a doormat in its first year in football's toughest conference. "I said earlier this year, you can put his numbers up against anybody who ever played the game for a single season, and the numbers will speak for themselves and the voters would recognize that," Texas A&M head coach Kevin Sumlin said after the ceremony. "And that's what happened." Heading into the season, it wasn't even clear whether the Manziel would be the best or first choice to lead the first-year man Sumlin's traditionally high-powered, wide-open spread offense -- one that made Case Keenum the NCAA's all-time leading passer while at Houston. Sumlin says he considered Manziel, among other things, to be careless with the football during spring practice -- and that was before Manziel's reputation and his chances at starting took an even bigger hit in June, when he was arrested on misdemeanor charges of disorderly conduct and possessing a fake ID. But by the time the season opener against Florida rolled around, Manziel had put his checkered summer behind him and earned the starting job. And as the season rolled on and the wins piled up -- particularly in an unforgettable road victory over then-No. 1 Alabama -- the questions about whether Manziel was cut out for this gig were quickly rendered irrelevant, as Texas A&M games soon became must-see TV, with Manziel the Aggies' main attraction. Whether it was his miraculous fumble-then-touchdown to Ryan Swope against Alabama, his 72-yard touchdown run in a 576-yard game against Louisiana Tech, his comeback against Ole Miss -- which both Manziel and Sumlin describe as the turning point in the Aggies' season -- or a number of other electrifying moments, every game turned into a Manziel highlight reel that no one wanted to miss. "All spring, coach Sumlin would blow the whistle as the defense would get close (to Manziel) and he'd come over pissed and spike the ball like, 'God, I would have gotten it,' and we're like, 'OK Johnny, sure. They would have gotten you,' " Texas A&M offensive coordinator Kliff Kingsbury said. "Then we come to find out they wouldn't have gotten him. He has that kind of elusiveness and that type of athleticism." Not only is Manziel's win immeasurably important for him, Sumlin and the A&M program, which should see a recruiting boon as a result of Manziel's accomplishments. It's also an enormous milestone for freshmen all over the country, who, up until now, had been considered undeserving of entrance into the elite Heisman club, regardless of their accomplishments on the field. There was a big to-do when Florida Gators QB Tim Tebow became the first sophomore to win the Heisman in 2007, but he ended up sparking a chain reaction of sophomore Heisman winners that included Sam Bradford in 2008 and Mark Ingram in 2009. As was the case with Tebow, voters selecting Manziel for this year's award could represent a paradigm shift in the way voters approach the Heisman, and could open the door for other freshmen in years to come. On Saturday, Manziel mentioned Oregon quarterback Marcus Mariota and Georgia running back Todd Gurley as other first-year stars deserving of recognition. Others, such as TCU's Devonte Fields and Alabama's T.J. Yeldon, also have excelled in their first years on the big stage. Now that Manziel has broken the freshman barrier, it seems more a matter of when than if another freshman will join him in the club, and the only thing that might stop it from happening soon may be Manziel, himself, who has at least two years left to play in his college career. "It doesn't matter who you are," Manziel said Saturday. "If you work hard enough and have a great group of guys and a great university and great people around you, then great things can happen. ... It's starting to become more of a trend that freshmen are coming in early, and they're ready to play. "I don't know how likely it is to happen the next couple years," Manziel added. "But the barrier is down, and whoever wants to come up and really just take the nation by storm, it's there for the taking." There's a case to be made that Manziel may have reached his peak too soon, and that being under the radar was part of what endeared him to fans so easily this season. Next year, he'll carry a weight much more substantial than his 25-pound Heisman Trophy for a team that won't sneak up on anyone. But Manziel is aware of the unavoidable expectations he'll face from now on, starting against Oklahoma in the Cotton Bowl on Jan. 4. He's forthright about where he needs to improve, and neither Manziel nor his coaches expect a dropoff in 2013. Over the course of just one season, this boy from Texas hill country has become a man and a star, and there's little reason to expect less from him as a sophomore. "We started out this process just trying to win a game and watching him develop," Kingsbury said. "The way he's worked at it and grown, not only on the field but as the man, you see behind the scenes, is the most impressive. We'll just keep getting better, and try to improve as a team next year." Said Manziel, "There's always a chance that you could fail, but I feel like if you work hard enough and you put in the time and effort, that's not going to happen. "If you continue to try to strive to be the best football player in the entire world, which I want to be, I think good things will happen." You can follow Sam Gardner on Twitter or e-mail him at samgardnerfox@gmail.com
Original Story:
http://msn.foxsports.com/cfb/story/jo...
THE BACKYARD
BEST OF MAXIM
RELATED ARTICLES
Texas A&M freshman Johnny Manziel is the 2012 Heisman Trophy winner. He's the first freshman to win the award. His numbers were better than Cam Newton's when Newton won the award, whose numbers were better than Tim Tebow's when he won. It really shouldn't have been as close as it was. While Manziel won by a decent margin, he was easily the best player in the country and...
For the first time in its history the Heisman trophy has went to a freshman. Johnny Manziel was chosen as the winner of the 2012 Heisman Trophy beating out Notre Dame's Manti Te'o and [...]
The Davey O'Brien Foundation today announced Texas A&M's Johnny Manziel as the 2012 Davey O'Brien National Quarterback Award® Winner. Todd Blackledge, the 1982 Davey O'Brien Winner, presented the award to Manziel during The Home Depot College Football Awards at the Walt Disney World Resort in Lake Buena Vista, Fla. He will be honored at the 36th Annual Davey O'Brien...
No one knows exactly what winning the Heisman Trophy requires. We do have an idea of what you can't do. You can't play just defense. Unless you're Archie Griffin, you can't win it twice. You can't be an offensive lineman. You couldn't win it as a freshman until Saturday night, when Texas A&M quarterback Johnny Manziel snagged the award in a decisive...
It was moment unlike any other in the Heisman Trophys existence. The freshman, the first ever to win the storied award in its 78 years, stood with the collected past winners behind him, dozens more peering back from the portraits lining the wall in Best Buy Theater in Times Square. Johnny Manziel took a deep breath, letting out a whoo before the Texas A&M quarterback broke...
NEW YORK (AP) -- Johnny Football just got himself a way cooler nickname: Johnny Heisman. Texas A&M quarterback Johnny Manziel became the first freshman to win the Heisman Trophy, taking college football's top individual prize Saturday night after a record-breaking debut. Notre Dame linebacker Manti Te'o finished a distant second and Kansas State quarterback Collin Klein...
He's Johnny Heisman now. There is a lot to like about Johnny Manziel, and our universe has been infatuated with everything he's done in his breakthrough season. His first name rhymes with iconic actor Denzel Washington, he was a backup quarterback and YouTube sensation at one point. It finally was a moment when Manziel arrived at Texas A&M, where he made a statement and cemented...
NEW YORK (AP) -- Heisman Trophy history suggests it will never get better for Johnny Manziel than it did this season. In the 78-year history of the Heisman, only one player has one more than one: Ohio State's Archie Griffin in 1974 and 75. But even if another Heisman is not in Johnny Football's his future, there's still plenty left for Johnny Football and Texas A&amp...
With a few days left until bowl games kick off, it is a relatively slow week in the world of college football. Well, except in College Station, TX, where Kevin Sumlin just put a new toy under the Christmas tree for Heisman Trophy winning quarterback Johnny Manziel.   That toy is Ricky Seals-Jones, the top high school wide receiver in the country who on Monday, announced via...
The latest results of the Discover Fan Loyalty Poll asked the question if college football fans would rather receive gifts this Holiday season as per usual, or if they would forego receiving presents in order to watch their favorite team win the BCS Championship. In a very close vote, 46 percent of fans opted for presents, while 42 percent said they would trade in all of their Holiday...
College Football News

Delivered to your inbox

You'll also receive Yardbarker's daily Top 10, featuring the best sports stories from around the web. Customize your newsletter to get articles on your favorite sports and teams. And the best part? It's free!
THE COLLEGE FOOTBALL HOT 10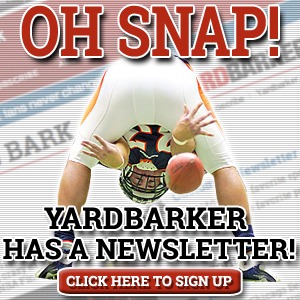 Latest Rumors
The Backyard

Today's Best Stuff

For Bloggers

Join the Yardbarker Network for more promotion, traffic, and money.

Company Info

Help

What is Yardbarker?

Yardbarker is the largest network of sports blogs and pro athlete blogs on the web. This site is the hub of the Yardbarker Network, where our editors and algorithms curate the best sports content from our network and beyond.