Found December 08, 2012 on Fox Sports South:
PLAYERS:
Johnny Manziel
,
Doug Flutie
,
Herschel Walker
,
Michael Vick
,
Manti Te'o
,
Marqise Lee
,
Braxton Miller
,
Charles Woodson
,
Kevin Sumlin
,
Matt Barkley
,
Jameill Showers
,
Matt Joeckel
,
Matt Davis
,
Billy Sims
,
Marcus Mariota
,
De'Anthony Thomas
TEAMS:
Philadelphia Eagles
,
Green Bay Packers
,
Notre Dame Fighting Irish
,
Texas A&M Aggies
,
USC Trojans
,
Oregon Ducks
It was moment unlike any other in the Heisman Trophys existence. The freshman, the first ever to win the storied award in its 78 years, stood with the collected past winners behind him, dozens more peering back from the portraits lining the wall in Best Buy Theater in Times Square. Johnny Manziel took a deep breath, letting out a whoo before the Texas A&M quarterback broke into a smile. "This is a moment that I've dreamed about since I've been a kid, running around the backyard pretending I was Doug Flutie throwing Hail Marys to my dad," Manziel said. "I'm so blessed to be on a stage with such a group of great guys. To be invited into this fraternity, what a pleasure it really is." Where Herschel Walker, Michael Vick and Adrian Peterson the only other freshmen to earnthe Heismantrip to New York failed, Manziel shattered the glass ceiling and put to rest any stigma or bias of voting for a freshman. Voters, myself included, got it right. Regardless of his age, Manziel was simply the most deserving player of the season. With 2,029 points, he won handily, beating out Notre Dames Manti Teo, who tied Hugh Green in 1980 for the best finish ever for a strictly defensive player, by 503 points, while Kansas States Collin Klein finished third (894). USCs Marqise Lee (207) and Ohio States Braxton Miller (144) rounded out the top five. Manziel drew 474 first-place votes to join a list of trailblazing winners that includes Doc Blanchard (first junior in 1945), Archie Griffin (only two-time winner in 1974 and 75), Tim Brown (first wide receiver in 1987), Charles Woodson (first primarily defensive player in 1997) and Tim Tebow (first sophomore in 2007). In another bit of history, with Manziel and Teo at the top, it was the first vote in history without a running back or an upperclassman in the top two. The freshman hugged Texas A&M head coach Kevin Sumlin and then his parents before taking the steps up to the podium, the past winners including the Aggies' only other winner, John David Crow (1957) applauding as he took his place among them. A year that opened with USCs Matt Barkley as nearly everyones preseason favorite saw that title seemingly seized during the season by West Virginia QB Geno Smith, Klein and ultimately and most unexpectedly Manziel. The Kerrville, Texas, native, who redshirted his first season at Texas A&M, first had to beat out redshirt sophomores Jameill Showers and Matt Joeckel and freshman Matt Davis for the Aggies starting job. A Parade All-American and National Player of the Year, Manziel was no unknown commodity. But a Heisman contender? It had long been thought that some voters simply wouldn't put a freshman on their ballots. But in a testament to how far the process has come in the past five years which have included not only the first sophomore winner, but three players from that class Manziel appeared on all but eight percent of the ballots. His was a victory that came largely behind the signature victory of the season, Nov. 10 at Tuscaloosa against then-No. 1 Alabama. The day "Johnny Football" went from Texas taste to national phenomenon. For those who say the Heisman has lost its luster, Id argue its regained it. We may well be in the midst of a renaissance for the award. Its no longer about rewarding the best player on a team in the title race, which hampered the Heisman and its perception during the 1990s and part of this decade. The award has simply been awarded to the best player and in this season, its hard to deny that was Manziel. He set SEC and national freshman records with 4,600 yards of total offense 3,419 through the air and 1,181 on the ground and had 43 combined touchdowns, a staggering stat line that became that much more staggering considering he did while playing in the imposing SEC West. It was his dominance in the SEC that was showcased in the South voting region, where Manziel earned his largest margin of victory, beating out Klein by 146 points. In all Manziel won five of the six regions, only missing out on the Midwest, which Teo won by just three points. Teo, who earned 1,706 points, earned the most points in history for a pure defender. There was humility and emotion in Manziels speech, drawing back to the Dec. 22 death of senior offensive lineman Joseph Villavisencio. "I'd especially at this time like to honor someone who is near and dear to everyone at Texas A&M in Joey Villavisencio," he said before slightly choking up. "It was around this time last year that a center on our team died in a tragic car accident. It was something that as a whole team we really had to fight through and press on through the bowl game. "To Mr. and Mrs. Villavisencio, if I had a son I'd want him to be just like him. I know Joey's in a better place. Manziel punctuated his speech with a thumbs up and a Gig em, a close that now leads to another debate entirely after the first freshman in history hoisted that 25-pound, bronze idol. Could Johnny Football match, or even surpass Griffin? With at least one, if not three, years remaining at Texas A&M, Manziel has time. But hell also face an entirely new set of expectations, which every winner to return since Griffin can attest. Seven Heisman recipients have attempted to equal Griffin, with only Billy Sims (runner-up in 1979) coming close. Then theres the matter of Manziel's competition. A cast of Lee, Miller, Oregons Marcus Mariota and DeAnthony Thomas will be among the early favorites, and theres certain to be more contenders, like Manziel this season, who come out of nowhere. But none of that matters now. What does is a win thats been decades in the making. This was Johnny Manziels night, his trophy and his place in history.
Original Story:
http://www.foxsportssouth.com/12/08/1...
THE BACKYARD
BEST OF MAXIM
RELATED ARTICLES
Texas A&M freshman Johnny Manziel is the 2012 Heisman Trophy winner. He's the first freshman to win the award. His numbers were better than Cam Newton's when Newton won the award, whose numbers were better than Tim Tebow's when he won. It really shouldn't have been as close as it was. While Manziel won by a decent margin, he was easily the best player in the country and...
For the first time in its history the Heisman trophy has went to a freshman. Johnny Manziel was chosen as the winner of the 2012 Heisman Trophy beating out Notre Dame's Manti Te'o and [...]
The Davey O'Brien Foundation today announced Texas A&M's Johnny Manziel as the 2012 Davey O'Brien National Quarterback Award® Winner. Todd Blackledge, the 1982 Davey O'Brien Winner, presented the award to Manziel during The Home Depot College Football Awards at the Walt Disney World Resort in Lake Buena Vista, Fla. He will be honored at the 36th Annual Davey O'Brien...
No one knows exactly what winning the Heisman Trophy requires. We do have an idea of what you can't do. You can't play just defense. Unless you're Archie Griffin, you can't win it twice. You can't be an offensive lineman. You couldn't win it as a freshman until Saturday night, when Texas A&M quarterback Johnny Manziel snagged the award in a decisive...
Johnny Manziel was understandably wide-eyed, but he certainly didn't look, or sound, like a freshman as he hugged his parents, said a few calming words to his tearful dad, John Paul, and coolly strolled to the stage to accept the Heisman Trophy on Saturday. He also didn't appear flustered or sound like he was new to addressing a crowd when he offered a polished and selfless...
NEW YORK (AP) -- Johnny Football just got himself a way cooler nickname: Johnny Heisman. Texas A&M quarterback Johnny Manziel became the first freshman to win the Heisman Trophy, taking college football's top individual prize Saturday night after a record-breaking debut. Notre Dame linebacker Manti Te'o finished a distant second and Kansas State quarterback Collin Klein...
He's Johnny Heisman now. There is a lot to like about Johnny Manziel, and our universe has been infatuated with everything he's done in his breakthrough season. His first name rhymes with iconic actor Denzel Washington, he was a backup quarterback and YouTube sensation at one point. It finally was a moment when Manziel arrived at Texas A&M, where he made a statement and cemented...
NEW YORK (AP) -- Heisman Trophy history suggests it will never get better for Johnny Manziel than it did this season. In the 78-year history of the Heisman, only one player has one more than one: Ohio State's Archie Griffin in 1974 and 75. But even if another Heisman is not in Johnny Football's his future, there's still plenty left for Johnny Football and Texas A&amp...
With a few days left until bowl games kick off, it is a relatively slow week in the world of college football. Well, except in College Station, TX, where Kevin Sumlin just put a new toy under the Christmas tree for Heisman Trophy winning quarterback Johnny Manziel.   That toy is Ricky Seals-Jones, the top high school wide receiver in the country who on Monday, announced via...
The latest results of the Discover Fan Loyalty Poll asked the question if college football fans would rather receive gifts this Holiday season as per usual, or if they would forego receiving presents in order to watch their favorite team win the BCS Championship. In a very close vote, 46 percent of fans opted for presents, while 42 percent said they would trade in all of their Holiday...
College Football News

Delivered to your inbox

You'll also receive Yardbarker's daily Top 10, featuring the best sports stories from around the web. Customize your newsletter to get articles on your favorite sports and teams. And the best part? It's free!
THE COLLEGE FOOTBALL HOT 10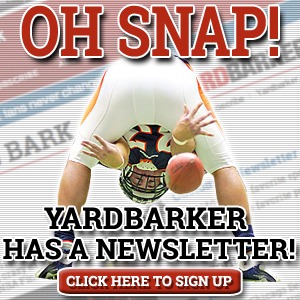 Latest Rumors
The Backyard

Today's Best Stuff

For Bloggers

Join the Yardbarker Network for more promotion, traffic, and money.

Company Info

Help

What is Yardbarker?

Yardbarker is the largest network of sports blogs and pro athlete blogs on the web. This site is the hub of the Yardbarker Network, where our editors and algorithms curate the best sports content from our network and beyond.