Found October 06, 2013 on Cascadia Sports:
TEAMS:

Oregon Ducks (@IamMSilvestre) Earlier in the year, I wrote an article about the Ducks' 2013 prospects without Chip Kelly at the helm. I guessed that the talent of our athletes would hold true despite some scheme changes, and that the blueprint for success at our school had already been laid. Now that I have had a chance to observe some of the fine points of new head coach Mark Helfrich's offense, I can give a better glimpse into what the real changes we should see from the new Oregon football coach. The big difference is that Helfrich uses fake plays much more than Kelly did. During his tenure, Chip Kelly would run fake kicks occasionally, but the vast majority of his playcalls were nowhere near as sneaky as what I've seen Helfrich call. There have not been many fake kick formations in 2013, but there have been many more fake plays. For example, when Mariota hands the ball off in one of these new fake plays, he looks up, facing a wide receiver, and pretends to make a pass. When Byron Marshall takes a fake handoff, which he did multiple times against the Buffaloes this Saturday, he doesn't immediately spring into blocking formation, he runs a pretend route and tries to draw defenders away from the QB. On one of these fake plays, Marshall was so convincing with his fake run that he allowed Mariota to waltz in for a touchdown uncontested. The defense didn't even realize what was going on quickly enough to make an attempt to chase him. Under Mark Helfrich, the Ducks have risen from 7th fastest-tempo team in 2011 to number 3 in the nation through the first 3 games of this season, according to online reports. Despite the spike in speed, the playcalling has become even more complex. While not the fastest-tempo team in College Football, the Ducks have balanced speed with expanded playcalling. Chip Kelly never used specialized running backs at Oregon. When LaMichael James was tired, he put Kenjon Barner in, and both backs played essentially the same way. This year, Mark Helfrich has called specific plays that draw on the strengths of individual running backs. Marshall is definitely the more power-oriented rusher, using stiffarms and head-on contact in his game. Tyner relies on his speed. As a result, Tyner gets the call on sweep run plays, and outran a few Colorado linebackers toward the sidelines, but was also caught behind the line of scrimmage on a blitz in the first half. On the next play, he caught a short pass and sped straight through the defense for a first down. In the red zone, or on straight-up-the-gut running plays, Marshall is the running back of choice, as he has a better shot at shedding tackles, and shoving his way through the defense. De'Anthony Thomas has lightning speed, strength, and ankle-breaking jukes. He can slice through the defense when he runs straight up the middle, or around the line. Complete with good hands, he is a true all-around running back. With Tyner and Marshall waiting in the wings, there will be more specialized running back plays that Oregon fans didn't see from Chip Kelly. It is already clear that Mark Helfrich's Duck football offense is different from Chip Kelly's. Kelly stuck to traditional plays, and Helfrich is a sneakier playcaller. The Oregon Ducks' new head coach has a unique brand of trickery, with complex fake passes and fake runs, specialized halfbacks, and the same disorienting speed that has been leaving Oregon opponents in the dust since 2009.   tempo sources: http://www.footballstudyhall.com/2013/9/19/4747302/college-football-tempo-pace-no-huddle http://footballscoop.com/news/9539-interesting-study-on-pace-in-college-football  
Original Story:
http://www.cascadiasports.com/2013/10...
THE BACKYARD
BEST OF MAXIM
RELATED ARTICLES
Colt Lyerla quit yesterday.  He was suspended from Saturday's game for a violation of team rules, had a meeting with the coach Sunday, announced he that he loved Oregon and was leaving on good terms. He's not transferring, but rather dropping out of school to prepare for the NFL Combine and a shot at pro football. The decision leaves a big question mark on his resume with...
Nice Win Ducks! Marcus Mariota threw a season-high five touchdown passes – three in the first half to go along with two rushing scores – as the visiting Ducks won their 32nd straight game against an unranked opponent. NWSB Recap: http://nwsb.co/23xbg Oregon vs. Colorado Pac 12 highlights http://eplayer.performfeeds.com/facebook/client/14423/channel/847232B6B26E4794801E52E209FA2F41...
Colt Lyerla Oregon State had good success throwing to the tight end against the Buffalo defense, hook routes at the sticks, flat routes at the goal line, drag routes. So far Lyerla's junior season has been one of frustration, nagging injury, illness and false starts, and he's too talented to waste. The Ducks have three very talented tight ends and a four one with good work...
BOULDER, Colo. -- Oregon wide receiver Josh Huff talks about Oregon's 57-16 win over Colorado on Oct. 5, 2013. Huff had five catches for 103 yards and two TDs.
Ducks News

Delivered to your inbox

You'll also receive Yardbarker's daily Top 10, featuring the best sports stories from around the web. Customize your newsletter to get articles on your favorite sports and teams. And the best part? It's free!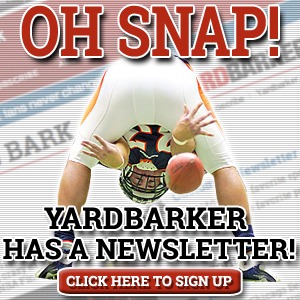 Latest Rumors
Best of Yardbarker

Today's Best Stuff

For Bloggers

Join the Yardbarker Network for more promotion, traffic, and money.

Company Info

Help

What is Yardbarker?

Yardbarker is the largest network of sports blogs and pro athlete blogs on the web. This site is the hub of the Yardbarker Network, where our editors and algorithms curate the best sports content from our network and beyond.