Found October 31, 2012 on isportsweb.com:
Michigan Football recruiting update: The Wolverines picked up commitment #23 on Wednesday when Da'Mario Jones (Westland, Michigan) committed. Jones is a wide receiver with good speed (4.4)  and size (6-2, 185). He had previously committed to Central Michigan, but he couldn't pass up on the opportunity to play at Michigan and switched his commitment when he received the offer from Brady Hoke. Jones is ranked a 3-star recruit by scout.com and ESPNU. He is the third receiver from the 2013 class to commit to Michigan, joining Jaron Dukes and Csont'e York. The Wolverines are still recruiting WR Laqoun Treadwell. Here is a look at all 23 of Michigan's class of 2013 commits. PlayerPos.HometownHgt./Wgt.RankingNotes Kyle BoschOLWheaton, Illinois6-5/2854-starRanked the #60 overall recruit by rivals.com. Is a member of the ESPNU 150. Jake ButtTEPickerington, Ohio6-5/2204-starIs considered one of the Top 5 tight ends in the country. Taco CharltonDEPickerington, Ohio6-6/2404-starIs a member of the ESPNU 150 Gareon ConleyCBMassillon, Ohio6-2/1654-starIs a member of the ESPNU 150 Ross DouglasCBAvon, Ohio5-10/1804-star Jaron DukesWRColumbus, Ohio6-5/195NRJunior season stats: 36 catches for 670 yards and 7 TDs Chris FoxOLParker, Colorado6-6/3004-starRanked #46 overall by rivals.com and a member of the ESPNU 150 Ben GedeonLBHudson, Ohio6-3/2154-starRated as the #8 ILB by rivals.com Khalid HillTEDetroit, Michigan6-2/2303-starHauled in 29 passes for 448 yards and 6 TDs as a junior Maurice Hurst Jr.DTWestwood, Massachusetts6-2/2754-starRated the #23 DT by scout.com Da'Mario JonesWRWestland, Michigan6-2/1853-star Patrick KuglerOLWexford, PA6-5/2805-starIs ranked #54 overall by rivals. Is a member of the ESPNU 150 Jourdan LewisCBDetroit, Michigan5-11/1704-starSnagged 8 interceptions and scored 11 TDs as a junior. Is a member of the ESPNU 150 Mike McCrayLBTrotwood, Ohio6-4/2304-starRanked #44 overall by rivals.com. Is a member of the ESPNU 150 Shane MorrisQBWarren, Michigan6-3/1855-starConsidered the top QB recruit in the class of 2013 Henry PoggiDTBaltimore, Maryland6-4/2605-starConsidered a 5-star recruit and #25 overall prospect by maxpreps. Wyatt ShallmanATHNovi, Michigan6-3/2554-starIs considered the #1 ranked fullback by scout.com Deveon SmithRBWarren, Ohio5-11/1954-starRanked #53 overall by scout.com Channing StriblingSMathews, NC6-2/1702-starHad 6 interceptions and 14 PBUs as a junior Scott SypniewskiLSOttawa, Illinois6-1/2303-starRanked the #2 long snapper in the country Dymonte ThomasSAlliance, Ohio6-1/1755-starHe is considered one of the Top 5 DB prospects in the country. Logan Tuley-TillmanOTPeoria, Illinois6-7/2954-starIs ranked 50th overall by Maxpreps and is a member of the ESPNU 150. Csont'e YorkWRHarper Woods, Michigan6-3/1853-starHe is ranked the #67 WR by scout.com Related articles Game Preview: Michigan at Minnesota
Original Story:
http://feedproxy.google.com/~r/isport...
THE BACKYARD
BEST OF MAXIM
RELATED ARTICLES
Michigan Football Game Preview: at Minnesota Michigan Football (5-3, 3-1) will head to Minnesota (5-3, 1-3) looking to right the ship after losing on the road last week. Kick off is scheduled for 12:01 (EST) and the game will be televised on the Big Ten Network. The Gophers walloped Purdue at home last week 44-28. In that game true freshman Philip Nelson made his first career start...
Michigan Football (5-3, 3-1) will play at Minnesota (5-3, 1-3) this week. Kick off is scheduled for 12:01pm (EST) and the game will be televised on the Big Ten Network. For a complete game preview click here: Michigan at Minnesota. For the Extra Points, read on. Michigan and Minnesota will play for the Little Brown Jug The Little Brown Jug is the oldest trophy game in College Football...
Under Brady Hoke, Michigan is 15-0 when it scores more than 17 points. That's all the defense needs to stand its ground and hold off its opponent. This weekend, however, Michigan came up well short and suffered its third loss of the season. All three have been away from the Big House. Click here to read the whole story on Maize And Go Blue...
Wilbert the Wolverine here—sorry I am late with this—I've been out wandering around the U of M Campus today.  I can count the students wearing Michigan sweatshirts on one paw.  Last Monday, practically everybody on campus had on a Michigan sweatshirt, and M Flags were still hanging from dorm room windows—none today. Why is that?  Last Monday people were going into to Moe's...
As was alluded to in the preview for this Legends division showdown, fate can be a fickle mistress, and fortunes can change quickly. After a slow 2-2 start, Michigan reeled off three consecutive wins, topping 40 points twice, and outlasting … Continue reading →
For about 25 minutes on Saturday, Michigan remained in prime position to sieze control of the Big Ten Legends division. The Wolverine defense had held Nebraska's high-powered offense to just seven points and 113 total yards of offense and was marching down the field to take the lead with time running short in the first half. On 2nd-and-7 from the Nebraska 15, Denard Robinson rushed...
Aside from the way that Greg Mattison's defense played and some good kicking by Brendan Gibbons, there weren't a lot of positives to take away from Saturday's game against Nebraska. The offense without Denard was stale at best and made a much-maligned Nebraska defense look like the Blackshirts of old. Even before Denard went out with an elbow injury, the offensive line looked...
Big Tentacles The Back-Up Plan.  Michigan ex-quarterback-turned-wide receiver Devin Gardner took "a lot" of QB snaps during a Tuesday practice session in the possibility he had to replace injured Wolverine starting QB Denard Robinson in this coming Saturday's game at Minnesota. (The Detroit Free Press) I know it sounds absurd, but please tell me who I am?...
Michigan junior running back Fitzgerald Toussaint talked to the media on Tuesday. GBW was there as he talked about getting a rhythm as a running team, the team's struggles lately running the ball, the pressure of running better when a backup QB comes in, expectations as a running back at Michigan, and more. ***video included***
We previewed the Michigan – Nebraska game last week, so here's a review of that one, a 23-9 win for the Cornhuskers. The Cornhuskers beat the Wolverines, 23-9, on Saturday night and took control of the Big Ten's Legends Division in the process. The game was close until Michigan lost Denard Robinson to a right elbow injury. He was [...]
Michigan, it seems, got a scare and not a long-term problem when Denard Robinson injured a nerve in his right elbow against Nebraska. ''He should be fine,'' Wolverines coach Brady Hoke said Monday. ''He should be ready to go on Saturday.'' The unranked Wolverines (5-3, 3-1 Big Ten) will play their second straight road game this week at Minnesota...
We have reached the final month of the Big Ten regular season football schedule. Wow, this season sure has flown by, and we have season some….well, less than impressive football from this major conference this season. With just four weeks left the Big Ten Legends division is wide open, as Nebraska and Michigan each have a loss apiece, while Northwestern and Iowa sit with two losses...
Wolverines News

Delivered to your inbox

You'll also receive Yardbarker's daily Top 10, featuring the best sports stories from around the web. Customize your newsletter to get articles on your favorite sports and teams. And the best part? It's free!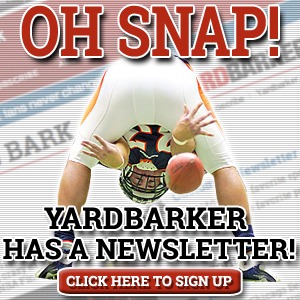 Latest Rumors
Best of Yardbarker

Today's Best Stuff

For Bloggers

Join the Yardbarker Network for more promotion, traffic, and money.

Company Info

Help

What is Yardbarker?

Yardbarker is the largest network of sports blogs and pro athlete blogs on the web. This site is the hub of the Yardbarker Network, where our editors and algorithms curate the best sports content from our network and beyond.