Found November 04, 2011 on Fox Sports:
It's odd to see Les Miles not wearing his trademark white LSU ball cap. Without it, you notice he actually has a bald spot behind his blondish hair. But even sans hat, The Mad Hatter is still his ol' typical wacky self. As he prepared last week to tape a video greeting in his office for a gathering of the Bengal Belles -- a women's booster club for LSU football -- in Shreveport, La., he joked to the camera crew about something he had recently said. "You're saying I should avoid saying, 'On the can,' " Miles said. As the camera crew nodded their heads collectively, Miles chuckled. "I thought it was relatively funny, but here we go," Miles said. Miles, of course, has been known to make gaffes when it comes to speaking, and on this day, it wasn't any different. While filming the video for the Bengal Belles, he started rambling when talking about his daughter, Macy, singing the national anthem at the event. But he caught himself, and unlike some of his other legendary awkward moments, he got a do-over with a second taping that he nailed as only he can. "Hi," Miles began. "Just wanted to say hi." Just another day in the wild world of Miles, who is the polar opposite of his predecessor and the head coach who will be on the opposing sideline of Saturday night's game between top-ranked LSU and No. 2 Alabama: the stoic Nick Saban. For years, Miles has heard plenty about Saban, who led LSU to the BCS championship in 2003. Even when Miles won his own four years later, it came with the asterisk of being accomplished with Saban's players. For someone so candid when he speaks that it's sometimes uncomfortable to listen to, Miles is just as honest when asked about the pressure of replacing the beloved Saban. "It was never about who I was following," Miles said proudly. "I can promise you that." After all, Miles has always marched to the beat of his own drum. He doesn't care if you find him weird for eating blades of grass, or if you think he's dumb for his bumbling syntax, or if you believe he's been downright lucky in his gambling ways. The hysteria surrounding Saturday's game between Saban and him means . . . nothing to The Mad Hatter. "I've got to be real honest with you," Miles said. "I've never operated with the view of what other people thought was enough, because generally speaking, if what they thought was enough and I did what they thought, we would not have any success because they have no idea what we do." Miles is right; folks have no idea what he's doing most of the time, especially when it comes to clock management late in games. But he's as stoic as Saban when it comes to his critics, who as recently as last season advocated that he be fired, just three years removed from his national championship. Never mind that Miles is 19-2 the past two seasons and that one of those losses came at undefeated national champion Auburn. "No one knows what all we go through here," Miles said. "We are the most discerning, the most discriminating, the most critical." When you compare Saban's five seasons at LSU versus Miles' first five with the Tigers, it's Miles (51-15) who has a better record than Saban (48-16). Granted, Saban had to rebuild the program, but taking over for him and sustaining success is perhaps an even more impressive accomplishment at a school whose fan base is as spicy as the local Cajun fare. Against each other, Saban and Miles have 2-2 records. But when Miles looks at what he has accomplished at LSU since succeeding Saban seven years ago, he's again Saban-stoic. "What you walk into, you must make better," Miles said. "Arguably, I think we did that." Miles is quick to point out he doesn't dislike Saban, whom he calls "a quality football coach." But when asked whether he ever sought any advice from Saban after Saban left LSU to become head coach of the Miami Dolphins, Miles smirks. "When he was headed toward the Dolphins, I kind of felt like I would use his," Miles said before pausing. After several seconds of "ums" and "uhs" while searching for the right word, Miles continued, "Opinion." "But," Miles said, "he wasn't there long enough for me to get to use it." Saban, of course, was coach of the Dolphins for two ill-fated seasons, plenty of time for Miles to seek advice from him if he needed it. After Miles' subtle jab, his silence and sly grin reinforced it. This time, however, Miles didn't want a do-over for what he had said. He was fine with it. Just as he has always been since replacing Saban at LSU.
Original Story:
http://msn.foxsports.com/cfb/story/Ev...
THE BACKYARD
BEST OF MAXIM
RELATED ARTICLES
Miles and LSU, the nation's No. 1 team, visit No. 2 Alabama on Saturday night. Where to find extensive coverage, and a link to the story on how MIles makes sure he stays close to his family.
Urban Meyer was 3-3 against Les Miles' LSU teams in his six seasons as Florida coach. Meyer was also 1-2 against Nick Saban's Alabama squads during his time in the Southeastern Conference. The former Gators' coach and current ESPN analyst gives his take on some of the keys to Saturday's matchup between No. 1 LSU and No. 2 Alabama in Tuscaloosa. --- Meyer on Saban...
Urban Meyer was 3-3 against Les Miles' LSU teams in his six seasons as Florida coach. Meyer was also 1-2 against Nick Saban's Alabama squads during his time in the Southeastern Conference.
There are three things that are guaranteed to happen at tomorrow's LSU vs Alabama game. Les Miles will forget the concept of time, Someone will YouTube upload a redneck saying something raciest about the players, and the next national champion will be crowned. Seems strange to play this game in November, but you might as well stock up on the De facto National Championship Gear...
In what is turning out to be the most boring Biggest Game Evar, Alabama is tied 3-3 with LSU at the half in a game filled with hard hits and big mistakes—including three missed Crimson Tide field goals. That's not what has Nick Saban enraged (blame a missed penalty call for that) but you can see his anger in the highest of animated Compuserve...
One wears a perpetual scowl, his words robotic and succinct. With Nick Saban, it's all about ''the process,'' which means running his football program with the meticulousness of a CEO. It may come across as cold and detached - even ruthless - but it sure works. Then there's Les Miles. He eats grass and sings with his players. He mangles words so badly there...
On Saturday in Tuscaloosa, No. 1 LSU will face No. 2 Alabama in one of the most anticipated regular season game in years. It's the first time an SEC game featured the top two ranked teams in the country. Media credentials are coming in by the hundreds, and ticket prices are surging into the thousands. [...]
(Covering Dixie Like Mildew is the SWRT roundup of SEC news, with the occasional pesky Southern school from another conference.) Welcome...
Those of us at the OSG HQ are not immune to the Alabama/LSU hype. We are knee deep in the hoopla. We refuse to call it the "Game of the Century", it's the "Game of the Ages" for us. We just hope the Tiger - Tide mega colossal match up doesn't end up a one sided blowout. You're for damn sure know that the suits at CBS are praying that doesn't happen...
Here is the banner that has been hung in the Air Force Academy's dining hall ahead of tomorrow's biggest college football game of the day. Well, it is only going to get great ratings for CBS because it is the lead-in to the biggest college football game of the night, when Les Miles done take his boys to the 'Bama south to face of with the Elephants of Alabama led...
Despite Coach Nick Saban's mandate of not losing games with careless plays, Alabama might need A.J. McCarron to take some chances and make plays Saturday night against L.S.U.
The game is approaching as we sit just two days away from the contest folks have been looking forward to since Alabama and LSU passed Oklahoma for the top two spots in the polls. There's been plenty said about how good each of these teams are and how they are not just the class of the SEC but, at least for the moment, are the best teams on the college football landscape for the...
College Football News

Delivered to your inbox

You'll also receive Yardbarker's daily Top 10, featuring the best sports stories from around the web. Customize your newsletter to get articles on your favorite sports and teams. And the best part? It's free!
THE COLLEGE FOOTBALL HOT 10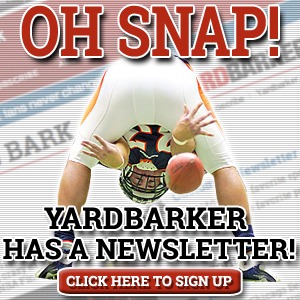 Latest Rumors
The Backyard

Today's Best Stuff

For Bloggers

Join the Yardbarker Network for more promotion, traffic, and money.

Company Info

Help

What is Yardbarker?

Yardbarker is the largest network of sports blogs and pro athlete blogs on the web. This site is the hub of the Yardbarker Network, where our editors and algorithms curate the best sports content from our network and beyond.