Found October 14, 2012 on 60 Max Power O:
TEAMS:

The Notre Dame Fighting Irish and Stanford Cardinal met this afternoon, and just as we predicted, it was a very physical game that tested the endurance of both teams. Notre Dame's defense smothered Stanford exactly as we expected, allowing only 272 total yards and no offensive touchdowns. But due to in large part to spotty play by starting quarterback Everett Golson – who fumbled four times in the game, lost three, including one that was recovered for a touchdown – Stanford was able to hang with the Irish. Late game heroics by Tommy Rees in the fourth quarter and in over time gave Notre Dame's defense all the cushion it needed to stop Stanford, who came up short of tying the game due to a goal line stand by the stout Irish defense.
Everyone is going to be debating whether Stanford managed to punch in their fourth down rushing attempt in overtime. To our Irish eyes it looked like a stop, but of course we would think that, right? Anyone who claims the call was "OBVIOUS" is a bit of a foolish person who is either a dejected Cardinal fan or a die hard Notre Dame hater. Stanford had four chances to punch the ball into the endzone from four yards out and couldn't definitively do it. That Stanford never once considered throwing the ball tells you a great deal about their confidence in Josh Nunes and how well Notre Dame had played the pass all day.
Josh Nunes was intercepted twice and managed only 125 passing yards. Look, at this point, if you hear commentators talking about how Notre Dame's secondary is a glaring weakness, you have permission to just go ahead and hit mute. They aren't a weakness. They are just young, but none the less incredibly talented. Okay? Can we just stop saying Notre Dame is suspect against the pass, everyone? Yes? Good.
Stanford's running attack was able to eat up yards one small chunk at a time, but when it came to nut-cutting time, their absence of any kind of passing attack doomed them. 10 of their 13 points were the direct result of fumble recoveries. Stanford's journeys into the Notre Dame redzone resulted in a scant three points. 
That leads to the biggest negative of the day for Notre Dame: Everett Golson. Two of his lost fumbles led directly to Stanford points. Without them, this game would have probably been a comfortable regulation win for the Irish. Again, he had to be removed from the game in order to let the more decisive Rees lead to the Irish to victory.
At this point, it seems really unfair to keep sending Golson out there. Yes, he is more talented than Rees and will probably end up being a better quarterback than Rees will ever be by the time he is ready to graduate. But for now, Golson is an indecisive freshman who never seems comfortable in the pocket and has a problem holding onto the football. Rees has many flaws as a quarterback, but he is incredibly decisive. He knows where he's going presnap and fires the ball.
According to Brian Hamilton at the Chicago Tribune, Golson suffered blurred vision after being hit in the head on the final drive, which allowed Rees to come in. That SOUNDS like a concussion, and if the residual effects of his injury bleed into next week, we will finally get a chance to see Tommy Rees start a game for the Irish this year. Regardless of injury, this two quarterback arrangement seems destined to fall apart at some point.
Eventually, Golson is going to make freshman mistakes that get Notre Dame down too far, and Rees is going to come in and start trying to make plays. He will turn the ball over, because Rees just has a habit for doing that. Notre Dame will lose a game because of this.
But for now, the Irish are winning and they have one of the best defenses in America. Savor this, Irish fans. It's been a long time since we could say that.
Check out other great articles at Sports Media 101.
Original Story:
http://www.60maxpowero.com/patriots/c...
THE BACKYARD
BEST OF MAXIM
RELATED ARTICLES
HIDDEN TALENT
ESPN College GameDay has brought us "Trick Shot Monday." Notre Dame players along with Samantha Steele played with a ping-pong ball and a cup of water, making incredible shots. Trick Shot Mondays is a tradition with Notre Dame football players.From MyNotreDame.com: After practice ends, and before they can eat at the training table, teammates gather to see who can put...
ESPN college football analyst Lee Corso announced his pick of Notre Dame over Stanford during this week's show at South Bend by dressing up as a leprechaun and doing an Irish jig. Naturally, Corso was shamelessly pandering to the home fans, as he has been doing at various schools this year. Regardless, it's fun to watch. H/T Sports Grid. Related: Lee Corso dresses...
I doubt anyone at the beginning of this season would have guessed Notre Dame football would be ranked higher than Stanford at this point.Heck, I doubt many people thought Notre Dame would be  ranked, period, let alone undefeated. I sure didn't (see here: http://wp.me/prUUN-L9O).But, here we are. The 5-0 Fighting Irish will meet the 4-1 Cardinal in South Bend on Saturday. It will...
In what will likely be one of the most talked about and/or debated endings to a game this year, Notre Dame football upends the Stanford Cardinal 20-13 with an overtime goal line stand.On 4th and goal from the 1 foot line, Stanford running back Stepfan Taylor met a wall of Notre Dame defenders, was pushed backwards and looked stuffed. Then Taylor twisted his body, moved forward, and...
The Stanford Cardinal and Notre Dame Fighting Irish meet for the 27th time this Saturday, and the rivalry has never meant more for both schools. The schools have always had similarities due to the heavy emphasis both universities place on academics, but in recent years, both schools have gone head to head on the recruiting trail. With Brian Kelly's decision to move Notre Dame...
REPLAY SAYS
Notre Dame beat Stanford on a controversial last play that was reviewed and upheld by the officials. Did the running back score?
Projections for college football rankings beginning week eight: BCS Top Five1. Alabama2. Oregon3. Notre Dame4. Florida*5. Kansas State*Florida is on the bubble to be ranked third in the BCS.USA Today Coaches Top Five1. Alabama2. Oregon3. Notre Dame4. Kansas State5. Florida**Florida is on the bubble to be ranked fourth in the Coaches Poll.AP Poll Top Five1. Alabama2. Oregon3. Florida4...
Notre Dame's Everett Golson sustained a concussion on a helmet-to-helmet hit in the fourth quarter against Stanford but Irish coach Brian Kelly says the starting quarterback should be ready to play against Brigham Young on Saturday. Kelly says Golson still had some concussion symptoms on Sunday, and will undergo further tests on Monday. Kelly says he expects Golson to be cleared...
Fighting Irish News

Delivered to your inbox

You'll also receive Yardbarker's daily Top 10, featuring the best sports stories from around the web. Customize your newsletter to get articles on your favorite sports and teams. And the best part? It's free!
THE FIGHTING IRISH HOT 10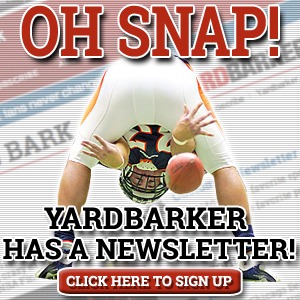 Latest Rumors
The Backyard

Today's Best Stuff

For Bloggers

Join the Yardbarker Network for more promotion, traffic, and money.

Company Info

Help

What is Yardbarker?

Yardbarker is the largest network of sports blogs and pro athlete blogs on the web. This site is the hub of the Yardbarker Network, where our editors and algorithms curate the best sports content from our network and beyond.