Found October 13, 2012 on 60 Max Power O:
The Stanford Cardinal and Notre Dame Fighting Irish meet for the 27th time this Saturday, and the rivalry has never meant more for both schools. The schools have always had similarities due to the heavy emphasis both universities place on academics, but in recent years, both schools have gone head to head on the recruiting trail. With Brian Kelly's decision to move Notre Dame towards a more power based offensive attack, the similarities have become even more obvious. Notre Dame will try to defeat a team that virtually mirrors its flaws and strengths.
It's important to note just how well all the players involved in this match up know each other and their opposing school. Every player on scholarship for the Irish except one (Gunner Kiel) also received an offer from Stanford. There's not a deep pool of talented football players who also have the academics to be admitted into and survive the curriculum at a Stanford or a Notre Dame. Despite what Brian Kelly says, the game matters a great deal to recruiting, and many high school players will be watching the game intently.
Aside from the recruiting implications, this game matters a great deal to Notre Dame in another way. The Irish and Stanford have only been playing a regular series since 1988, yet Stanford and fellow Pac 12 Irish rival USC showed a remarkable level of loyalty to Notre Dame this offseason. The proposed Big 10/Pac 12 scheduling agreement would have severely jeopardized five of Notre Dame's more visible yearly series. Michigan, Michigan State, Purdue seemed to have no problem giving up their Notre Dame game in order to play a yearly game on the west coast.
But Stanford and USC were not willing to give up Notre Dame so easy. The only other Pac 12 team with a yearly rivalry outside of the Pac 12 is Utah. Effectively, Stanford and USC killed the agreement to keep Notre Dame on their schedule. They went to bat to keep playing Notre Dame. Notre Dame representatives have made it very clear that the games against Stanford and USC won't be ending to make room for ACC teams, while they have already canceled the Michigan series.
So while it is fun to root against yearly rivals like USC and Stanford, it is worth mentioning before we dig deeper into the Stanford preview that we have very fond feelings for both schools for keeping Notre Dame on the schedule despite no doubt a lot of pressure to give the game up. Unlike a lot of folks running college football today, these two schools are not willing to throw decades of tradition away for a nice bit of corporate synergy right now. If only more people in charge of college football were putting value on traditional rivalries, the sport would probably be a lot less needlessly chaotic.
—–
Both Stanford and Notre Dame will try to establish the run early and play action off to get their passing attacks going. Both teams have inexperienced quarterbacks who have at times looked like liabilities. Both teams try to set a physical tone that defines their play on offense and defense.
There are some differences though. While Notre Dame employs a mostly zone-based running attack typical of spread teams, Stanford is going to be looking to run old fashioned  "Power O" with a pulling guard early and often. Stanford also famously employs a lot of jumbo personnel, often playing with three tight ends on the field at once. They also will bring in extra linemen to try to overpower a defense.
While other teams try to keep a defense in vanilla looks by pushing the tempo, Stanford tries to keep a defense on its toes by shifting their alignment on nearly every play. This allows them to keep the defense on its heels while still bleeding the clock and shortening the game. Stanford's attack is basic and it's definitely MANBALL, but it isn't vanilla. They are going to do their best to disguise where they are going presnap in order to get the matchups they want.
There's a simple reason why Stanford will go with unique personnel groupings and employ so much shifting: they don't have much skill position talent. There's not a wide receiver on the Cardinal that can really put the fear of God into a quality defense in America. Stanford has to rely heavily on play action to get the passing game going. Without the threat of a run, their very meager wide receivers would never get open against a decent defense.
Stanford's defense has done an excellent job against the run this year, and have held opponents to an eye-popping 2.66 yards per carry. But when you look at the teams Stanford have played, you see a lot of pass happy teams that have very poor rushing attacks. Stanford has played only one team averaging over four yards per carry on the season: Arizona, who put up over 600 total yards of offense against the Cardinal defense.
Teams like San Jose State and Duke are underdog programs trying to succeed based on scheme and moxie. Teams like Washington, USC and Arizona are finesse teams that lack a major presence in the trenches. When Jim Harbaugh first arrived at Stanford and began building them into a major program, he realized Stanford would never be able to equal the skill position speed that many of his Pac 12 rivals can recruit, and instead built a team lumbering big men who hit really hard.
However, to put it bluntly, Stanford hasn't played a single team that can match their physicality. They look very physical when they are mauling USC, but everyone is going to out muscle USC until their NCAA scholarship restrictions end and they can afford to actually practice tackling without worrying about injuries. EVERYONE out-physicals San Jose State and Duke. And after all, Stanford WAS beaten at their own game by a Washington team that has blow out losses to Oregon and LSU. 
In contrast to Stanford, Notre Dame's defense has been tested against a myriad of teams who, like Stanford, try to run the ball with power between the tackles. Only Michigan has any kind of success running the ball against Notre Dame, and they have an option element to their run game Stanford will not have. Michigan State has no problem bringing out the power hammer and running power O until a defense bleeds, yet they managed only 50 yards rushing against the Irish defense.
When you get right down to it, it becomes very difficult to imagine how Stanford is going to score points against Notre Dame without help from the Irish offense. As Washington showed, there's no plan B for the Stanford offense. They only know how to run behind 3 tight ends or an unbalanced line. If that does not work – and odds are it won't against a defense anchored by Manti Te'o – they do not have any thing else in the bag of tricks. 
Notre Dame's offense is no great shakes. Do not be fooled the gaudy stats against Miami. That is just what everyone does to the Hurricanes these days. But there's enough skill position talent on the Notre Dame offense that the Irish should score enough to take this game home. Stanford does not have anyone who can match up with Tyler Eifert, and they don't have the speed in the secondary to deal with TJ Jones and DaVaris Daniels. 
—–
But while we may have a rosy view of what is going to happen Saturday after noon, it is worth noting that gazing up at your shadow self is rarely portends well for your health. Notre Dame is going to have to look deep into a team more similar to it than any other it has played this season, and it's going to have to do a better job surviving the affair than Honest Abe or Percy Shelley did.   
Kickoff is at 3:30 EST on good ol' NBC. Enjoy the game and remember to check back with FightingIrish101 for updates and rundowns.
Be sure to check out other great articles at Sports Media 101.
Original Story:
http://www.60maxpowero.com/patriots/c...
THE BACKYARD
BEST OF MAXIM
RELATED ARTICLES
HIDDEN TALENT
ESPN College GameDay has brought us "Trick Shot Monday." Notre Dame players along with Samantha Steele played with a ping-pong ball and a cup of water, making incredible shots. Trick Shot Mondays is a tradition with Notre Dame football players.From MyNotreDame.com: After practice ends, and before they can eat at the training table, teammates gather to see who can put...
The Notre Dame Fighting Irish and Stanford Cardinal met this afternoon, and just as we predicted, it was a very physical game that tested the endurance of both teams. Notre Dame's defense smothered Stanford exactly as we expected, allowing only 272 total yards and no offensive touchdowns. But due to in large part to spotty play by starting quarterback Everett Golson – who fumbled...
ESPN college football analyst Lee Corso announced his pick of Notre Dame over Stanford during this week's show at South Bend by dressing up as a leprechaun and doing an Irish jig. Naturally, Corso was shamelessly pandering to the home fans, as he has been doing at various schools this year. Regardless, it's fun to watch. H/T Sports Grid. Related: Lee Corso dresses...
I doubt anyone at the beginning of this season would have guessed Notre Dame football would be ranked higher than Stanford at this point.Heck, I doubt many people thought Notre Dame would be  ranked, period, let alone undefeated. I sure didn't (see here: http://wp.me/prUUN-L9O).But, here we are. The 5-0 Fighting Irish will meet the 4-1 Cardinal in South Bend on Saturday. It will...
In what will likely be one of the most talked about and/or debated endings to a game this year, Notre Dame football upends the Stanford Cardinal 20-13 with an overtime goal line stand.On 4th and goal from the 1 foot line, Stanford running back Stepfan Taylor met a wall of Notre Dame defenders, was pushed backwards and looked stuffed. Then Taylor twisted his body, moved forward, and...
REPLAY SAYS
Notre Dame beat Stanford on a controversial last play that was reviewed and upheld by the officials. Did the running back score?
Projections for college football rankings beginning week eight: BCS Top Five1. Alabama2. Oregon3. Notre Dame4. Florida*5. Kansas State*Florida is on the bubble to be ranked third in the BCS.USA Today Coaches Top Five1. Alabama2. Oregon3. Notre Dame4. Kansas State5. Florida**Florida is on the bubble to be ranked fourth in the Coaches Poll.AP Poll Top Five1. Alabama2. Oregon3. Florida4...
Notre Dame's Everett Golson sustained a concussion on a helmet-to-helmet hit in the fourth quarter against Stanford but Irish coach Brian Kelly says the starting quarterback should be ready to play against Brigham Young on Saturday. Kelly says Golson still had some concussion symptoms on Sunday, and will undergo further tests on Monday. Kelly says he expects Golson to be cleared...
Everett Golson was firing on all cylinders last week in Notre Dame's 41-3 trashing of Miami. Golson was collected, accurate and took what Miami gave him and burned them. It was also against Miami, one of the worst defenses in college football. The Hurricanes have allowed thirty plus points on average to their opposition.Putting the filters on we began to wonder how much Notre Dame's...
TJ Jones made a reaching 7-yard touchdown catch in overtime and No. 7 Notre Dame stopped Stanford inches from the goal line to beat the 17th-ranked Cardinal 20-13 Saturday. After Jones and Tommy Rees gave the Fighting Irish (6-0) a seven-point lead in OT, Stanford (4-2) drove to a first-and-goal at the 4. Stepfan Taylor ran for 1 on first, 2 on second and inches on third down....
Fighting Irish News

Delivered to your inbox

You'll also receive Yardbarker's daily Top 10, featuring the best sports stories from around the web. Customize your newsletter to get articles on your favorite sports and teams. And the best part? It's free!
THE FIGHTING IRISH HOT 10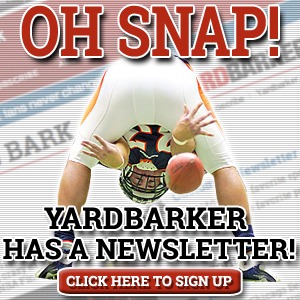 Latest Rumors
Best of Yardbarker

Today's Best Stuff

For Bloggers

Join the Yardbarker Network for more promotion, traffic, and money.

Company Info

Help

What is Yardbarker?

Yardbarker is the largest network of sports blogs and pro athlete blogs on the web. This site is the hub of the Yardbarker Network, where our editors and algorithms curate the best sports content from our network and beyond.