Found November 11, 2011 on isportsweb.com:
It is curious timing, to say the least.
Instead of focusing on Purdue, the Buckeyes are dealing with more NCAA fallout (Irwin/ Getty)
Just as the Penn State sexual abuse scandal is threatening to overwhelm the college football world, the NCAA has announced that Ohio State is now charged with "failure to monitor" in connection to the ongoing investigation into improper benefits.  A convenient distraction from the vagaries of the Sanduksy case, this charge is one of the most serious that the NCAA can levy against a program.
Perhaps it's a bit of conspiracy theory to suggest that the timing was intentional.  However, Buckeye fans and Ohio State officials have to be wondering what more the NCAA has planned for a program that has already been through the wringer.
This week should have been about preparing for Purdue.  It should have been about trying to avenge an upset loss from 2009 in which the lowly Boilermakers knocked off Terrelle Pryor and a Top 5 OSU team in West Lafayette.  But instead of articles discussing keys to victory, or analyzing Braxton Miller's likely impact against Purdue's weak rush defense, the focus has been shifted off the field.
And that is simply pathetic.
Yes, Ohio State committed numerous violations.  Yes, said violations represent a serious and widespread problem for which the school deserves to be punished.  The self-imposed scholarship reduction that Ohio State announced isn't unwarranted.  This isn't about Ohio State's guilt.
That has been well-established.
But this investigation, which has been going on in earnest for the better part of two years, shows just how inconsistent and arbitrary the NCAA can be.  The official hearing on this matter was held back in August; why did it take until November to add a completely new charge?  Why is DeVier Posey missing virtually his entire senior year over a matter of several hundred dollars?
That the Buckeyes are being made an example of is okay, to a point.  They deserve to get nailed for what they did or didn't do, but the punishment should be in measure with the crime.
Throughout the summer, and even after that hearing, the NCAA refrained from charge OSU with "failure to monitor".  Originally, the Association also stated that the Buckeyes would not be charged with "lack of institutional control".  And yet the seemingly endless and highly disorganized inquiry continues, with the NCAA tacking on whatever it see fit.
Two years.  This probe has taken on a life of its own as its examines actions that happened in the increasingly distant past.  One can't help but notice that Ohio State is being subjected to an extremely intense microscope, given little to no sense of what is left to come.
And even that NCAA behavior would be tolerable if it applied to every program thought to be in violation.
Of course, it does not.
Though he should have stepped down in the wake of serious violations, Gene Smith is now enduring an increasingly-aburd investigation (AP)
The wheels of justice continue to run over Ohio State, backing up and striking repeatedly, while other programs enjoyed much more latitude.  Consider the investigation into Cam Newton's pay-for-play scheme.
That effort barely spanned months.  Certainly not year.  And in fact, the serious portion of the process lasted only a couple of weeks.  On it's face, this cursory examination is bad enough; allegations of a player seeking six-figures to be recruited got superficial treatment while instances of players selling personal possessions or being paid a slightly excessive hourly wage have been dissected into minute detail.
That alone is preposterous.
What makes matters worse is the the Auburn case resulted in no consequences of any kind despite the fact that NCAA agreed that violations had been committed.  Serious violations.
We recently learned that Auburn itself helped convince the NCAA that Newton should remain eligible.  The program lobbied so successfully that in spite of the gravity of the accusations, Newton was suspended for less than a day.
The NCAA was able to rule, conclusively, in 24 hours.
The Buckeyes have also tried to argue in their own defense.  Without the same success.  In fact, the schools attorney claims that NCAA willfully ignored evidence and says his paper trail can prove it.
Let's put aside the results for just a moment.  Ohio State is guilty while Auburn was deemed innocent.  Fine.  The outcomes notwithstanding, surely we can all see the problem with the process.
Regardless of whether or not you're a fan of either school, there's no debating that the two programs have receive radically different treatment at the hands of the NCAA.  But to whom can the Buckeyes complain?
When the judge, jury, and executioner (in this case, all the same entity) are as corrupt as the criminals, the system is lost.
Again, this isn't sour grapes from an aggrieved fan.  Something is dreadfully wrong with the process itself, and that could impact any school at any time.
Original Story:
http://isportsweb.com/2011/11/11/ohio...
THE BACKYARD
BEST OF MAXIM
RELATED ARTICLES
The NCAA has notified Ohio State that it will face a "failure to monitor charge" in addition to more allegations related to its football program. On Thursday Ohio State announced it will dock itself five total football scholarships over the next three years in response to the new alleged violations. The Buckeyes are currently awaiting a ruling after going before...
Week 11 in the Big Ten features some great match ups and some obvious intrigue in Happy Valley. Here's a quick look at all the games and who should win. Michigan State at Iowa: Can the Spartans buck a recent trend of not playing well on the road so far this season?…granted as I am sure that the MSU fan who gets this will send a message telling me that his team is 2-1 on the...
The Ohio State University  has both metaphorically and literally "sent out a press release on Friday at 6pm" quite a few times this past year. They've had a lot of bad news to disclose to their media contingent regarding Jim Tressel, Terrelle Pryor, Boom Herron, Devier Posey, free tattoos, NCAA sanctions etc. And that's when you send out a media release of that sort, at...
When The Ohio State University went through the scandal with former coach Jim Tressel, the hope of the University and its athletic department was that firing Jim Tressel and self-imposing probation plus forfeiting the last season would be enough. For a while, it looked like that might be the case when the NCAA's Committee on Infractions delivered OSU a positive letter in response...
After appearing in front of the NCAA's Committee on Infractions to answer allegations concerning players receiving impermissible benefits and Jim Tressel's cover-up, Ohio State uncovered further violations involving a booster paying players cash at a charity event as well as overpaying them for a job he provided. The school announced Thursday that their joint investigation…
With all of the turmoil involving the NCAA's investigation of the Ohio State football program and the sanctions that will follow, I still can't believe that director of athletics, Gene Smith, still has a job. The university forced former head coach Jim Tressel to resign on May 30, and...
Punter Ben Buchanan has given the Buckeyes a solid boot.
With senior right tackle J.B. Shugarts out with a knee injury, Ohio State will turn to freshman Antonio Underwood from Shaker Heights to help keep the offensive line rolling along.
Ohio State's passing game has been, um, inconsistent for much of the season — tight end Jake Stoneburner leads the team in receptions with 12 — and now the Buckeyes are going to be down one of their more productive receivers. The school has confirmed that Corey "Philly" Brown did not make the trip to…
Buckeyes News

Delivered to your inbox

You'll also receive Yardbarker's daily Top 10, featuring the best sports stories from around the web. Customize your newsletter to get articles on your favorite sports and teams. And the best part? It's free!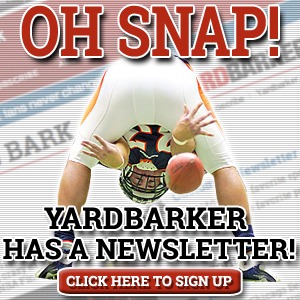 Latest Rumors
Best of Yardbarker

Today's Best Stuff

For Bloggers

Join the Yardbarker Network for more promotion, traffic, and money.

Company Info

Help

What is Yardbarker?

Yardbarker is the largest network of sports blogs and pro athlete blogs on the web. This site is the hub of the Yardbarker Network, where our editors and algorithms curate the best sports content from our network and beyond.