Found October 26, 2011 on isportsweb.com:
When it comes to Penn State, there's no more recognizable face than that of the true Italian Joseph Vincent "Joe" Paterno. You've probably seen him, he wears the coke-bottle glasses, hikes up his pants, and still has a flowing head of hair at the ripe age of 84. The man that stands at roughly 5'7 is the mecca of Penn State football, and to a larger degree, Pennsylvania State University. He sometimes he stands a full foot below some of his players, but isn't shy about grabbing a facemask or two during practice even if he'll turn 85 in December. To say that the Nittany Lions have had coaching stability would be an understatement, Paterno has been coaching in Happy Valley since Lyndon B. Johnson was in office. It's not stability, it's unprecedented. Consider that well over 850 coaching changes have taken place in Division I or the FBS since Paterno has been at the helm. Sure JoePa gets credit for his 408 wins, most all-time in FBS, and for his two National Championships and three undefeated seasons, but what he doesn't get enough credit for is building the Penn State football brand, and building it the right way. Penn State University is located in middle of nowhere, Pa., but yet churns out quality college football teams like an assembly line. You can't say Penn State without saying Joe Paterno right before or right after. Try it, it just doesn't sound right. Penn State…..Joe Paterno…..Joe Paterno….Penn State. It just feels right. But the best part about Joe Paterno isn't the wins, or his titles, or even his infectious personality. It's his genuineness. In today's age of college football with payment schemes, improper benefits and lies, JoePa is running one of the cleanest programs around. In Happy Valley there is no talk of whether the team practices more hours a week than allowed by the NCAA (ahem Michigan). In Happy Valley there is no talk of improper benefits like cars and tattoos (ahem Ohio State). In Happy Valley there are no players being suspended for on-field actions (ahem Michigan State). There is no talk of boosters giving players access to anything their hearts desire (ahem Miami). There's just a football program, where the only sanctions come from the man himself. To open the 2008 season, following a string of player arrests the previous season, Paterno held the players accountable, having them spend Sundays cleaning the 108,000+ seat Beaver Stadium as punishment. I've been to games over the past four years, and trust me,  that's no easy task. Most recently, Penn State running back Stephfon Green was suspended by Paterno for academics. Despite Green being a senior and a key contributor to his team in recent years, Paterno held him off the field for the first five games, citing that Green had things to prove to him before he would play again. The 84-year-old held his ground and it took a group of Penn State players to go to Paterno to convince him that Green deserved to be back with his team. Instead of being entrenched in his stance, Paterno listened to his players, who said that they felt Green had earned the right to play again. He listened, and Green thrived. The Pattee and Paterno Library on the campus of Penn State University that Joe and Sue helped raise over $13 million to expand. Paterno has given millions of dollars over the years to the university, who's library bares the name of himself and his wife Sue, Paterno Library. He was also influential in support for  the Penn State All-Sports Museum, which opened in 2002. He has also been concerned with his players' academics since arriving on campus in 1966, conducting a "Grand Experiement," involving the infusion of athletics and academics. According to the NCAA's 2008 Graduation Rates Report, Penn State's four-year Graduation Success Rate of 78% easily exceeds the 67% Division I average, second only to Northwestern in the Big Ten. Do players love playing in a spread offense like the one Chip Kelly runs out at Oregon? Of course. Do players love playing in the warm weather of Florida? Sure they do. But in the middle of Pennsylvania, players are just as happy playing for their legendary coach. "It's special to play for a guy like that," Silas Redd said following Joe's most recent victory in which he tied Eddie Robinson for first on the all-time DI wins list. Having had the pleasure and honor of shaking Joe's hand a few times, I can honestly say that the man is a model for what a college football coach should be, It's a shame that each day, with every scandal, that he's becoming more of a dying breed. JoePa's No. 21 Nittany Lions face the Illinois Fighting Illini on Saturday at 3:30 in Beaver Stadium.    
Original Story:
http://isportsweb.com/2011/10/26/penn...
THE BACKYARD
BEST OF MAXIM
RELATED ARTICLES
In July, running back Stephfon Green said 2011 would be a season of "redemption him." Three months later, he's finally getting his chance. The fifth-year senior last week carried 9 times for 33 yards and a touchdown (his first in 20 games) in Penn State's victory over Northwestern. It was his most active game in over a year and signaled his return from offseason...
When the Penn State Nittany Lions (7-1, 4-0 Big Ten) welcome the Illinois Fighting (6-2, 2-2 Big Ten) Illini to Beaver Stadium on Saturday they'll be looking to maintain their lead in the Leaders Division of the Big Ten with revenge on their mind. That revenge comes from last season's shalacking at the hands of the Illini, 33-13 in Beaver Stadium, the Lions' worst home loss...
Whomever claimed early in the season that Penn State was a mediocre team wasn't paying attention. The Nittany Lions have long enjoyed outstanding recruiting, and who can possibly discredit coaching that includes the ageless Joe Paterno and an experienced staff? They are 7-1 on the season and possess strength in all three phases of the game.
The busiest running back in the Big Ten has been treating a minor shoulder stinger this week but says he will be ready for Saturday's game against Northwestern. And he expects to remain busy. Silas Redd, Penn State's sophomore back, leads the conference in both carries (165) and yards rushing (869) through eight games. Over the last four, Redd has averaged 141.5 yards...
With a 7-1 record, Penn State's report card for the second trimester is looking fairly good (as always, grades are cumulative): OFFENSEQuarterbacks: C+.Matt McGloin has good stats and has separated himself from Rob Bolden. But can McGloin, who still gambles a bit too much, do the job against the tougher competition coming up? Bolden desperately needs a good game to regain his...
A sixth consecutive win last weekend moved Penn State coach Joe Paterno within one of becoming the all-time leader in Division I history. While that accomplishment is on the minds of most everyone else, the 84-year-old Hall of Famer seems more concerned about avenging last season's loss to Illinois. The 21st-ranked Nittany Lions look to extend their longest winning streak in...
Penn State tailback Silas Redd (Norwalk, Conn.) has been added to the watch list for the Maxwell Award, presented annually to college football's player of the year by the Maxwell Football Club.
Penn State was selected as the favorite and the Lady Lions' Alex Bentley and Ohio State's Samantha Prahalis shared preseason Player of the Year honors in votes by the coaches and media. Penn State has four starters back from a team that won 25 games, including Bentley -- a first-team, all-conference pick last year.
Oct 29, 3:30 PM | Grass of Beaver Stadium Illinois Fighting Illini vs Penn State Nittany Lions Odds 6-2TEAM RECORD7-1 The Nittany Lions will do battle with the visiting Illinois Fighting Illini on Saturday, looking to bolster their record and fatten the pocketbooks of bettors who back them. The Nittany Lions sport records of 7-1 and 2-6 ATS heading into this matchup, while...
Of the top 25 teams in the BCS football standings, two schools are tied for the best graduation rate for their players, and they are Penn State and Stanford at 87 percent.  This is according to the latest statistics released Tuesday by the NCAA. So, once again, here is evidence that JoePa means it when he says he cares about academics. Also of note, Oklahoma had the worst graduation...
Penn State has shut out two of their four Big Ten opponents in the second halfCHAMPAIGN — Illinois players and coaches have mostly shrugged when asked why they have stalled through three quarters in losses to Ohio State and Purdue.
College Football News

Delivered to your inbox

You'll also receive Yardbarker's daily Top 10, featuring the best sports stories from around the web. Customize your newsletter to get articles on your favorite sports and teams. And the best part? It's free!
THE COLLEGE FOOTBALL HOT 10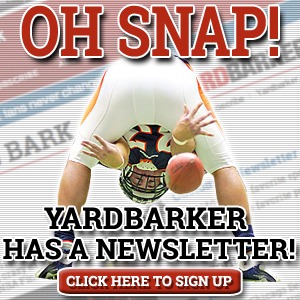 Latest Rumors
Best of Yardbarker

Today's Best Stuff

For Bloggers

Join the Yardbarker Network for more promotion, traffic, and money.

Company Info

Help

What is Yardbarker?

Yardbarker is the largest network of sports blogs and pro athlete blogs on the web. This site is the hub of the Yardbarker Network, where our editors and algorithms curate the best sports content from our network and beyond.