Found October 02, 2012 on BeyondUSports:
PLAYERS:
Barack Obama
,
Liam Neeson
,
Bill Clinton
,
Tommy Rees
,
Randy Shannon
,
Cam Newton
,
Ryan Aplin
,
Lane Kiffin
,
Matt Barkley
TEAMS:
Notre Dame Fighting Irish
,
Miami Hurricanes
,
Kansas State Wildcats
,
Florida International Golden Panthers
,
Arkansas State Red Wolves
,
USC Trojans
,
Arizona State Sun Devils
Preview of Miami ND – The Debate – Week 5 RecapLast week showed encouraging results. Washington won on Thursday, but Hawaii's pathetic showing on Friday halted my progress. I went 6-5 on Saturday so overall the weekend was a success. My overall record is now back to even on the year, 35-35-2. The pride and joy of my statistics is my 31-25 record on Saturdays. Arizona fell just short in the final minutes on Sunday morning, dropping my Pac 12 record to an incredible 2-9-1. I have yet to win a game involving a team from Utah, but that 0-6 streak could be broken Thursday night. USC plays at Utah so something has to give. I give my two picks later in the post – Arkansas State and the Utes. This week features two marquee events that I am very excited about: The First Presidential Debate Wednesday night and Miami vs Notre Dame on Saturday night in Chicago. After a detailed review of both, I discovered how many similarities could be drawn. I will preview both and explain why Mitt Romney represents Miami and Barack Obama represents Notre Dame. photo credit: media.cmgdigital.com While both events could result in dramatic changes to daily life in America, they may be overlooked due to pop culture. Too many television viewers on Wednesday night will be drawn to reruns of Keeping Up With the Kardashians, Storage Wars, or Rehab with Dr. Drew. On Saturday night, most Americans will probably be enjoying a night at the movie theatre to watch Liam Neeson take care of business in Taken 2. Both Obama and Notre Dame are significant favorites in the events this week. According to a poll this week from Quinnipiac University, two thirds of voters expect Obama to perform better than Romney in the debate. Notre Dame is currently a thirteen-point favorite for Saturday's game and seemingly everyone has already decided that the Irish will win convincingly. The underdogs hope that the inflated expectations will result in overconfidence this week, which could be a factor in both events. Both Obama and Notre Dame are championed by an old man prone to misspeaking – Joe Biden and Lou Holtz. Both Obama and Notre Dame are extremely popular, both in this country and abroad. They are flashy and demand media attention in everything they do. Notre Dame's NBC contract and the amazing terms of the deal with the ACC finalized this year, reaffirms the status of the Irish. Obama and the Irish draw substantial crowds in Europe – as judged by Obama's European tour in 2008 and ND's successful game in Ireland last month. Both Obama and Notre Dame relied on experienced performers when a spark was required at a critical time. Bill Clinton's speech at the DNC was one of the highlights of the Obama 2012 campaign and Clinton's continued involvement has been vital. When Coach Brian Kelly needed a game winning drive against Purdue, he turned to veteran QB Tommy Rees. His decision was a stroke of genius, as Rees led ND to the win. Rees led the only touchdown drive against Michigan as well. Both Romney and Miami have relied on a youth movement to inject energy into the program. Mitt chose Paul Ryan as his VP candidate and helped put crucial Midwestern states back into undecided territory. Miami has relied on 9 new starters on offense to win games in the fourth quarter, with many of the contributors being true freshmen. Both Romney and Miami were extremely successful in the 80's and 90's, but struggled to maintain that success in the mid 2000's. Romney's embarrassing loss in the Republican primary in 2008 mirrors the experience of the Canes under Randy Shannon. Romney and Miami are disliked because of past successes. Romney's experience at Bain continues to be an issue that is attacked by his opponent, while Miami suffers from negative recruiting stemming from the Nevin Shapiro scandal. Image is a critical weakness for both, with Romney trying to avoid the characterization of a wealthy man out of touch with average Americans. Miami is still struggling to shake the Catholics vs Convicts image from the 1980's, despite the impressive efforts of recent coaching staffs to clean up the program. Both Romney and Miami were written off earlier in September after seemingly fatal missteps. Miami was crushed 52-13 by Kansas State and the media proudly mocked what was sure to be another down year for the Hurricanes. Miami flew home from Manhattan and never looked back, winning three straight games and building momentum. Mitt was videotaped talking about the now infamous 47% of Americans that don't pay federal income taxes. Many figured this comment doomed his campaign, but while the polls still indicate an Obama lead, the race is far from over. I will be resuming my college football odyssey this weekend as I'm headed to Chicago for the game. Soldier Field will be a terrific atmosphere and I hope the Canes don't have trouble dealing with cold weather. With temperatures expected to be in the 40s, Miami better get off to a good start early to keep the adrenaline flowing.   Arkansas State +1 at FIU   THURSDAY – ESPNU – 730pm When he led Cam Newton and Auburn to a national title in 2010, I supported Gus Malzahn on every occasion. It's time for Gus to lead me to a victory again. His Arkansas State team has faced very tough competition this season, losing to Nebraska and Oregon. FIU has faced a far softer schedule and the Golden Panthers come into this matchup at 1-4. FIU's defense has been one of the nation's worst – a recipe for disaster against the experience of Ark State QB Ryan Aplin. The Red Wolves have a balanced offensive attack and Gus will be pushing all the right buttons on Thursday night. Given FIU's season thus far, the home crowd will offer little advantage. The Sun Belt has always been good to me – Ark State wins by 10.   USC at Utah +14   THURSDAY – ESPN – 9pm This game features world's colliding. Will I end my losing streak in Utah? Will my Pac 12 fortunes turn around? I realize that by picking Utah, I am significantly increasing Lane Kiffin's chances of success. While that troubles me, I have to stick with my gut and take the Utes to play well at home. Utah is a bipolar team that has been plagued by turnovers. Kyle Whittingham's teams always play well following a loss and the embarrassing game at Arizona State will prove as motivation for his team. A national audience provides the Utes with an opportunity to make a statement that they will be a factor in the conference race this season. USC bounced back from the Stanford loss with a win against Cal, but the Trojans haven't really been impressive at any point in 2012. QB Matt Barkley will be blitzed often and his shaky offensive line will be tested. USC wins behind the talent of skill players on the edges, but it won't be easy. Utah keeps it close heading into the 4th quarter. "It's absolutely essential that we respond," Utah coach Kyle Whittingham told the school's official website. "We are probably playing the most talented team in the conference in USC. We find out what we're made of this week and what kind of resiliency we have." BeyondU Sports BeyondU Sports - Best College Sports Blog Site
Original Story:
http://feedproxy.google.com/~r/Beyond...
THE BACKYARD
BEST OF MAXIM
RELATED ARTICLES
  President Barack Obama is a secret admirer of golf, he plays any chance he can get and at last count he has played 104 full 18 hole rounds of golf in his four years in office.  Oh yeah, his rounds last as long at 6 hours per. So much for cutting the deficit huh? While on one outing near the District Capital, Barack had to end his round early according to ESPN: "On this morning...
Barack Obama isn't the first president of the United States to golf, but he's been more scrutinized about his passion for the game than any other commander-in-chief we've ever had. ESPN The Magazine decided to dig deeper into the president's golfing habits, and the article will hit newstands on Oct. 15. However, a glimpse of what's to come has already been provided...
It's well known that President Barack Obama is fond of basketball. Whether it's playing pick-up games or watching the USA Olympic team, Obama digs his bball.Zach Bohannon, a former Air Force player who transfered to Wisconsin, want's Obama to play in a pick-up game when he visits the the University of Wisconsin today. The Junior and aspiring President of the United States,...
MADISON, Wis. With election day less than five weeks away, the campaigns for this country's presidential candidates are heating up. In keeping with that theme, one member of Wisconsin's men's basketball team is doing some campaigning of his own. Only his cause is strictly about hoops. President Barack Obama, an avid basketball aficionado, is scheduled to speak Thursday...
MADISON, Wis. It appears that one Wisconsin men's basketball player's persistence to meet the President has paid off. UW forward Zach Bohannon tweeted that the Badgers would be introduced to President Barack Obama during a private team meeting on Thursday afternoon. Obama is in town to speak later in the day on campus at Bascom Hill. Bohannon had campaigned on his Twitter...
MADISON, Wis. Members of Wisconsin's men's basketball team were contemplating the possibilities of presidential grandeur in the locker room Thursday morning. More specifically, their discussion hovered around one central question that they couldn't stop pondering.Would President Barack Obama actually play a game of pickup hoops with the team?Two days earlier, Badgers...
The first presidential debate between Barack Obama and Mitt Romney is tonight. Seeing how the Secret Service has security on tailgating in the parking lot tighter than the NFL has at the Super Bowl, you may want to follow these rules for a debate drinking game. It is truly "fair and balanced". If you are reading this it means you are a valuable subscriber to TailgatingIdeas...
College Football News

Delivered to your inbox

You'll also receive Yardbarker's daily Top 10, featuring the best sports stories from around the web. Customize your newsletter to get articles on your favorite sports and teams. And the best part? It's free!
THE COLLEGE FOOTBALL HOT 10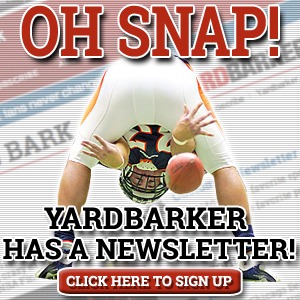 Latest Rumors
Best of Yardbarker

Today's Best Stuff

For Bloggers

Join the Yardbarker Network for more promotion, traffic, and money.

Company Info

Help

What is Yardbarker?

Yardbarker is the largest network of sports blogs and pro athlete blogs on the web. This site is the hub of the Yardbarker Network, where our editors and algorithms curate the best sports content from our network and beyond.