Posted September 16, 2013 on AP on Fox
Jadeveon Clowney's happy to get a rest with No. 12 South Carolina starting a week off - both for his aching right foot and from the spotlight that follows him around. The Gamecocks All-American defensive end wears a walking boot to protect a recurrence of bone spurs in his foot, an injury he's dealt with since high school. Clowney's had all aspects of his game analyzed this season and has been criticized for his conditioning even though opponents have been running away from whatever side the 6-foot-6, 274-pound lineman lines up on. Although he's picked up sacks in his past two games, it hasn't been the start many expected from Clowney, considered the game's top player throughout the offseason. The off week comes at ''a great time,'' Clowney said. ''We need it.'' Few probably need it more than Clowney, who was expected to put up eye-popping stats this season after his helmet-flying hit on Michigan's Vincent Smith last New Year's Day became the talk of college football. In week one, TV cameras caught Clowney breathing heavy as North Carolina's high-speed offense played away from him. Clowney, who said he was dealing a stomach virus, had three-tackles and no sacks in South Carolina's 27-10 victory. Clowney was kept in check a week later at Georgia in a 41-30 loss to the Bulldogs, although he did get his first sack of the season. The lasting image of that contest was Clowney breaking through the line and Georgia quarterback Aaron Murray heaving a long pass down field that Justin Scott-Wesley caught for an 85-yard touchdown. ''Very frustrating,'' Clowney said after the game. ''I told the coaches you got to put me somewhere else, in the middle if you want to, somewhere I can make some plays, help my team get in position to win.'' Things came together for the Gamecock defense last Saturday night as it held Vanderbilt to under 300 yards in a 35-25 victory. The defense collected five sacks, including a critical one by Clowney in the second half that jarred the ball loose for a fumble that South Carolina recovered deep in its territory to stop a Commodores rally. Still, afterward it was Clowney's foot pain that took center stage. Clowney said he's handled the pain off-and-on since high school and hopes that two weeks between games will reduce any discomfort. He appeared his most ''It's painful. I'm out here playing on it, though, so I'm just trying to give everything I've got on it,'' he said. ''Who knows what's going to happen out there? It doesn't really bother me when I am out there much. It's just builds up pain. The more I keep going on it, the more it bothers me.'' Clowney said he'll likely have the foot ''cleaned out'' after the season, when he plans prepping for the NFL draft following the last of his three seasons with the Gamecocks. Clowney is considered the top NFL prospect for next spring's draft. South Carolina coach Steve Spurrier said Sunday he'd have had Clowney undergo the procedure this offseason if he had anticipated his lineman would be this bothered by the foot. ''Just recently, I think, it started bothering him a little bit,'' Spurrier said. The coach pointed out that other players, including cornerback Victor Hampton and last year's starting safety D.J. Swearinger, had dealt with similar bone spur problems and played effectively. Clowney's foot problem has not kept him from practicing and he believes the down time will ease the pain. ''I need it to get my foot back together,'' the junior said. The question was raised during offseason whether Clowney should play this season and risk injury - and possibly becoming the NFL's No. 1 overall pick in next year's draft. Clowney and his family took out an NCAA allowable $5 million insurance policy should he face significant injury. Neither Clowney nor his coaches believe the bone spurs present a serious problem for him going forward this season. Clowney, the reigning SEC defensive player of the year, is just happy to be getting help from his defensive teammates. Clowney was pleased to see defensive end Chaz Sutton and tackle Kelcy Quarles finish off plays with sacks when Vanderbilt attempted to play away from him. ''I just tell them, `Man, it's time for y'all to shine,''' Clowney said. ''They showed up'' against Vanderbilt.
Original Story:
http://msn.foxsports.com/cfb/story/So...
THE BACKYARD
BEST OF MAXIM
RELATED ARTICLES
After beating Vandy, South Carolina defensive end Jadeveon Clowney admitted that he will need offseason surgery to fix bone spurs in his foot.
Maybe it isn't offseason conditioning that has slowed down Jadedevon Clowney, after all. The South Carolina Gamecocks defensive end, who was being pumped up by some to be on the path as being the first defense-only Heisman Trophy winner, has…Read more →
Ken Dewitt groomed "Go *****" into his Neptune Beach, Florida yard and the photo of it has been immortalized in Google Maps.
South Carolina defensive coordinator Lorenzo Ward says defensive ends Jadeveon Clowney and Chaz Sutton will be day to day because of foot injuries for the rest of the season, but neither is expected to miss games. Clowney is dealing with bone spurs in his right foot, a continuing problem dating to high school. Sutton has had a foot injury since preseason camp. Ward said Tuesday...
A lingering foot injury is hampering South Carolina defensive end Jadeveon Clowney this season. So much so that South Carolina defensive coordinator Lorenzo Ward says Clowney is being listed as day to day because of bone spurs in his right foot. The bone spur issue is one that Clowney has had since high school, but has severely limited his performance this season. Clowney has...
South Carolina defensive end Jadeveon Clowney has announced that he will require offseason surgery to deal with a lingering issue with bone spurs in his right foot. It's a problem Clowney has had to deal with on and off since high school. "It's painful," Clowney explained to reporters from The Spartanburg Herald Journal."I'm out here playing on it though....
COLUMBIA, S.C. Following his team's 35-25 win over Vanderbilt on Saturday night, South Carolina defensive end Jadeveon Clowney announced he would likely have a surgical procedure on his sore right foot (bone spurs) after the season. "I'm going to get it cleaned up" after the Gamecocks' bowl game, said Clowney, while admitting that he's in "a lot&quot...
South Carolina starting quarterback Connor Shaw wasn't quite amused with Gamecock fans who left Saturday's game against Vanderbilt early. In a press conference, Shaw criticized the early departures of the Gamecocks win over the Commodores, saying "I don't think there's any excuse for our stands to be emptying out. I was kind of disappointed in that." Here's...
South Carolina fans can breathe a sigh of relief this afternoon. Star running back Mike Davis, who was taken out of last night's game against Vanderbilt with an injury to his left ankle, says he's just fine. Davis informed his followers on Twitter: My ankle is great people thanks for the concern ! — Mike Davis (@Mike28davis) September 15, 2013 The Gamecocks took a huge 28...
Another week, another list of hopefuls.While the landscape of college football proves to all of us that the majority of great players reside in the south, don't let the rest of the country fool you. Last weekend, we saw great performances across the map from Oregon to Texas to Tallahassee. It's good to see college football isn't branded to one location.With the changes in rankings...
College Football News

Delivered to your inbox

You'll also receive Yardbarker's daily Top 10, featuring the best sports stories from around the web. Customize your newsletter to get articles on your favorite sports and teams. And the best part? It's free!
THE COLLEGE FOOTBALL HOT 10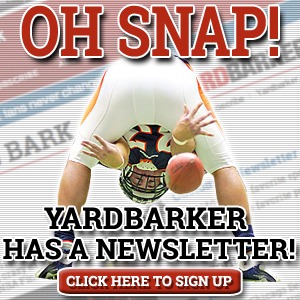 Latest Rumors
The Backyard

Today's Best Stuff

For Bloggers

Join the Yardbarker Network for more promotion, traffic, and money.

Company Info

Help

What is Yardbarker?

Yardbarker is the largest network of sports blogs and pro athlete blogs on the web. This site is the hub of the Yardbarker Network, where our editors and algorithms curate the best sports content from our network and beyond.