Found November 10, 2011 on The Victory Formation:
PLAYERS:
Andrew Luck
,
LaMichael James
,
Cameron Newton
,
Isaiah Crowell
,
Carlton Thomas
TEAMS:
Stanford Cardinal
,
Virginia Tech Hokies
,
Georgia Tech Yellow Jackets
,
Penn State Nittany Lions
,
Texas Tech Red Raiders
,
Oklahoma State Cowboys
,
Cincinnati Bearcats
,
Boise State Broncos
,
Oregon Ducks
,
Arizona State Sun Devils
,
Auburn Tigers
,
Georgia Bulldogs
,
New Mexico State Aggies
Last week we were all hot and bothered by the LSU-Alabama showdown and this week we get to enjoy our homemade granola, drink some herbal tea and bust out the yoga mats for the Pac 12 game of the year with Oregon traveling to face White Jesus Andrew Luck and Stanford. Oregon fell down early last season before laying the lumber to in the second half and running away with the game. Elsewhere in the Pac 12, Washington travels to USC in hopes of (finally) winning a game against a good team. After giving up 50+ to both Nebraska and Stanford, the Huskies managed to hold Oregon to 34. If only they scored more than 17. The ACC mercifully ends the Thursday night curse when it paired Virginia Tech and Georgia Tech together. This is a must win for Georgia Tech as a loss would give Paul Johnson's ego the Jackets a third conference loss. After the battle of the Tech's the game of the week is probably Free Shoe taking on Miami. This could be dubbed the "Oh how the mighty have fallen" bowl. After starting the season 2-3, FSU has rebounded thanks to a drop in competition to win four straight. Meanwhile, Al Golden now gets to answer questions about Penn State. The Big 12 is off this week as far as marquee games, but Texas-Missouri and Kansas State-Texas A&M should be entertaining. Some are saying Texas Tech is in prime position to trip up Oklahoma State, but after seeing Texas Tech play the past two weeks, I just don't see that being all that close in the third quarter. The Big East is highlighted by the one-loss Cincinnati Bearcats hosting West Virginia. Cincy was destroyed by the SEC's 9th best team (Tennessee) and is in line for a BCS bowl. I bet the Orange Bowl committee is so happy to hear that. The SEC has only two games of importance, but neither are really that important. Auburn travels to Athens to take on Georgia while South Carolina hosts Florida. Should the Gamecocks lose it would mean UGA would need a split against Auburn and Kentucky to win the right to get housed by LSU. Should Auburn pull the upset, South Carolina would be a win against a bad Florida team away from the Dome. Boise State plays the second of it's two game season this week when it hosts TCU. Such a gauntlet. After a 2-2 week to further cement my legacy as that of mediocrity personified, let's hope we can pull off a winning week this go around. As always, the rankings are based on the BCS standings and the lines come from Bodog as of Thursday afternoon.  GAMES OF THE WEEK #7 Oregon at #4 Stanford (-3.5), 8:00, ABC The Ducks are coming into this game at the right time as star RB LaMichael James is healthy after he dislocated his arm against Arizona State. Oregon is averaging 298 yards per game on the ground, 5th best in the nation. Stanford is giving up just under 79 yards on the ground, 3rd best in the country. That right there is the story line. Can Oregon do it's thing against the Cardinal defense? Meanwhile, Oregon is 58th in the nation stopping the run, while Stanford is 17th in rushing offense. Add that to the Cardinal having the best quarterback in the country and you can see why Oregon is the underdog in this game. However being a road dog of only 3.5 points when you can't stop the run and they like to run the ball is a bit odd. The one good thing Oregon does do on defense is get to the quarterback. The Ducks are 6th in the nation in sacks, getting 3.22 each game. Stanford will be a tough test for the undersized Oregon DL, however, as the Cardinal OL might be the best in the country. If Luck stays relatively clean I don't see how Oregon stops Stanford. While Stanford will be without some key starters on offense (2 TEs and a WR) I think their OL and running game can control Oregon's front 7. Oregon will get their yards in this game, but if Stanford can dominate the clock, I think Oregon will get antsy. Stanford 31 – Oregon 27. #10 Virginia Tech (-1) at #21 Georgia Tech, 8:00, ESPN The Hokies come into this game looking for the knockout punch to Georgia Tech's ACC title hopes. The stats all point to Virginia Tech winning this game. They run the ball well, something Ga Tech has a hard time defending, and they stop the run better than almost every other team in the country (5th in the nation). They've had 10 days to prepare for Paul Johnson's option attack, and we all know that the more time you have to prepare for his offense the better it is for you. However, I think Georgia Tech takes this game. I think Virginia Tech is vastly overrated. The Hokies were dominated at home by Clemson and their best win was a frantic comeback against Miami at home as well. Georgia Tech, meanwhile, plays much better at home than they do on the road, and after a confidence building win against Clemson 10 days ago, I think Paul Johnson will have his team ready knowing that a loss essentially eliminates them from ACC contention. Georgia Tech 31 – Virginia Tech 30. #19 Nebraska (-3.5) at #12 Penn State, 12:00, ESPN So, yeah…nothing really interesting surrounding this game at all, huh? This game should be talked about for all of the right reasons (Big 10 race, historical powers meeting, etc…) but instead we have to talk about the rape of children and the lack of a proper response. In the matter of 3 days Penn State lost their president, athletic director and head coach. Imagine that happening at your school. Yikes. Anyhoo, the game itself should favor Penn State, yet the Huskers are a 3.5 point road favorite, and that was before the Sandusky story broke. Penn State is 8th in total defense, including 24th against the run, something Nebraska relies (too heavily) on. The other side of that coin is that Penn State is equally as bad on offense as they are good on defense (88th in total offense, 55th in rushing). I honestly think this game could go in any number of ways. A part of me says Penn State folds under the intense pressure of the moment, letting their emotions get the best of them and they get blown off of the field. The other part of me sees the young kids playing the best game of the year, effectively winning one for JoePa. They don't do anything well on offense, but Nebraska doesn't do anything well on defense. Add that to the fact that they are playing at home in what will be a historic game and I like Penn State to come out swinging for the fences. Penn State 24 – Nebraska 17. #20 Auburn at #15 Georgia (-12.5), 3:30, CBS The Deep South's Oldest Rivalry has become one of the more fun games each year in SEC country. Both programs are so similar it's scary. They recruit the same players every year, with each winning some and losing some. Before Cam Newton took over in the 4th quarter is last year's game, it looked for a moment that UGA was going to win their 5th straight game against Auburn. They'll have to settle for 5 out of 6 should they win this season. When I first saw the line open at -12.5 I was very surprised. I then saw several sites raise the line to 13 and I was even more shocked. Then is did some research. Auburn is 84th against the run, 50th against the pass and 75th in total defense. Georgia is 8th, 24th and 7th in those categories, respectively. Auburn is 31st in rushing offense, but 108th in passing and 89th in total offense. Georgia is 43rd, 39th and 37th, respectively. The Tigers are pretty bad in every major statistical measure on defense and only their rushing offense saves them from the abyss on offense. Meanwhile, Georgia is getting healthy at the right time with Malcolm Mitchell expected to return to the offense. The team's leading receiver has missed the last three games with a severe pull in his hamstring. Auburn has had two weeks to prepare for this game, but Georgia hosted New Mexico State last week and went into the half leading 49-3, so they essentially had a week off as well. Georgia gets Isaiah Crowell and Carlton Thomas back after last week's suspension, so the top two RBs on the current depth chart should be well rested. After the way last season's game ended (two Auburn players suspended and Trooper Taylor being a douchebag) I think Georgia is out for blood this week. I expect this game to get chippy early on, but look for the more talented and experienced Georgia team to take over in the second half. Georgia 31 – Auburn 13. Record: 13-11-1 ATS
Original Story:
http://www.thevictoryformation.com/20...
THE BACKYARD
BEST OF MAXIM
RELATED ARTICLES
Andrew Luck never said his decision to forego the 2011 NFL draft and play another season at Stanford was to make a run at the Heisman. Indeed, just last weekend he said his decision wasn't even necessarily made so he could play in big games like this week's much-anticipated showdown with Oregon.
Head coach David Shaw, Andrew Luck, Michael Thomas and Jarek Lancaster discuss last week's game at Oregon State along with Saturday's showdown against Oregon in this edition of Stanford Football Weekly.
STANFORD, Calif. (AP) -- Most visitors to Jim Plunkett's house want to see his Heisman Trophy. Maybe even pose for a photo with the bronze statue and the only Stanford alum to win the prestigious award. Not Andrew Luck. He's a meat and potatoes kind of guy. During a homemade dinner Plunkett hosted at his house last year, Luck stuck to the basics: a plate of beef tenderloin...
There is no game of the century this week, but there are still plenty of great college football games that could decide who will be playing in their conference championship games (and who will win weekly fantasy college football challenges). This week's marquee matchup is out west in the Pac-12 as #7 Oregon heads south to take on #4 Stanford and its much-desired QB Andrew Luck...
Q is amped up about this week's Pac 12 matchup for all the marbles on the west coast. It's the Oregon Ducks vs. Stanford Cardinal. Andrew Luck vs. LaMichael James. Saturday night's HUGE Pac 12 battle between undefeated Stanford and Oregon not only has big BCS implications, but it may be the most exciting game we see all season...
The Indianapolis Colts have really asserted themselves as the front-runner in the Suck for Luck derby now. Although Suck for Luck Bowl I takes place this Sunday versus the Jacksonville Jaguars- so that will certainly be a test. We've updated our NFL Draft team needs for every team in this mock update. Team needs come courtesy of National Football Post 1. Indianapolis Colts,...
HERE'S YOUR FUTURE
Winning the Heisman Trophy is not a ticket to NFL stardom. For every Roger Staubach and Tony Dorsett, there's a Gino Torretta and Rashaan Salaam. So where does that place Stanford's Andrew Luck, Alabama's Trent Richardson and Boise State's Kellen Moore? Luck looks like a lock to be the No. 1 overall pick in the NFL Draft in April. Richardson could return to Alabama...
THE BIG ONE: STANFORD VS. OREGON – No. 3-ranked Stanford plays what may be the biggest football game in its history when it hosts No. 6 Oregon on Nov. 12.     It may not be quite as big as the Nov. 5 game between Alabama and LSU, but it's as close as it gets on the West Coast this season. It is the first time in history two top 10 teams have played a game at Stanford, and...
During his weekly press conference, Washington coach Steve Sarkisian said he'd take USC's Matt Barkley over Stanford's Andrew Luck in next year's NFL draft. It's likely that few in football share those sentiments - even after Barkley's prolific efforts last week - but Sarkisian may not have wanted to miss an opportunity for some gamesmanship with a player...
Who you got? It appears that, barring an upset by Arkansas or an SEC East team, LSU will be playing for the BCS championship. Question is, who will they be facing? There are currently two undefeated teams, that if they finish the season undefeated, will easily be up for the free spot over the already beaten Crimson Tide. While, personally, I do believe that Alabama is the second...
College Football News

Delivered to your inbox

You'll also receive Yardbarker's daily Top 10, featuring the best sports stories from around the web. Customize your newsletter to get articles on your favorite sports and teams. And the best part? It's free!
THE COLLEGE FOOTBALL HOT 10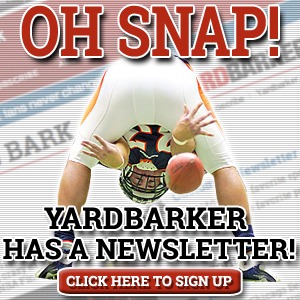 Latest Rumors
Best of Yardbarker

Today's Best Stuff

For Bloggers

Join the Yardbarker Network for more promotion, traffic, and money.

Company Info

Help

What is Yardbarker?

Yardbarker is the largest network of sports blogs and pro athlete blogs on the web. This site is the hub of the Yardbarker Network, where our editors and algorithms curate the best sports content from our network and beyond.