Found August 10, 2012 on isportsweb.com:
The USC Trojans wrap up their first week of fall camp with a scrimmage Friday afternoon, but after just four football practices, it's still too early to have any solid answers to some of the team's biggest questions heading into 2012. The USC football team has one week of fall practice in the books. Here's what we've seen so far: Robert Woods is back.  After the first practice, Woods said he felt "100%" but the coaching staff has, rightfully, been bringing him along slowly after an offseason ankle surgery. His participation has increased each practice, and after Thursday afternoon's workout, the top Pac-12 receiver from 2011 said: "I felt fast. I felt back to normal…It feels good to be back." Head coach Lane Kiffin didn't go quite that far. When a reporter asked "Did Robert look like Robert?" Kiffin took his time before admitting, "I wouldn't say that." He did, however, say it was the best Woods has looked so far. George Farmer is out. Again.  The sophomore wide receiver struggled with injuries and a brief stint at tailback as a true freshman, but everyone hoped he'd have better luck this year. So far, that hasn't been the case. Farmer left the first practice with a hamstring injury and though he promised reporters he'd back on Thursday, he has yet to return. He initially injured the hamstring during spring practices in March and reaggravated it at the beginning of training camp. Farmer was the MVP of the only spring practice in which he participated before his injury, but his chances to claim the No. 3 receiver spot are slipping away. "It's a concern," Kiffin admitted on day two. "It's not his fault, he trains hard, but it's hard to develop if you aren't out there." With Farmer on the sidelines, redshirt sophomore De'Von Flournoy would be the No. 3 receiver if the season started tomorrow. True freshman Nelson Agholor is talented and is improving quickly, but he's still very new. By the end of the season, he could still be the next rookie star for 'SC, but Flournoy has had a few years with the playbook and was consistent through spring workouts and into this week. The defensive line is the new "No. 1 Concern."  At Pac-12 Media Day, just before USC landed former Penn State RB Silas Redd, Kiffin said tailback was the team's biggest concern this season. Add Redd and subtract an injured Devon Kennard, and the D-line just became the Trojans' main issue. In the first practice, line coach Ed Orgeron moved J.R. Tavai from nose tackle to left end and put redshirt freshman Antwaun Woods in at tackle. Highly touted freshman Leonard Williams backed up George Uko at tackle rather than filling in for Kennard at left end. It's all still an experiment at this point. "We want to see if we can do this," Orgeron said. "We don't know yet." Tailbacks and secondary are finally back to being strengths, rather than weak spots. Kiffin said the backfield "has completely changed" since the spring. McNeal and Redd are the established veterans, though Redd is still adjusting to his new squad. D.J. Morgan has improved, and his coach was pleased with the way he, and the other backs, were handling the competition. The secondary has also been one of the stories of camp. Jawanza Starling, Anthony Brown, Demetrius Wright, and linebacker Dion Bailey all had interceptions in the first few practices. Kiffin picked Wright as an under-the-radar nominee for defensive MVP so far this fall, but that honor could just as well go to secondary coach Marvin Sanders. Kiffin had high praise for the position coach, who has the defensive backs playing as well as Kiffin's seen them. "It's the best I've seen our defensive backs play…he knows what he's doing," Kiffin said. The coaches are also excited about the future of the secondary after seeing the size and the aggressive, physical style of freshman cornerbacks Kevon Seymour and Devian Shelton this week. Injuries and developing talent on the O-line. Nothing too serious (yet – knock on wood). Senior center Khaled Holmes left the first practice with a minor injury. He played sparingly the following day, with Abe Markowitz handling the majority of the first team reps, but had returned and was in good shape by Thursday. Left tackle Aundrey Walker missed part of Wednesday due to injury. USC isn't providing an injury report for practices this year, but at the time, those in attendance speculated it might be a shoulder injury. He was at practice Thursday sporting a brace on his right wrist and did not participate. Walker is projected to fill Matt Kalil's very large shoes at left tackle, and his absence sparked rumors about the team's potential contingency plan if he's ever unable to play. Freshman Zach Banner and redshirt sophomore walk-on Nathan Guertler subbed for Walker this week, but in a game situation, it's more likely that Kevin Graf would switch from right to left tackle. Max Tuerk, currently a backup at right tackle, is reportedly the freshman most ready to start on offensive line. He probably won't start unless there's a big need, but Kiffin said he's ahead of where Marcus Martin was last year, when Martin ended up as a freshman starter. Still waiting: Cornerback Brian Baucham has not practiced yet because of a concussion. Incoming freshman receiver Darreus Rogers watched the first session in street clothes because he has yet to be cleared by the NCAA Eligibility Center. (When USC was going after Redd, it was rumored that Rogers might be ineligible, which would make a scholarship available for Redd without taking one from a former walk-on.) Cornerback Isiah Wiley and linebacker Marquis Simmons have not practiced, either. They're both still waiting on summer school grades to be eligible, which may take another week or more. Game Time: USC's first scrimmage will be Friday afternoon at 12:30 PT. The Trojans will be in full pads, but the coaching staff had not yet announced whether the team would tackle.
Original Story:
http://feedproxy.google.com/~r/isport...
THE BACKYARD
BEST OF MAXIM
RELATED ARTICLES
LOS ANGELES -- It's Lane Kiffin's first time participating in the USA TODAY Sports Coaches' Poll and he's already made a mistake, the paper says. It's agreed by USA TODAY and the American Football Coaches Association that votes are kept anonymous until the final poll but coaches are allowed to reveal their votes if they wish. However, Kiffin's vote for the...
LOS ANGELES -- USC head coach Lane Kiffin says USA TODAY revealing his vote in the coaches' poll is "Not a big deal." The paper took it upon themselves to reveal the information because they believed Kiffin was being "misleading" when he was asked who he voted No. 1 following Tuesday's practice. Votes are normally kept confidential unless a coach volunteers...
Lane Kiffin became the first USC football coach to vote in the USA Today coaches' poll since John Robinson, and it didn't take long for him to be caught in a lie. On Tuesday, Kiffin was told that Arizona coach Rich Rodriguez voted his team No. 1 in the coaches' poll. When asked for his vote, Kiffin responded: "I would not vote USC No. 1, I can tell you that," according...
LOS ANGELES ---Josh Shaw is beginning to show his versatility in the defensive backfield for USC. For the second consecutive day, the transfer from Florida lined up at cornerback after spending the beginning of camp at safety. The opportunity arose with cornerbacks Anthony Brown out and Torin Harris leaving Friday's scrimmage with an undisclosed injury. Neither practiced on...
LOS ANGELES --- One of the biggest tools a head coach has in his possession is the bench. Had it been a Saturday in the fall, Lane Kiffin certainly would have taken advantage of it on Friday afternoon as the Trojans went through their first scrimmage of Fall Camp at the Coliseum. Trojans tailbacks lost two fumbles on Friday. One was returned 76 yards for a touchdown by walk-on defensive...
I have a few theories as to why Lane Kiffin would get himself into this easily avoidable kerfuffle about the USA Today Coaches' Poll. Kiffin somehow managed to say he wouldn't vote for his own team to be number one in the initial poll, voted for them anyway, got called out by the poll for lying, and then said that when he said "I wouldn't put us No. 1," he meant it as...
Here's something that we're sure you'll find hard to believe. You ready? Okay. Lane Kiffin was caught in a lie. We know it's hard to believe since Kiffin is usually upfront about everything he does. The man is so open and upfront that he even tells us just what he does when he's recruiting players. So when Lane Kiffin said the he "would not vote USC No. 1' on his coaches...
USC senior safety T.J. McDonald spoke with the media following Thursday's practice. He says the Trojan defense has taken its game to an entirely different level...
Trojans News

Delivered to your inbox

You'll also receive Yardbarker's daily Top 10, featuring the best sports stories from around the web. Customize your newsletter to get articles on your favorite sports and teams. And the best part? It's free!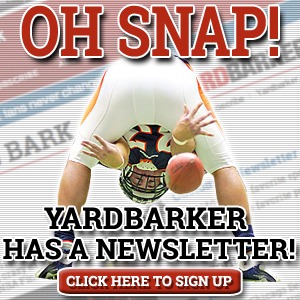 Latest Rumors
Best of Yardbarker

Today's Best Stuff

For Bloggers

Join the Yardbarker Network for more promotion, traffic, and money.

Company Info

Help

What is Yardbarker?

Yardbarker is the largest network of sports blogs and pro athlete blogs on the web. This site is the hub of the Yardbarker Network, where our editors and algorithms curate the best sports content from our network and beyond.