According to Steve Corkran of the Contra Costa Times, the Raiders have signed the following Undrafted Free Agents: Note that this list will be updated as more info comes inAaron Henry - S - Wisconsin - scouting reportDerek Carrier - WR/TE - Beloit - scouting reportLucas Nix - OG/OT - Pittsburgh - scouting report 1, scouting report 2Dominique Hamilton - DT - Missouri - scouting report...
Losing Aaron Henry to graduation and needing guys to step up into playmakers, the battle for the two starting safety spots and building quality depth will be as important as ever for the Badgers' defense.
The Packers need a safety and Aaron Henry — a Scouting Combine snub — turned heads at Wisconsin's pro day. Badger Nation publisher Benjamin Worgull has the scoop straight from Madison.
              Besides being one of the best interviews in college football, the Wisconsin Badgers Aaron Henry is also a talented prospect at the safety position. The senior Henry will enter the NFL Draft this spring and as of now ranks as a top-five safety. With a strong showing prior to the draft, he could go as high as the second round, but shouldn't go any lower than...
LOS ANGELES When Wisconsin's coaching staff targeted a high school football prospect in recent years, there was never any question about which player they'd entrust with sealing the deal. They simply directed recruits to "The Closer."That is the nickname some have bestowed upon Badgers safety Aaron Henry, a fifth-year senior whose knack for nabbing future players...
INDIANAPOLIS Aaron Henry waded through the colorful strands of confetti fluttering around him with a singular, all-important celebratory purpose in mind under the bright lights of Lucas Oil Stadium.Henry, Wisconsin's outspoken safety, bounded with unbridled joy toward midfield to snatch a fresh red rose and lift it near his nose for a giant whiff.What did it smell like?&quot...
There were a number of key players that happened in the second half to propel No.15 Wisconsin past Illinois, 28-17, but there were few players that made bigger plays than senior safety Aaron Henry, who intercepted one pass and saved a touchdown on another.
Times have drastically changed in Columbus over the last year with the amount of scandals, suspensions and dismissals Ohio State has gone through. While he's an advocate of not breaking rules, Wisconsin senior cornerback Aaron Henry can understand, to a degree, the tough choices some student athletes are faced with.
MORE STORIES >>
College Football News

Delivered to your inbox

You'll also receive Yardbarker's daily Top 10, featuring the best sports stories from around the web. Customize your newsletter to get articles on your favorite sports and teams. And the best part? It's free!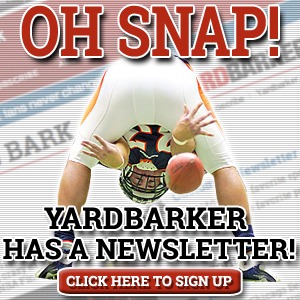 THE COLLEGE FOOTBALL HOT 10