Oklahoma vs. Tennessee is one of the more exciting matchups of this college football weekend, but Oklahoma's run into a really unfortunate bit of bad timing. The tickets for the game feature former Sooner running back Adrian Peterson, who was indicted on Friday in a child abuse investigation.  @ClayTravisBGID Peterson on today's OU ticket… pic.twitter.com/2fNPXLGg0Y — Dan...
Adrian Peterson and Gerald McCoy experienced plenty during their collegiate playing careers at Oklahoma.  Peterson, a star running back for the Sooners from 2004-06, was a Heisman candidate his freshman season, a unanimous All-American, and broke numerous NCAA records.  McCoy, a stout defensive tackle for Oklahoma from 2006-09, was a two-time team captain, the Big 12 Defensive...
Adrian Peterson was the top high school football recruit in the nation in 2004 out of Palestine, Texas and he made the decision to leave his home state and play collegiately at Oklahoma. He lived up to his five-star status for the Sooners by rushing for an NCAA freshman record 1,925 yards and finished second in the Heisman Trophy voting. Injuries felled him the next two seasons before...
NORMAN, Okla. - Oklahoma assistant coach and recruiting coordinator Cale Gundy backtracked just a bit when he talked about signee Joe Mixon. No, no, no, he didn't say Mixon was comparable to Adrian Peterson and DeMarco Murray, two former Sooner running backs now in the NFL, Gundy said Mixon has comparable traits. Semantics? Just details? OK, sure, but one thing no one will deny...
Former Oklahoma star running back was back on the sideline to watch his alma mater in the Sugar Bowl Thursday night. he was undoubtedly glad to be there. Who wouldn't be, right? Big bowl game, bigger oppoent--it doesn't get any better than this!Until you win that is!@SBNationGif/TwitterAP was pretty ecstatic to see his Sooners overcome the odds and take down the Crimson Tide...
I guess you could say that Adrian Peterson was a little excited after the Oklahoma Sooners beat the Alabama Crimson Tide in an upset at the Sugar Bowl. The post Adrian Peterson goes wild on the sideline after upset of Alabama appeared first on Diehardsport.
NORMAN, Okla. - Give it one more game before any conclusions are reached. Because these days, after three games and three pretty good performances, we're dangerously close to making some bold statements about what this Oklahoma defense has done to remake itself. There's already been a Keith Ford-to-Adrian Peterson comparison and the freshman running back has all of 11 carries...
Gaylord Memorial Stadium on the campus of Oklahoma University in Norman Who are four players and coaches that define what Sooner football is all about today and its place in NCAA history? Here lies the Sooners football Mount Rushmore: 1. Bud Wilkinson- Elected in the College Football Hall of Fame in 1969, Wilkinson might just go down as the greatest coach in Norman, compiling a...
Former members of the University of Oklahoma football program have significantly given back to their alma mater. Former OU quarterback now with the St. Louis Rams Sam Bradford announced a $500,000 gift, while former OU running back now with the Minnesota Vikings Adrian Peterson is giving  $1 million to the OU Athletics Department to support the construction of Headington Hall, a...
Adrian Peterson has pledged a $1 million donation to the University of Oklahoma to support a building project there. It's the largest financial gift from a former Sooners football player.
MORE STORIES >>
College Football News

Delivered to your inbox

You'll also receive Yardbarker's daily Top 10, featuring the best sports stories from around the web. Customize your newsletter to get articles on your favorite sports and teams. And the best part? It's free!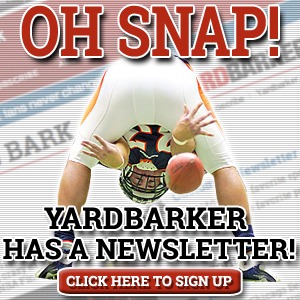 THE COLLEGE FOOTBALL HOT 10