The junior tight end will forego his senior season to head to the next level First off, Happy Thanksgiving to all of you, even if it could feel more like an early Christmas, as UNC basketball knocked off #3 Louisville last Sunday, while North Carolina football defeated Old Dominion 80 to 20 to get to a 6 and 5 record and become bowl eligible. Now, with one game left, the Tar Heels...
In the many years, or should I say decades, that I been a sports fan I have always enjoyed a good discussion, whether or not I agree with it. Before I go on with this post, let me repeat that… a good discussion, not a bashing, not a one way attack, a discussion. And secondly, this time this post is more as a fan than a blogger. With that said… Things such as… Should the coaching...
In the wake of UNC's debacle against East Carolina, senior tailback A.J. Blue had some brutally honest things to say to the media about how the Tar Heels played and his teammates approach to the game. Via Lauren Brownlow at Fox Sports Carolinas Senior tailback A.J. Blue is a fifth-year senior, and he's been through quite a bit himself. His teammates respect him. Before Fedora...
Maybe the only good thing today in Kenan stadium was the weather! As I do most every game that I do a recap of, I watched twice the game before talking about it. The one between North Carolina (1-3) and East Carolina (3-1) has almost left me speechless. Not so much the score, with the guest winning 55 to 31. The first win by the Pirates in almost forty years by ECU in Kenan Stadium...
With so much talent, will there be enough snaps to go around From the end of the season last year, until the announcement yesterday, I was hoping and believing that A.J. Blue, the fifth year senior who changed positions from QB to RB while in Chapel Hill, would be the one starting for head coach Larry Fedora at the running back spot. That role is now taken by sophomore Romar Morris...
As the more powerful counterpart to North Carolina tailback Giovani Bernard last year, A.J. Blue is comfortable slamming into defenders and pushing his way ahead when he runs, shedding would-be tacklers with a well-placed stiff arm or pure brute force. Late in the third quarter of an October home game against Virginia Tech last season, Blue broke through the middle of the North...
CHAPEL HILL, N.C. Led by third-year starting quarterback Bryn Renner, North Carolina's Blue team clobbered the White team, 34-10, in the Tar Heels' annual spring football game on Saturday at Kenan Stadium. UNC played two quarters as if it was a real game, though the punts included just the snapper and punter. The last two quarters were played with a running clock before...
CHARLOTTE, N.C. - As Larry Fedora walked off the field following North Carolinas first live scrimmage of the spring Thursday night in Charlotte, N.C., his running back, A.J. Blue, passed by on his way to media obligations. The Tar Heels' head coach cracked at his veteran tailback that no one should be allowed to talk to the media that dropped his ball. Both burst into big smiles...
Andrew Carter, the North Carolina beat writer for the News Observer has confirmed that Tar-Heels will be without star running back Gio Bernard on Saturday afternoon as they take on the 19th ranked Louisville Cardinals on Saturday. Bernard went down midway through the second quarter in Carolina's season opener against Elon and hasn't been on the field since. Junior running back...
MORE STORIES >>
College Football News

Delivered to your inbox

You'll also receive Yardbarker's daily Top 10, featuring the best sports stories from around the web. Customize your newsletter to get articles on your favorite sports and teams. And the best part? It's free!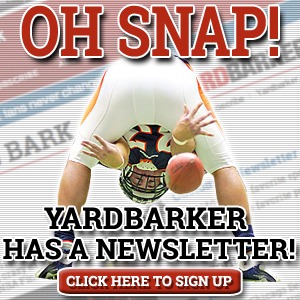 THE COLLEGE FOOTBALL HOT 10