Hello Alden , Appreciate the time for an interview . Please bare with some of these questions as not everyone is as familiar. For those who do not know Alden Darby is a SS from Arizona State University whom I consider a difference maker in the secondary Q) Can you tell our readers why you chose the Sun Devils ? A) I made the choice to become a Sun Devil because during the entire...
Alden Darby of Arizona State got a little bit confused on Monday night during the Holiday Bowl against Texas Tech on a muffed punt. You can clearly see that Alden picked up the muffed punt and then started to run the wrong way as teammates were pointing the opposite way. I can only imagine the fun he will have while watching the game tape. If Alden would have run the correct way...
TEMPE, Ariz. -- Once Arizona State coach Todd Graham had finished his postgame press conference after last Saturday's 58-21 win over Arizona, he stood and was greeted by a hug from his wife, Penni. As the coach and his wife began to walk away, a photographer asked them to stop and pose with the Territorial Cup trophy, which Graham had brought to Tempe a year earlier with his...
TEMPE, Ariz. -- Building up to the 2013 season, discussion of Arizona State focused heavily on the Sun Devils surviving a brutal first half. Now, they've done so, having gone 4-2 with wins over Wisconsin and USC but losses to Stanford and Notre Dame. Many outside the program expected ASU to be 4-2 by now, some expected better and some worse. But what about the Sun Devils themselves...
TEMPE, Ariz. -- There's something about the sight of USC jerseys that puts Alden Darby in a taking mood. "They didnt recruit me out of high school, and I've just always got something against those guys," said Darby, who is from Long Beach. "I feel like they don't care about none of the underdog players. They only care about the big-timers. Every time I...
TEMPE, Ariz. -- If you imagine the Arizona State defense as a human body, its easy to identify some key body parts. Linebacker Brandon Magee is the brain, calling plays, coordinating his teammates efforts and making sure everybody is on the same page. Alden Darby is the mouth, communicating every thought that enters his mind, from reads in the secondary to opinions on opponents...
TEMPE, Ariz. -- Todd Graham has preached discipline since the first day on the job as Arizona State's head football coach. The constant harping has already had an impact. In the first two games of Graham's tenure, ASU has demonstrated a 180-degree change from the undisciplined teams that had become the norm during the past few seasons. "From practice to the pregame...
MORE STORIES >>
College Football News

Delivered to your inbox

You'll also receive Yardbarker's daily Top 10, featuring the best sports stories from around the web. Customize your newsletter to get articles on your favorite sports and teams. And the best part? It's free!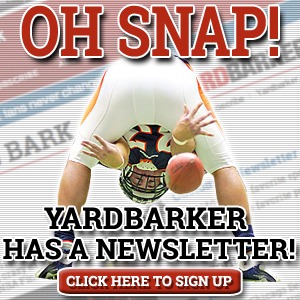 THE COLLEGE FOOTBALL HOT 10