FAYETTEVILLE, Ark. (AP) An Arkansas backfield that was once considered among the best in the Southeastern Conference is experiencing an unexpected bit of upheaval midway through the season. The Razorbacks (3-4), led by the trio of Jonathan Williams, Alex Collins and Korliss Marshall, had the top rushing offense in the SEC as recently as a week ago. They fell to fourth with an average...
Arkansas' last bowl appearance in the 2012 Cotton Bowl With the lost to Rutgers this past weekend, the Arkansas Razorbacks fall to 3-1 with eight games left to play. With that being said, most Arkansas fans would argue that six wins and a bowl game would justify this first year under head coach Bret Bielema as being a successful one. After the loss to Rutgers, getting to six wins...
Arkansas Razorbacks running back Alex Collins found himself in an awkward situation with Southern Miss defensive back Ed Wilkins on Saturday. Seen here is Collins somehow managing to get his jersey stuck in Wilkins' helmet on a play. Hilarity ensues as the referees and trainers attempt to detach the helmet. Eventually, they were successful in their...
The Arkansas Razorbacks survived a scare last Saturday as they defeated the Samford bulldogs 31-21 in Little Rock. The Arkansas football team played some seemingly uninspired football as Samford was in the lead heading into the fourth quarter. Now, they did have a few key players out on defense, but Arkansas should not have that much trouble with a FCS team. They look to re-establish...
Alex Collins had to wait an extra day in February before signing his national letter of intent with Arkansas. The brief postponement has proven worthwhile for Collins and the Razorbacks, who look to remain undefeated Saturday when they host Southern Mississippi (0-2). After just two weeks, Collins leads the Southeastern Conference with an average of 151.5 yards rushing. His 172...
After winning his debut game in Fayetteville against Louisiana-Lafayette, Arkansas coach Brett Bielema admitted that his team was not ready to beat teams in the SEC. A week later, almost everyone in the college football universe agrees. We are the only team in the SEC that plays eight straight games without a bye week, Bielema said after his inaugural victory with the Razorbacks...
Alex Collins(Photo Credit: Getty Images) The win for the Arkansas football team on Saturday was closer than most Razorback fans and coaches would have preferred. The Samford Bulldogs (1-1) actually took the lead into the fourth quarter 21-17 and had Arkansas fans in an eerily similar situation to last year's ULM game. Arkansas (2-0) finally rallied the troops and cruised to the...
As the 2013-2014 Arkansas Razorback football season approaches, new head coach Bret Bielema will be looking for impact players on both sides of the ball. With only the Alex Collins defensive line having proven playmakers, there will have to be some players to step up and fill in some key positions. Here are three newcomers to the Razorback program that could have a great impact and...
Arkansas football coach Bret Bilemea released his depth chart for the season opener against Louisiana. Jonathan Williams and Alex Collins are the top two at running back. Will Hines nudged ahead of Jared Collins at cornerback.
Brandon Allen was silky, but that was no surprise. And it probably shouldn't have been that the blue chip freshman running back was as advertised. Alex Collins was the real deal Saturday in his first Arkansas scrimmage.
MORE STORIES >>
College Football News

Delivered to your inbox

You'll also receive Yardbarker's daily Top 10, featuring the best sports stories from around the web. Customize your newsletter to get articles on your favorite sports and teams. And the best part? It's free!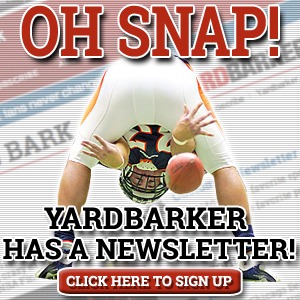 THE COLLEGE FOOTBALL HOT 10