Jeffrey vs Dennard Round 1 Alshon Jeffrey and Alfonzo Dennard of the Patriots have a history. In the 2012 Capital One Bowl, Jeffrey's Game ***** were matched up with Dennard's Cornhuskers. Jeffrey and Dennard were matched up all day. Finally, late in the 3rd quarter tempers flared and a fight ensued. Both players were ejected from the game.   Jeffrey vs Dennard Round 2 Dennard...
FOXBORO, Mass. -- The Patriots bought low on the Big Ten Defensive Back of the Year, selecting Nebraska cornerback Alfonzo Dennard with the 224th pick in the seventh round. Dennard had upper-round value, but his stock plummeted after he got into trouble in the pre-draft process. Key Stats The 5-foot-10, 204-pounder had four tackles, six pass breakups and 31 tackles in 2011. Scouting...
Bond has been set at $5,000 for former Nebraska cornerback Alfonzo Dennard (DEH'-nurd) , who is accused of punching a police officer over the weekend. Dennard is charged with third-degree felony assault of a police officer. Police say he struck the officer during a disturbance outside a Lincoln bar about 2:15 a.m. Saturday. Dennard has been held in the Lancaster County Jail...
When you're less than a week a week away from being drafted by an NFL team, getting arrested for assault is something you don't want to do. If that person you allegedly assaulted is an on-duty police officer, then that's something you definitely don't want to do. But that's reportedly what happened with former Nebraska cornerback Alfonzo Dennard early Saturday morning outside...
Let's skip the obligatory highly ranked prospect headed to the NFL doing something stupid intro. What happened early this morning deserves it's own place in history. Nebraska CB Alfonzo Dennard WAS stacked highly on a few mock draft boards as going in the first round. He was without question at the very least a second round pick. But after he's stupid enough to land himself...
Nebraska's outgoing star cornerback Alfonzo Dennard has been arrested following a disturbance early Saturday outside a Lincoln bar. Lincoln Police Capt. Jason Stille said Dennard, 22, originally from Rochelle, Ga., was arrested on suspicion of assault of a police officer, third-degree assault and resisting arrest. He was held Saturday in the Lancaster County jail. Stille said...
BAD TIMING
One of the better cornerback prospects in the draft was arrested for alleged assault a few days before the draft.
Via: Nebraska Husker football player Alfonzo Dennard was arrested on suspicion of assaulting a Lincoln police officer early Saturday. Lincoln police said Dennard, 22, was fighting with another man outside a bar near 14th and O Streets about 2:15 a.m. When officers attempted to intervene, Dennard allegedly pushed and then punched one officer in the face. Homeboy was ranked by CBS...
Alshon Jeffrey had good times in the Capitol One City Bowl game, and he had bad times.  Most notably, the good time came at the end of the first half when Alshon caught a Hail Mary pass for a TD to put South Carolina ahead heading into the half.  The bad times were highlighted by him getting into a scrap with Nebraska defender Alfonzo Dennard during the 3rd quarter which lead to...
Alfonzo Dennard CB Nebraska #15 Ht: 5'10″ Wt: 205 Strengths: Strong for his size; good overall build. Does a nice job turning and getting into position to make plays on the ball. Above-average straight-line speed; has the speed to make up for mistakes. A good all-around athlete. Willing to mix it up at the line of scrimmage with bigger receivers. Weaknesses: Undersized...
MORE STORIES >>
College Football News

Delivered to your inbox

You'll also receive Yardbarker's daily Top 10, featuring the best sports stories from around the web. Customize your newsletter to get articles on your favorite sports and teams. And the best part? It's free!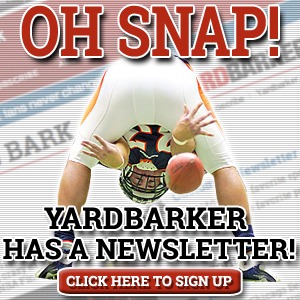 THE COLLEGE FOOTBALL HOT 10