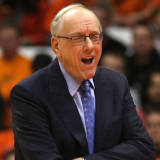 The history of forfeits in sports features plenty of memorable events and scandals. The following gallery features the most famous forfeits.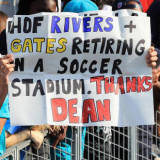 Front Five: The top stories that shaped both sports & politics this week "We embrace any team that comes, we're certainly happy to have the Chargers in L.A., but I think we could have been happy with just one, too." – Los Angeles Mayor Eric Garcetti on whether he wanted two teams in L.A. Week 2 of the NFL season saw two professional football teams play home games in Los Angeles...
The city of Louisville lost their legend earlier this summer when Muhammad Ali passed away at the age of 74. Ali was as proud as can be to be from Louisville and was also a proud Louisville Cardinal fan. The Champ was in attendance for both of the Cardinal football program's BCS Bowl games as well […]
LOUISVILLE, Ky. -- There are safe versions of tributes to Muhammad Ali.Such tributes and memorials focus on his near peerless ring legacy that includes an Olympic gold medal and three separate title reigns as boxing's heavyweight champion.Those tributes emphasize his boxing prowess which, 35 years after he stopped fighting, is universally lauded. They are uncontroversial and have...
Today, one of the greatest sports figures of all time was laid to rest as thousands of people were in attendance for Muhammad Ali's funeral. For the ones in attendance at the service, they will take home a very special program. The funeral program included a very touching obituary for Ali and the list of eulogists at the service. The list included names like Billy Crystal, Bryant...
Brazilian soccer great Pele has paid tribute to Muhammad Ali after the boxing icon's passing aged 74.Arguably the two greatest sportsmen of all time, Pele and Ali dominated the sporting landscape throught the 1960s and 70s, while their legends remain intact.Pele said of Ali last year: "He was a completely different character - more fun, making jokes all the time. We used to get together...
LOUISVILLE, Ky. -- Boxing great Muhammad Ali once again heard a crowd chanting his name Thursday and had a medal draped around his neck in his Kentucky hometown. The three-time world heavyweight champion basked in the attention in Louisville, where he received an award from the University of Louisville. School President James Ramsey presented Ali with the medal as the first-ever...
Muhammad Ali Abdur-Rahkman is officially a Michigan Wolverine. The 6-foot-4 guard form Allentown, Penn. signed his letter of intent on Friday morning and was officially announced by the program. Michigan head coach John Beilein released a statement on Abdur-Rahkman's signing. Press release below. University of Michigan men's basketball head coach John Beilein announced today (Wednesday...
Today, as you have likely heard by now, is the 50th anniversary of Muhammad Ali's (then Cassius Clay's) breakout championship victory over Sonny Liston. ESPN's Sportscenter has done a segment on Ali, as have various other programs and news outlets. On tonight's Real Sports with Bryant Gumbel on HBO, Gumbel shares an update on Ali on the occasion. Here's what he says: [For more information...
The University of Michigan has begun a national conference to celebrate the 40th anniversary of Title IX. Laila Ali started the three-day seminar with a keynote address on Wednesday night. The daughter of Muhammad Ali is the president of the Women's Sports Foundation and a former boxer. Ali hopes the conference will add to the awareness and appreciation for what Title IX has done...
MORE STORIES >>
College Football News

Delivered to your inbox

You'll also receive Yardbarker's daily Top 10, featuring the best sports stories from around the web. Customize your newsletter to get articles on your favorite sports and teams. And the best part? It's free!
THE COLLEGE FOOTBALL HOT 10