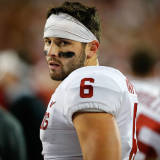 Heading into the final two September weekends, college football is reaching a separation point. Early season trends can either be entirely forgotten or become the prevailing narrative for an individual or a team.Right before that happens, however, we're taking a look at the most important stories — the winners and losers — from the opening weeks of 2017. Sample size can shift the...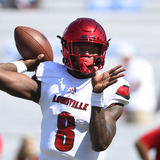 Week 2 of the college football season provided us with many big games, especially late in the evening. Auburn and Clemson faced off; USC hosted Stanford; Georgia and Notre Dame clashed; and the big one was Oklahoma at Ohio State. Week 3 doesn't have quite as many marquee matchups, but there is a lot to look forward to. There are also a lot of questions to be answered.Here's a look...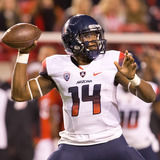 By Robert Ortiz After scoring his first collegiate touchdown, Arizona freshman quarterback and Los Angeles native Khalil Tate had a little fun at the expense of USC, tossing up the "Fight ON" hand signal in the direction of the USC bench. Congrats Khalil Tate on your first rushing TD! #HomeOfChampions pic.twitter.com/kj55sfeenA — Serra Football (@Serra__Football) October 15...
Arizona QB Anu Solomon suffered a concussion on Saturday against the Utah and is listed as questionable for the Wildcats rivalry game against Arizona State.Solomon has thrown for 2,338 yards and 18 touchdowns this season. If he's not able to go, senior Jerrard Randall will start for Arizona. Randall has thrown for 483 yards and five touchdowns this season. Randall has been at his...
Anu Solomon will make his return to the field and start for the Arizona Wildcats this weekend against Oregon State. Solomon exited the team's game against UCLA with a concussion two weeks ago and missed last week's game against Stanford. Solomon's status was reported by ESPN's Brett McMurphy. Arizona QB Anu Solomon will start vs. Oregon State source told @ESPN. Solomon had 18 consecutive...
During last Saturday's game against UCLA, Arizona quarterback Anu Solomon went down with a head injury early on in the game. He left the game with a concussion and it seems like he is still dealing with those symptoms. According to College Football Talk, Solomon is still listed as questionable for Saturday night's game against the Stanford Cardinal. The Wildcats released their injury...
NFL Network's Chad Reuter has compiled a list of players he believes are the top dogs in college football's sophomore class. Unsurprisingly, three Buckeyes are in the top five, while only two players in the top 10 are from the PAC-12; Stanford's TE Austin Hooper and Arizona's QB Anu Solomon (Reuter's pick to receive All-American honors in 2016). A graduate of Bishop Gorman High School...
Arizona football will be starting a season with the same returning starting quarterback for the first time under head coach Rich Rodriguez. Redshirt sophomore, Anu Solomon, will lead the high-powered Arizona offense looking to build upon his strong freshman campaign. Anu Solomon must take the next step mentally in order for the Arizona Wildcats to build on last season's success...
Rich Rodriguez was so steamed over the way the Fiesta Bowl unfolded that he did not speak with quarterback Anu Solomon for two weeks after the game. Arizona lost to Boise State 38-30 after Solomon was sacked on 3rd-and-goal with 14 seconds left. Solomon inexplicably held onto the ball instead of throwing it away and...Read More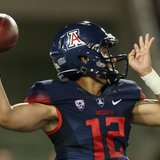 Freshmen are not supposed to win the Heisman. Giving it to one would have been a slap in the face to the juniors and seniors who put in the time and paid their dues. It's probably why Adrian Peterson didn't win the 2004 Heisman. It's definitely why Herschel Walker, the best player in the country playing for the national champion, didn't win the 1980 Heisman. But then Johnny...
MORE STORIES >>
College Football News

Delivered to your inbox

You'll also receive Yardbarker's daily Top 10, featuring the best sports stories from around the web. Customize your newsletter to get articles on your favorite sports and teams. And the best part? It's free!
THE COLLEGE FOOTBALL HOT 10